Printing a Canada Post Shipping Label
After you purchase your shipping label on Etsy, you can print your shipping label as often as necessary until the day after it was purchased. It will expire after that date.
Download shipping label
1.) Click Download Shipping Label to view the label.
2.) Print the label from your web browser or save the PDF to your computer to print later.
3.) To save the PDF to your computer, right-click the Download Shipping Label button and select Save Link As.
Print shipping label
Shipping labels can be printed on white 8.5" x 11" paper or 4 x 6" thermal labels. All Canada Post labels purchased on Etsy are 4" x 6".
Note: Do not scale down the size of your shipping label as it may cause the label's barcode to be unscannable.
Be sure to use a high-quality laser or inkjet printer. If you're using an inkjet printer, at least 600 dots-per-inch (DPI) is recommended. Using low-quality printers may result in your label being rejected by Canada Post. 
How do I print a shipping label with a 4x6 label printer?
To print your shipping labels using a DYMO LabelWriter 4XL or Zebra GC 420d label printer:
1.) On the top left of the page, visit Shop Manager > Orders > View shipping labels and click the Options tab at the top.
2.) Select Format my labels for 4x6 Label Printers as your Download Preference.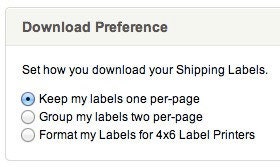 You may also edit your printing format below the right column on your shipping labels page by visiting Shop Manager > Orders > View shipping labels.
You can add a short order summary to the edge of your labels (to be discarded before shipping) to better assist with packing your orders after you've printed your labels.
To do so, follow these steps:
1.) Go to Shop Manager > Orders > View shipping labels > Options.
2.) Click When I print Shipping Labels, include order details for my reference under Download Preferences.
Attach a shipping label
1.) Securely attach your label to the top of your package using clear packaging tape.
2.) Tape the label so it appears squarely on the largest side of the box.
3.) Make sure that tape does not cover the label's barcode and/or QR code.
Also, do not bend the label's barcode around the edges of the box.
4.) Labels should be completely visible and can't be altered or modified in any way.
Certain US and International shipping labels will be made up of multiple pages. If your label and customs form are separate pages they can be attached using an official adhesive pouch (article #33-086-593) available for free at Canada Post retail outlets.
For more information on shipping to the US and internationally, click here.
Labels for cylindrical tubes must be affixed lengthwise so that the sides of the bar code point toward the ends of the tube in order to facilitate barcode scanning.
What if my label doesn't print properly?
Make sure you have an updated PDF reader.
PDFs usually require third-party software, so make sure that you have a PDF reader installed and that it is up to date. There are some PDF readers that can be downloaded for free, like Adobe Reader.
If using Adobe, however, please be sure that you are running the most updated version of both your browser and Adobe Reader. If you're using a Mac, you can open PDFs with Preview.
Check your browser extensions/add-ons or settings.
Some browser add-ons may cause the PDF to not load or to appear corrupted. Check to make sure add-ons like Ad Block are up to date and performing properly.
You may also try temporarily disabling any add-ons to see if this corrects the issue. For instructions, please see the support page for your browser:
Try downloading the label.
Some PDF reader software may interfere with your browser's normal behavior. If this is the case, try downloading the shipping label to your computer by right-clicking the Download Shipping Label button and selecting Save Target As or Save Link As.
Once it's downloaded to your computer, open the document in your PDF reader of choice.
Try a different browser.
Some browsers (such as Google Chrome) can open PDFs inline using their own software. If you're having trouble opening a PDF in your browser, try another one and see if you have any success.
Make sure that you're using the most up-to-date version of your browser.