If you have sketchpads full of ideas but you're not sure how to make them a reality, it might be time to consider working with a manufacturing partner to turn your ideas into a reality. Production partners can give you access to materials and techniques that you might not have access to in your studio, while still giving you creative control over the final product. Whether you're currently working with a manufacturer, or you see a production partnership in your business's future, building a great relationship with your production partner can help you maintain the close connection to your items that makes your products special. Working with a manufacturer shouldn't mean you have to compromise your creativity as you build your business. In fact, the right production partnership could even open up opportunities for you to focus on your artistic vision. Read on to learn how three shop owners found ways to effectively collaborate with production partners while maintaining the integrity of their original designs.
Gain Access to Specialised Techniques
Collaborations between designers and manufacturers come in a variety of shapes and sizes. While some designers might rely on a manufacturer to turn their ideas into finished items, others — like Yukiko Wilson of Locca Enamel Jewellery in Cardiff, United Kingdom — simply seek some production assistance to complete one specialised step of their creation process. While many of Yukiko's designs are made with the help of a casting partner, her finished pieces are unmistakably her own. 'I really value a hands-on design process', she says. 'I think this gives my pieces the handmade feel that makes them special.'
Yukiko's unique enamelling technique, inspired by her Japanese heritage, is the hallmark of her striking jewellery. Enamel gets applied within the recessed portions of a cast base before the piece is heated in a kiln. Whether she's working to create one of her patterned pendants or designing one of her bold rings, Yukiko usually follows the same basic path to lay the groundwork for this interesting technique.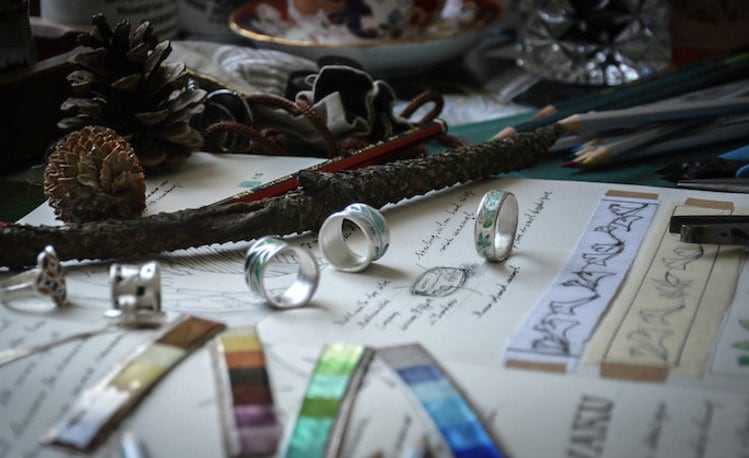 First, she begins with a few simple sketches to develop a pattern that will be featured on the piece. 'If I want to get a better sense of the size and feel of a piece I'm designing, I may even transform my early sketches into a clay model', she says. Next, Yukiko begins work on a metal prototype by tracing her sketched pattern onto a sheet of metal and cutting the pattern out to reveal a negative version of her design. Then, she places the sheet of metal with the cut pattern on top of an uncut metal sheet of the same dimensions and solders the two together, creating a layered metal sheet with a recessed design. Yukiko completes each step of design process with her own two hands, and at the end of this process, she has a handmade prototype.
This is where Yukiko's production partner comes in. Since each of her pieces will be fired in a high-temperature kiln, Yukiko needs her prototypes to be cast in a material that can withstand the heat of the firing process. Yukiko's manufacturing partner can cast her designs into solid silver that will hold up in the firing process to come. Even more importantly, their relationships is built on open communication. 'After casting, they always ask me if I'm satisfied with their work and if not, I ask them to redo the job', says Yukiko. 'Sometimes it's not easy to ask people to undertake extra work, but through honest and open communication, we can create a relationship where we are able to talk to each other without fear of upsetting each other, as we both want the end result to be the best it can be to make our customers happy.'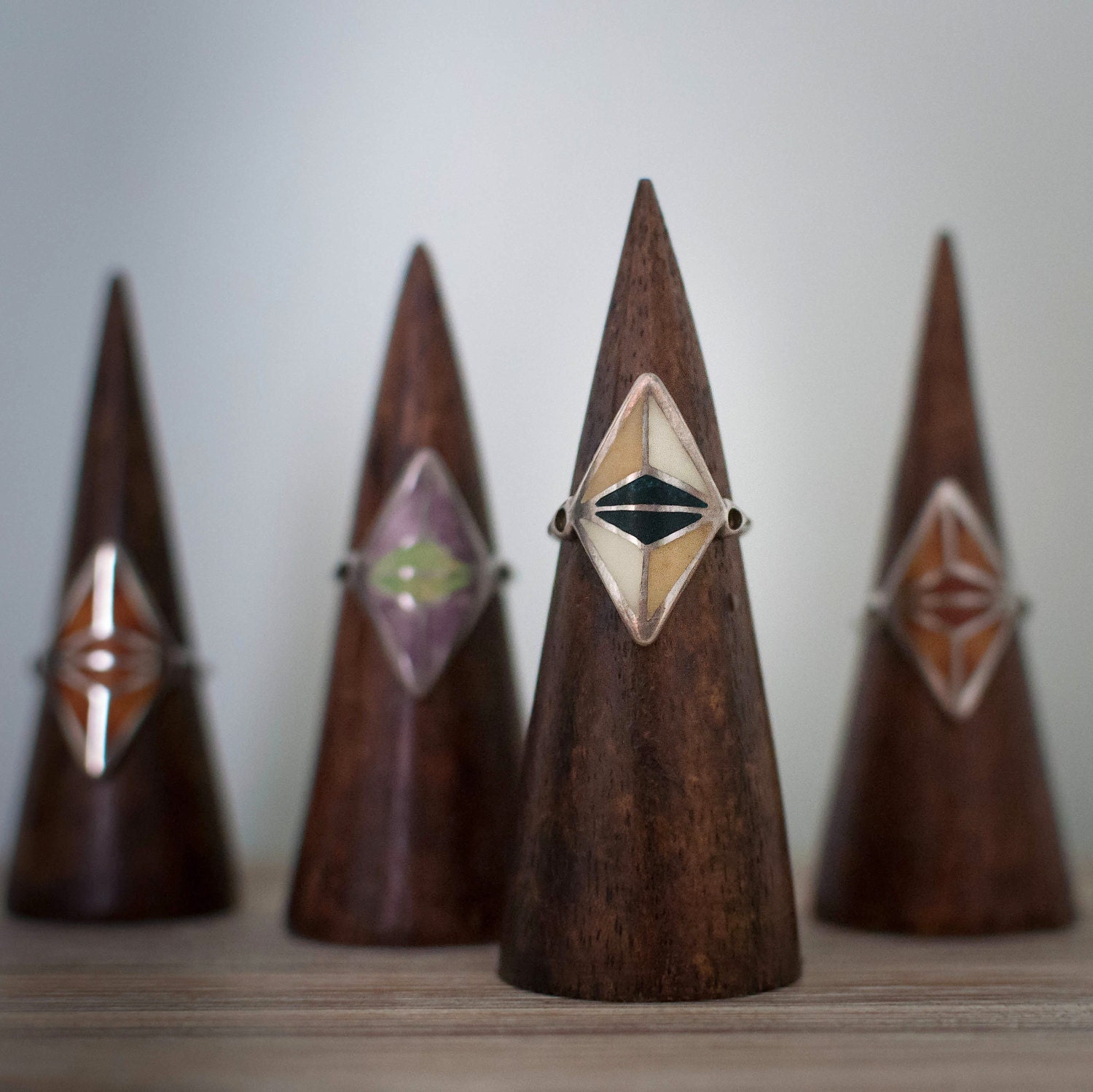 Offer Your Products At More Price Points
Working with a printer or other production partners can help you add new kinds of products to your existing collection. Shop owner Sally Williams of the shop House of Alphonse in Sheffield, United Kingdom, also works with production partners to create some of her unique offerings. By partnering with her local printers to reproduce some of her intricate papercuts, she's found a way to offer customers her work at wider range of price points without compromising the integrity of her designs.
Sally first tried her hand at papercutting to make a gift for a friend. 'As soon as I started to cut paper, I felt a whole world of possibilities opening up to me', she says. 'There's something magical about papercutting.' When Sally first opened her Etsy shop a few years later, she filled her shop with original papercuts that she cut by hand. However, since papercutting is an incredibly time-consuming craft, each of Sally's original papercuts needs to be priced accordingly, she explains. Over time, Sally found that these higher prices limited the number of people who were able to enjoy her work, so she started looking for local printing partners who could help her create printed reproductions of her original designs that would be more affordable than her original pieces.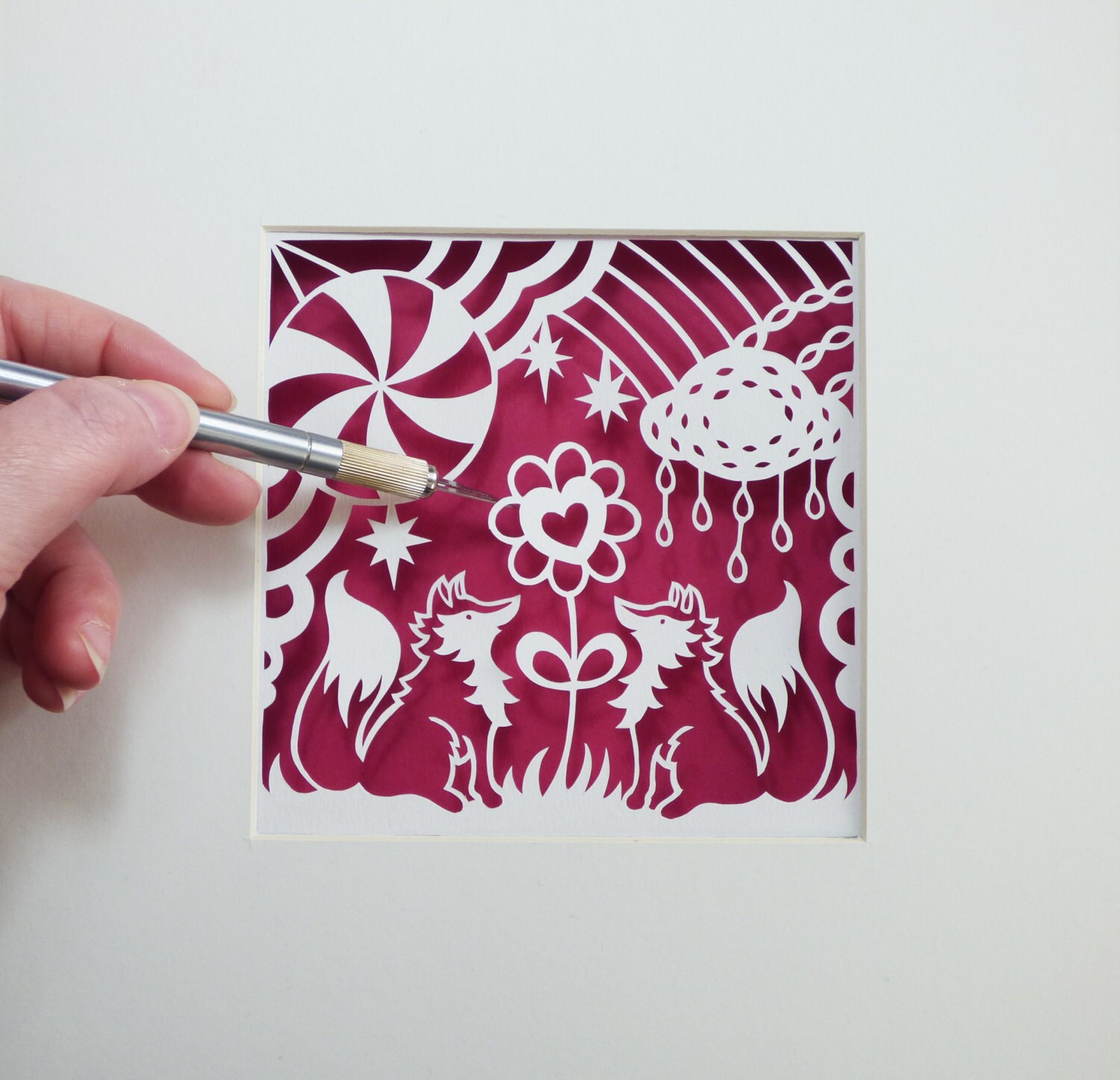 'Everything I design starts with a pencil and paper', says Sally. Once she completes her initial sketch, she traces a version of the image on one side of a thick sheet of paper. Then, she uses a sharp scalpel to delicately cut around the negative spaces in her design before removing the cut pieces. Since her original papercuts are usually 'float mounted' — a technique that allows shadows to become part of a piece to add a sense of depth — she also wanted the items made by her printing partners to include the same effect. 'I scan or photograph the float mounted original using a high-resolution scanner or camera in my workshop. This allows me to capture the shadows from the piece and get the digital image as clean and as crisp as the original', Sally says. 'The relationships I have with my manufacturing partners are ones where we both have our areas of expertise, but ultimately, it's my vision for the final product that I'm working to achieve.' Sally recommends meeting with your manufacturing partner in-person so you can have as much control as possible over the finished product. Sally oversees the proof run of her prints at her printer's workshop so she can see the prints in real time and make any last-minute colour adjustments.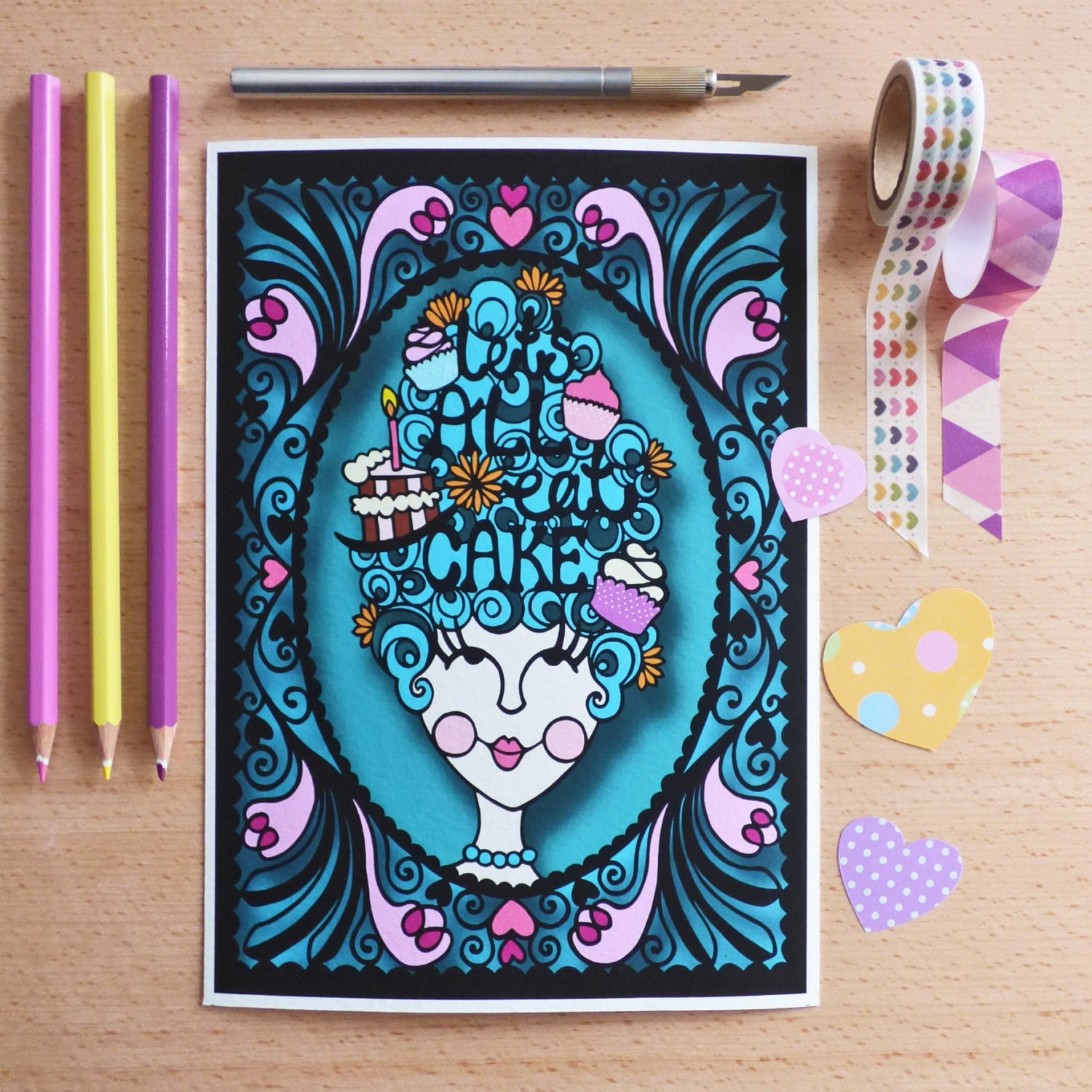 Turn Your Ideas Into a Finished Product
A production partner can also help you turn your designs into finished products. Diana Saldaña is another Etsy designer who collaborates with production partners to develop their unique collections. Diana's Madrid, Spain-based shop Royal Caballito is filled with contemporary apparel that strikes a balance between minimalism and playfulness. She works with her manufacturing partners to produce original designs that embody her artistic point of view.
As a former art historian and curator, Diana says that she's often inspired by the work of some of her favourite artists and cultural artifacts. Her finished pieces are ultimately a reflection of the unique design aesthetic that she's developed over the years. 'I think I'm able to look at things through trained eyes to find the harmony and balance that can exist between different colours and forms', Diana says.
Whenever she sits down to begin designing, Diana has a clear focus. 'Colour is a starting point for me', she explains. 'I like to begin by playing with colour to develop the overall palette of the collection I'm developing.' She then settles on a theme for her collection and starts sketching ideas. Then, she translates her initial sketches into the patterns and digital technical drawings she uses to communicate her designs to her production partners.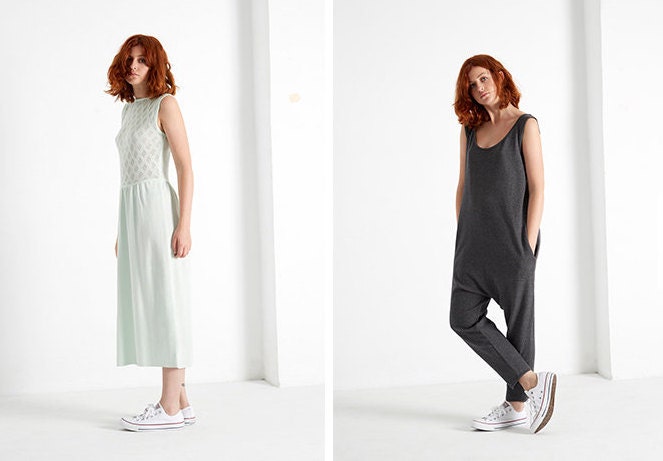 'My current collection is produced in a small, family-owned workshop with two knitting machines just outside of my hometown of Madrid — they're like family', she says. To begin the production process, Diana's partner works with her to program her designs into the computer that controls their knitting machines. Then, the workshop produces a few initial prototypes so Diana can try on each piece and give her critique and suggest changes. After any design adjustments are made, the prototyping process begins again. This continues until Diana feels the finished pieces accurately reflect her designs and the overall aesthetic she is trying to achieve. This back-and-forth is key to Diana's relationship with her manufacturer. 'I always recommend monitoring the quality yourself and visiting the facility regularly', Diana says.
If you're interested in working with a manufacturer to produce your designs, you may be able to find a production partner right here on Etsy. You can explore Etsy Manufacturing to look for a production partner who shares your values and is excited to work with an independent designer. Starting in August 2016, when you contact a manufacturer through Etsy Manufacturing, you can submit structured project details and key information about your request. This new tool makes it easier to communicate your vision and find the right production partner for your unique needs. Learn more about manufacturing projects.
How have you communicated your artistic vision to a partner? Share your tips in the comments below.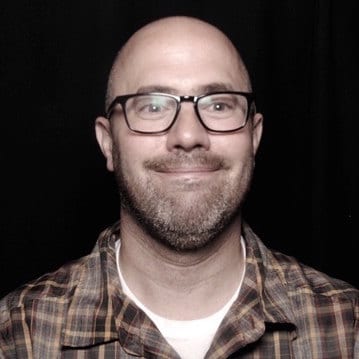 Words by Scott Hansman
Scott Hansman is a Maker Specialist on Etsy's Responsible Seller Growth team.