Join the creative marketplace where millions of shoppers spend billions each year purchasing directly from creative entrepreneurs like you.
Start selling today
Open your Etsy shop
Simple, transparent, secure
No additional monthly fees
Automatic deposits
₹ 15 * Listing fee
Listings are active for four months, or until they sell.
5 % Transaction fee, Paypal fee
Once purchased, there is a small commission fee and a standard PayPal payment processing fee.
15% Offsite Ads Fee*
Etsy pays to advertise your items across the web through Offsite Ads. You only pay a fee when you make a sale from one of those ads. Learn more about advertising fees
We process payments with PayPal, an external payments platform that allows you to process transactions with a variety of payment methods. Funds from PayPal sales on Etsy will be deposited into your PayPal account.
* Listing fees are billed for 0.20 USD, so if your bank's currency is not USD, the amount in your currency may vary based on changes in the exchange rate.
* Offsite advertising is optional for most sellers, but may be required based on how much you make in sales on Etsy in a 12 month period. Visit our Help Centre for more details on Offsite Ads fees.
Simple, powerful tools
Spend less time managing your shop and more time on the fun stuff. We have tools to help you whether you're just getting started or about to make your ten-thousandth sale.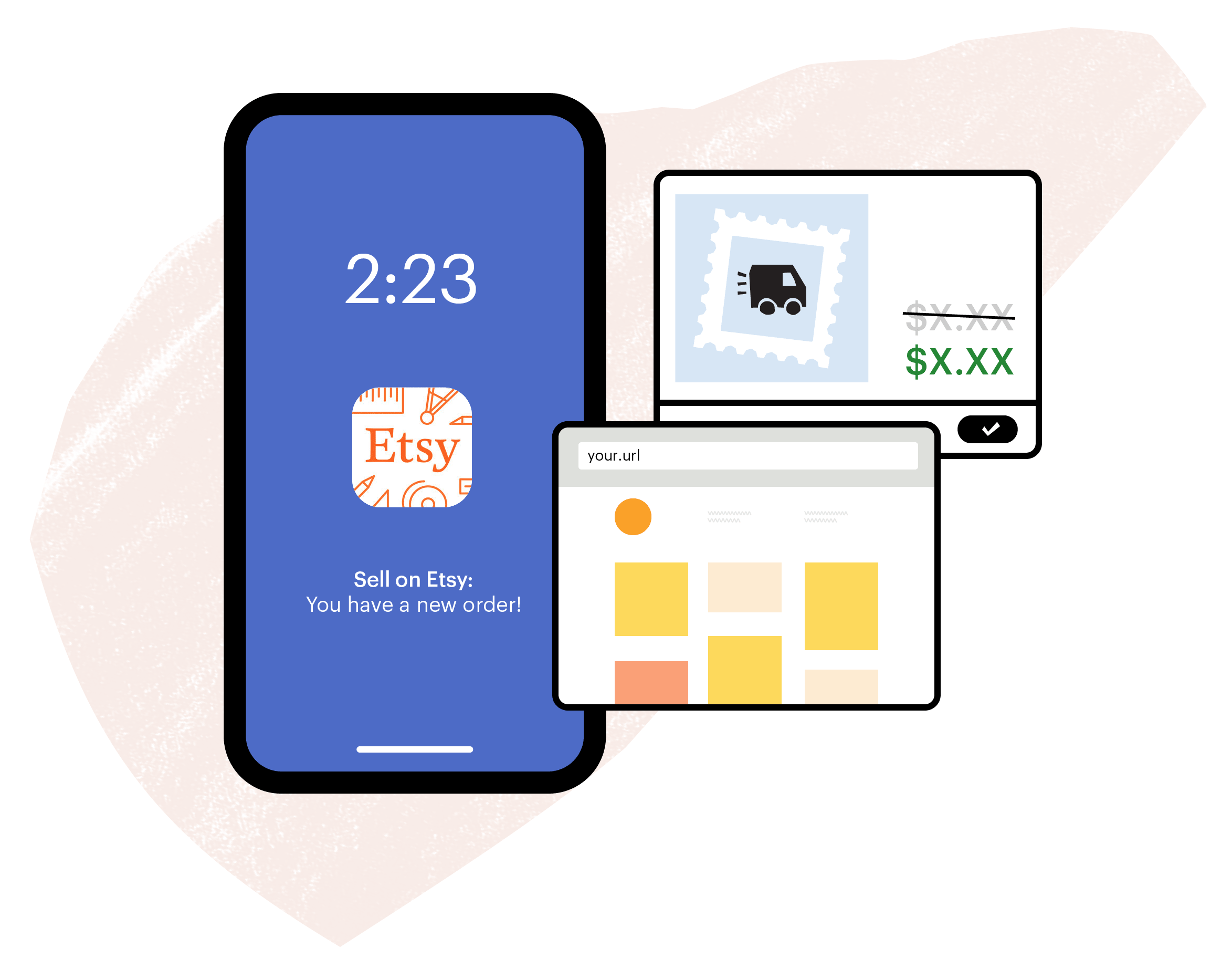 Manage your business anywhere
Use the Sell on Etsy app to manage orders, update items and respond to your customers on the go.
Promotional tools that drive traffic
Reach more buyers by promoting your listings in search or using our free tools to share your items on Etsy and social media.
Analytics to improve your sales
Detailed statistics that show performance trends and traffic sources, so you can stay on top of your business.
Accept payments seamlessly
Manage payment processing with PayPal to make it easy for buyers to pay any way they choose.
Choose your own path to success
Etsy has tools designed for every stage of your business's growth — no matter how big your ambitions. Access more advanced tools with an optional monthly subscription package.
Standard
Everything you need to start, manage and grow a creative business
No additional monthly charge
Plus
An expanded set of tools to help jump-start growth and express your brand
₹ 750 a month
Here's what you'll find in Etsy Plus
Stand out with new ways to customise your shop
Take control of your shop's look with customisable options, including new banner templates and featured listing options that put your products in the spotlight.
Tell shoppers your items are back in stock
Don't lose a sale because of a sold out item. Email interested shoppers when the item's back in stock and see which listings are most popular so you can plan your inventory.
Send customers to your own web address
Save 50% on a custom .com address or get a .store address for free for a year - it'll add polish to business cards and make it easier for customers to find your Etsy shop.
Bonus listing and advertising credits
Get 15 listing credits and ₹ 375 in credit to advertise your items with Etsy Ads each month.
You can subscribe to Plus after you open your Etsy shop.
Help when you need it
We're committed to helping our 1.7 million sellers thrive, with support and education for shops big and small.
Talk to us
Reach our support staff by email or request a phone call whenever you have a question.
Tips for success
Learn best practices for your business with our always-updating Seller Handbook.
Seller newsletter
Read the Etsy Success newsletter for tips on improving your shop, delivered straight to your inbox.
Get advice
Ask questions and find a community of sellers like you in Etsy's forums and Teams.
Seller Stories
We think Etsy is pretty great but don't take our word for it. Hear stories from our sellers about how Etsy has made a difference for them.
Etsy has been an integral part of my growth from hobbyist to full-time screenprinter and business owner. My designs would not have fallen into so many hands without Etsy's wide reach.
Etsy no doubt played a part in our growth and success… even though we sell in multiple venues, we still find that Etsy is one of our best sources for finding new customers.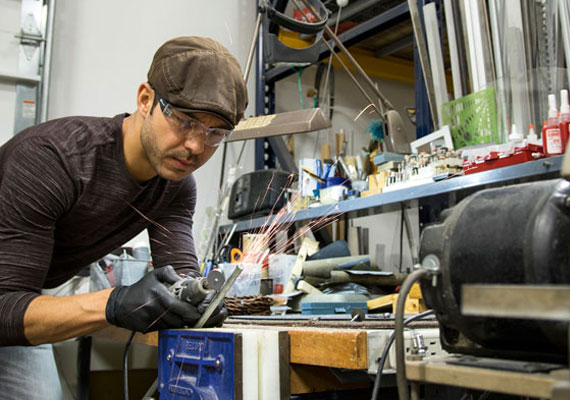 Thanks to Etsy, my small hobby has exploded into a multi-faceted line of original creations with clients around the world.
Frequently Asked Questions
Here are some common questions about selling on Etsy.
How do fees work on Etsy?
Joining and starting a shop on Etsy is free. There are three basic selling fees: a listing fee, a transaction fee, and a payment processing fee.
It costs ₹ 15 to publish a listing to the marketplace. A listing lasts for four months or until the item is sold. Once an item sells, there is a 5% transaction fee on the sale price (including the postage price you set). If you accept payments with PayPal, there is also a payment processing fee based on their fee structure.
Listing fees are billed for $0.20 USD, so if your bank's currency is not USD, the amount may differ based on changes in the exchange rate.
You pay an advertising fee on any sales you make from Offsite Ads. When you open your Etsy shop, you can decide if you want to participate in Etsy's advertising services.
What do I need to do to create a shop?
It's easy to set up a shop on Etsy. Create an Etsy account (if you don't already have one), set your shop location and currency, choose a shop name, create a listing, set a payment method (how you want to be paid) and finally set a billing method (how you want to pay your Etsy fees).
How do I get paid?
If you accept payments with PayPal, funds from PayPal sales on Etsy will be deposited into your PayPal account. We encourage sellers to use a PayPal Business account and not a Personal account, as personal accounts are subject to monthly receiving limits and can't accept payments from buyers that are funded by a credit card.
Do I need a credit or debit card to create a shop?
No, a credit or debit card is not required to create a shop. To be verified as a seller you have the choice to use either a credit card or to register via PayPal. You will not incur any charges until you open your shop and publish your listings.
What can I sell on Etsy?
Etsy provides a marketplace for crafters, artists and collectors to sell their handmade creations, vintage goods (at least 20 years old) and both handmade and non-handmade crafting supplies.
---
Want more information? Here are some resources to help you get started.
Still have more questions? Feel free to contact us.
Contact Etsy