Even if you don't have an Etsy account, haven't purchased anything on Etsy or used our services (a "Non-Member" or "you"), Etsy ("we", "us" or "our") may collect and use your personal information. This notice ("Notice") provides further information on how we collect, use and store information relating to Non-Members. If you are a Non-Member located in North and South America, the controller responsible for your information is Etsy, Inc. If you are a Non-Member located outside of North and South America, the controller responsible for your information is Etsy Ireland UC. Buyers and Sellers on Etsy (together, "Members") can find more information on how we process their data in our Privacy Policy.
What information do we collect and how do we use it?
We collect, receive and use information about Non-Members in connection with certain Etsy features and Services (as defined in our Privacy Policy). The types of information we collect and receive, their sources and our legal basis for using that information are set out in the table below.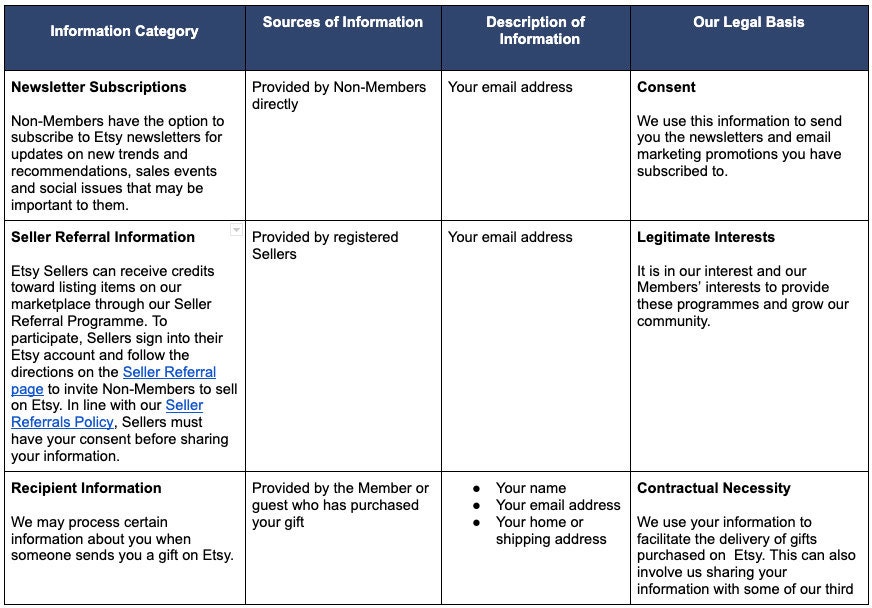 Is your data transferred outside of the EEA?
We work with vendors that act as our service providers and provide services like data hosting and infrastructure services. This means that Non-Members' information will be transferred or transmitted to, or stored and processed in, third countries outside of the European Economic Area ("EEA") for the purposes described in this Notice.
Where available we rely on decisions of the European Commission recognising that certain countries offer a level of protection of personal data that is essentially equivalent to the EEA, known as "adequacy decisions". A list of adequacy decisions is available here via the European Commission website.
Otherwise, we primarily rely on the European Commission's Standard Contractual Clauses for the international and onward transfer of personal data outside of the EEA to third countries, including, for example, to the United States and India. This includes transfers from Etsy Ireland UC to Etsy, Inc. and its other affiliates. You can request a copy of our Standard Contractual Clauses by emailing dpo@etsy.com.
How can Non-Members exercise their data subject rights?
Depending on the local laws applicable, you may have certain rights with respect to your data, under data protection law, including the right to access, rectify, port, and erase your information, as well as the right to restrict and object to certain processing of your personal information ("Data Subject Rights"). To exercise your Data Subject Rights, contact us by submitting a message through our contact form available in our Help Center, chat support or via the contact address provided below.
Contact us
If you have any questions:
Contact Etsy's Support team via our Help Center
Chat support available on our Site
Send an email to Etsy's Data Protection Officer at dpo@etsy.com
Write to us at:
In North America or South America: Etsy Support Team – Privacy Policy 117 Adams Street Brooklyn, NY 11201, USA
Outside of North America or South America: Etsy Support Team – Privacy Policy 66/67 Great Strand Street Dublin 1, Ireland
Last updated on Jun 15, 2023