This item sold on July 23, 2012.

Welcome to my Artomatic 2012 collection, "Journeys Through My Book House." I hope you love these books as much as I do, each one is very special to me. Please note that all of the book purses will remain on display until June 23rd, and I will be able to ship them starting June 25th. All of the purses are one of a kind, but I may be able to find another copy of the book, so if your favorite is already sold, please ask me about a custom order.
This Book Purse is made from a vintage copy of "The Complete Works of William Shakespeare."
My love of Shakespeare is like a whole wing of my Book House. As an English and Drama double major, I spent countless hours reading and studying Shakespeare, but my most memorable journeys through his work have been from performance, both as audience and as actor. It's become a bit of a cliché to set Shakespearean plays in non-Elizabethan time periods, but the mutability of Shakespeare is perhaps what attracts me most. Unlike most books, I do not associate Shakespeare with a specific place or time, but rather with a vast realm of possibilities.
The cover is made with a bonded brown leather, with the title framed in an intricate scroll pattern. The interior is fully lined in a black, brown, rust and green paisley patterned fabric. All fabrics are 100% cotton quilting fabric.
The handles are made with brown wooden beads with gold metal spacers on a gold metal frame, and the purse closes with a gold metal button and grosgrain ribbon loop. When not in use, the handles may be folded inside the purse and you can store it on a bookcase just like a real book. The Book Purses look wonderful stashed among your favorite tomes, and as you collect them, you can have an entire shelf full of purses! You can even store valuables inside them on your shelf, to keep them hidden.
There is a narrow pocket inside perfect for a slim phone or wallet, and the spine is reinforced for durability. While the purses are not fragile, and are certainly more durable than the original books they are made from, care should be taken with them. If you treat your Book Purse like you would treat a treasured old book, you will be able to enjoy it for years and years to come.
The dimensions are approximately 9 1/4" long, 2 1/2" wide, 6" tall, and the handles are 6" wide by 4" tall. The longer the book, the wider the purse, so this one is a nice size for carrying your necessities on a special night out.
Bibliophiles, don't fret! Most of my wallets and purses are made from damaged or discarded books, 90% were being thrown out by libraries. All care is taken to never use valuable or rare books. Have a favorite book that is falling apart? Send it to me and I will turn it into a one of a kind purse or wallet for you! Email me at cphillips [!at] rebound-designs.com, or contact me through Etsy.
http://www.etsy.com/conversations/new?with_id=5042309&ref=owner_contact_leftnav
********Journeys Through My Book House**********
I spent so much of my childhood reading. Lost in a book in my room, on vacation in the car with my nose in a book instead of looking at the scenery, hiding out in the backyard; the places I went in books seem as real to me as the places I visited in real life, and sometimes the real and imagined places bled over into each other. I've traveled all over the world, both with books and in books.
These are all books that mean different things to me. It's by no means a comprehensive collection of my favorite books, but they are each special to me, and occupy a significant place in my head. Each of these books feels like a piece of home, perhaps especially the ones that remind me of travel and adventure and far away.
Home is a difficult concept at my age. I am grown up enough that my childhood home is mostly nostalgically comforting, but I am not settled down enough to feel as though my current apartment is truly home. Some might call it escapism, but I am more at home in my favorite books than in most places I have lived. I think of all the treasured books I have left out of this collection, and all the books I have yet to discover. I am both overwhelmed and comforted in knowing how many new places I can go in books, and how vast my home is.
Enjoy your Journey Through My Book House.
Learn more about the shop and process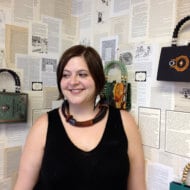 Caitlin Phillips
Artomatic 2012 Book Purse - Shakespeare - Journeys Through My Book House - made from recycled vintage book
Listed on May 17, 2012
381 views