This item sold on June 25, 2012.
Hello and welcome to my Lambie Love Shop! This one-size green, orange & turquoise wool wrap is made from repurposed cashmere, merino wool and very soft wool interlock lining the inside. All seams are serged with soft and durable poly thread to prevent wicking. Two layers of wool keep everything inside and rise snaps adjust to fit most babies from 7-35+ pounds. This is a money saver since you will not need to replace covers as baby gets bigger. Please message me for specific questions about fit.
**Please see last picture. Optional snap in *extra* wool wetzone layer can be added for $2. Please see my separate listing for this option and add it to the cart if you choose. I highly recommend this option if you are wanting to use this cover for night time use or for heavy wetters. Here is the link to the listing:
http://www.etsy.com/listing/98511773/extra-wool-wetzone-layer-for-one-size
If the listing is sold out, please message me and I will add more to the shop.
The wool used in this wrap was hand selected by myself with baby in mind. The wool was washed, felted and inspected for holes or imperfections.
Wool wraps are an excellent alternative to PUL cloth diaper covers. For babies who wet through their night-time diapers, wool is a perfect solution to keeping them dry all night. I found wool after several months of struggling with a soaking wet baby and crib every morning. Wool soakers have truly become my love and obsession ever since.
How does wool work?
Wool has the amazing ability to repel and absorb. It can absorb up to 30% of it's weight in liquid and will not feel wet until it has soaked up 60% of it's weight. When we get our 16 month old girl up in the morning, her wool feels cool but never wet. In addition the absorbent abilities of wool, it also has antibacterial powers and will not harbor odor causing microbes. The porous nature of wool allows any moisture to absorb then evaporate into the air--never giving the moisture a chance to fester and cause odor. Because of this wool only needs to be hand-washed once per week unless soiled.
How do I care for wool?
Wool only needs to be washed once per week unless soiled. Washing your wool is incredibly simple. Mix a small dollop of lanolin and baby wash (Johnson & Johnson wash or Burt's Bees, whatever you have at home) with hot water in a small jar. Shake it vigorously until all the lanolin is dissolved. Fill a sink up with lukewarm water and disperse the lanolin wash you just made. Turn your wool inside out and submerge in the water. Massage the wool a little to release any buildup then let sit for 20 minutes. Drain the sink and gently squeeze (don't twist) water from wool. I like to roll my wool between two old bath towels and stand on it to remove most of the moisture. Let your wool lay flat to dry out of direct sunlight. Please do not machine dry, this will cause shrinkage.
Thank you for viewing my item! I truly love the world of cloth diapering and want to know my customers and fellow cloth diapering parents! Follow me on Facebook & Tumblr for great promos and some cloth diaper fun!
www.facebook.com/lambielove
www.tumblr.com/lambielovewool
Learn more about the shop and process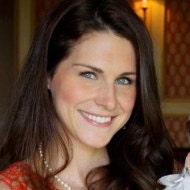 Heather Eiland
Lambie Love Wool Wrap--One Size Fits Most--Hopscotch--Green, Orange, & Turquoise--Cloth Diaper Cover
---
Listed on May 20, 2012
127 views