MYSTICAL LANDS Perfume Oil Sample set of three vials: ATLANTIS, LEMURIA, and
SHANGRI-LA.
Each scent is very different, mystical, and enchanting and are available in full 1/3 oz (9 ml) roll-on bottles in my shop.
Each sample is 1 ml and comes in a little amber glass vial with a plastic stopper and label. They come to you in a little black fabric bag.
****************************************
ATLANTIS Perfume Oil:
How many tales and legends have been told of the lost continent of Atlantis? It has been mentioned in antiquity by Plato and Solon, associated with tales of the great flood and earthquakes, made popular by humanists during the Renaissance, made popular again in the 20th century by psychic Edgar Cayce, and told of in romantic novels of modern day. Some take it to be an allegory and others a genuine lost civilization or powerful city state that sunk into the ocean during a great misfortune. Perhaps we will never know for sure and Atlantis will always lie in a shroud of myth. We could imagine though, what the pre-Hellenic markets, temples, and gardens might have been like as we walk in our mind's eye through the ancient land....
Fragrant spices, sandalwood, and frankincense blend smoothly into a heavenly mix of soft aquatic florals, three glorious musks, light vanilla, ozone, and freshly fallen dew. Magical!
****************************************
LEMURIA Perfume Oil:
Lemuria is the mythical counterpart to Atlantis that was believed to have been located in between the Pacific Ocean and the Indian Ocean near the Ring of Fire, a place known for volcanic and earthquake activity. Mythic accounts of Lemuria differ, but all writings refer to it as a continent during ancient times that sank into the sea following a huge cataclysmic disaster, much like it's Atlantic counterpart.
Perhaps in dreams it was a place of great beauty, spirituality, and simplicity. Sitting on the beach, one might have been able to detect in their surroundings: Aquatic florals brightened and heightened by sunflowers, Persian melons mixed with other lush tropical fruits, a light touch of a softer patchouli, and finally a dusting of coriander. Sweetly familiar, yet mysterious.
****************************************
SHANGRI-LA Perfume Oil:
Shangri-la, the mythical kingdom hidden deep in the Himalayas, was the idyllic utopia sought after by Eastern and Western explorers alike. It was hidden valley of breathtaking beauty and regal temples, a people rooted in simplicity and meditative ritual... truly an exotic earthy paradise sought after in dream after dream.
Experience harmony as you enter a land scented with sweet cherry blossoms, delicate rice flowers, soft champa flowers, eastern spices, sandalwoods, and lychee fruits. This goes on as a soft floral with a soft spice on the dry down. Ethereal, sweet, and exotic.
****************************************
Perfume oils are hand blended using the finest essential and/or fragrance oils and organic jojoba oil for superior skin absorption and longevity of the scent. All perfumes are Vegan, Cruelty-Free, Preservative Free, and Alcohol Free. Enjoy!
Learn more about Deep Midnight Perfumes here:
http://www.etsy.com/shop/DeepMidnightPerfumes/about
Please take a moment to familiarize yourself with my shop policies:
http://www.etsy.com/shop/DeepMidnightPerfumes/policy
**Copyright 2010-present Deep Midnight Perfumes All Rights Reserved. The product descriptions, product names, notated photographic images, logos, banners and product/label designs are the intellectual property of "Deep Midnight Perfumes" and may not be reproduced in any way without written consent.
Learn more about the shop and process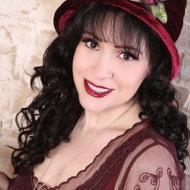 Cat
MYSTICAL LANDS Perfume Oil Sample Set: Three mini vials, exotic, florals, earthy
---