THIS ITEM IS RESERVED FOR A CUSTOMER. DO NOT PURCHASE.

*** POSTAGE PRICE INCLUDES EXPRESS POSTAGE ***

Five current buns in a baker's shop,
Round and fat with sugar on top,
Along came a boy with a penny one day,
Bought a current bun and took it away!

Children can decorate, display and sell their own current buns with this little bakery felt story board set and make up their own stories and rhymes. Great for inspiring imaginations and discussing cooking, rhyming and currency.

The idea for this story board came from a collaboration between Teahouse Treehouse and Rocking Horse Music and it has been handmade by me. It can be used by preschool teachers, music teachers or parents as a music teaching aid or simply as a beautiful toy for children.

This set includes a storyboard made from felt stretched over a light wooden frame - 30.5cm (h) x 41.5cm (w) x 2.5cm (d) - see last image. This is a large felt board and intended for teachers to be able to hold up to a small group of children, but it is light enough for children to handle on their own.

The background is white and can be used to create all kinds of images if your child owns other felt pieces as well. It is sturdy enough to be leant against a surface for display. You could attach a hanger if you prefer to hang it on the wall.

My four-year-old and her friends love these boards. My one and a half year old enjoys her felt board too, but younger children do need a little more help to keep track of all of the little pieces! We use ours for story-time, travel and to entertain at restaurants. I include a gauze bag for storing the small pieces in.

In total, this set includes the felt board, gauze bag and 25 hand-cut felt pieces, not including the smaller decorative pieces, such as the currants, which I've glued on (see image four). The shop sign has 'Open' painted on one side and 'Closed' on the other side.

The set comes wrapped in clear cellophane to keep it pristine for you.
Learn more about the shop and process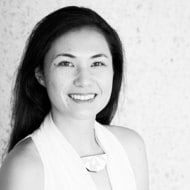 Jo Tuck-Lee
Listed on May 21, 2012
225 views