Measuring 52" x 47," this wonderful, wonderful tablecloth absolutely typifies the special way 1950's textiles delivered a new way to look at ordinary things!

With multiple different depictions of leaves in caramel golden browns, forest greens and golds, and accents of green, gold, caramel, black and yellow against a lovely white cotton background, this cloth is masterfully designed and has, running through it, multiple metallic gold stripes.

The fabulous artwork has a delightful whimsical edge, and uses shapes and forms that are at once enchanting and elegant.

In wonderful vintage condition, this cloth is a big nod to the Eames Era in which it was born.

Truly a mid century beauty if ever I saw one.

Shown on a 30" table to provide you perspective.

What can you do with this BESIDES put it on your table? A million things! You can put it on your bedside or end table: make pillows or pillow shams out of it, use it as the front of a bulletin board, cover a chair, frame it and make it a wall hanging, use pieces of it behind artwork or photographs inside a frame: sew it and another vintage tablecloth together into a duvet, make book covers from it, cover buttons, make placemats and napkins from it, or line – and even make -- a purse. The uses are as limitless as the imagination, but...

However….it sure makes a wonderful....TABLECLOTH!


*NOTE: Vintage linens are just that: vintage. Though often in exceptional condition for items of their age, or for items one might think were just made (even if they weren't), they have "lived" decades upon decades and there is usually a flaw, however slight. The beauty in vintage linens is their design, the colors used, the narrative they supply and the delight we can take from using something from eras now long gone. There may be faint stains, but that in no fashion diminishes the beauty or VALUE of vintage cloths.

When I sell a cloth, I send along a care sheet. Remember: I do NOT clean the cloths, but leave that to the new seller to do. If there is a major problem or even a problem of medium proportions, I will let you know up front.

***WITH APOLOGIES TO MY CUSTOMERS, PARTICULARLY THOSE INTERNATIONAL, THE U.S. SHIPPING COSTS HAVE DOUBLED IN THE LAST YEAR, AND, REGRETTABLY, I HAVE HAD TO RAISE SHIPPING PRICES. IF, AT THE TIME I POST THE ITEM(S) YOU PURCHASE, THERE IS ANY OVERAGE, I WILL IMMEDIATELY REFUND THE EXCESS MONEY TO YOU. IF IT COSTS MORE TO SHIP THAN I CHARGED, I WILL ABSORB THE DIFFERENCE.
Learn more about the shop and process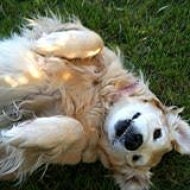 Lynn
EAMES ERA Marvelous LEAVES Vintage Tablecloth - 52" x 47" W/Metallic Gold Stripes - 1950's
---
Listed on Jan 13, 2017
441 views