♥THIS LISTING IS FOR INFORMATION PURPOSES ONLY! DO NOT PURCHASE!!♥
I just want to say THANK YOU for coming to this page and reading all of this, you guys are great customers. Your support and kindness is what I live for. I really want you to love these one of a kind pieces.
♥♥♥♥♥♥♥♥♥♥♥♥♥♥♥♥♥♥♥♥♥♥♥♥♥♥♥♥♥♥♥♥♥♥♥♥♥♥♥♥♥♥♥♥♥♥♥♥♥♥♥♥♥♥♥♥♥♥♥♥♥♥♥♥♥♥♥♥♥♥♥♥
I get almost 20-30 emails a day, so PLEASE read before starting a convo between buyer and seller, Thanks! Your a Doll.
♥♥♥♥♥♥♥♥FREQUENTLY ASKED QUESTIONS--ARTISTIC STRANDS--FAQ PAGE♥♥♥♥♥♥♥♥
♥
Q: What does Ombre mean?
A: Ombre is FRENCH for "to fade". Ombre is when your hair is darker at the tops and fades into a lighter color. I can dye them a to fade to a different color too or I can do a reverse ombre where it fades to a darker color. I can also stack the colors so there is a definite line and not faded into another color. (Blended is my favorite)
The Ombre service, when provided in a salon, on your real hair, is a very expensive service. We are happy that we can offer the extension and the service for such a low price. Each extension after being serviced is one of a kind. You will love your unique, one-of-a-kind extensions!
♥
Q: How much does a FULL set weight?
A: 70-100grams for a set like this:
1-8" w/4 clips attached
1-6" w/3 clips attached
3-4" w/2 clips attached
2-2" w/1 clip attached
♥
Q: How much do your four (4) piece sets weigh? (all 2Inches wide pieces)
A: 30 to 40 grams
♥
Q: How much does your eight piece set weight? (all 2Inches wide pieces)
A: 60-80 grams
♥
Q: How much does a ***DOUBLE FULL set weight?
A: A *Double* FULL SET WEIGHTS 180-200 GRAMS!!
♥
Q: What does Double Wefted mean?
A: Double Wefted is when the hair is doubled over then the clips are sewn on. Some Stores on Etsy sell single wefted sets (which is half the amount of hair). Here at Artistic Strands all of our clip on pieces and sets are ALL DOUBLE WEFTED. This means you will be getting a THICK set of hair extensions, which look more realistic than the thinner sets.
♥
Q: Will you price match other stores on Etsy:
A: YES>>>we will price match from certain reputable stores on ETSY. Sorry, We can not price match every store. Send me a link to the listing you want price matched and I will let you know if it is a store we price match.
We use HIGH QUALITY REAL REMY INDIAN & RUSSIAN HAIR, this is not cheep hair. With other shops we dont know what kind (real or synthetic, remy or not) hair they are using, we dont know the type of products they are using either. Our prices are very reasonable considering all the expenses and time that go in to making these one-of-a-kind hair pieces. We only use 100% Real Remy Human Hair. This is SALON QUALITY HAIR!
I create an ombre look that creates "blonder" blondes than anything else on the market currently WITHOUT damaging the hair or sacrificing the longevity or the quality of the extension.
♥
Q: Do you have my certain color of hair (my base color) or can you match my hair color?
A: I have a Color Chart (listed in the first picture above). You can choose from there your
base color.
Although we cannot guarantee a 100% match, due to different shades/colors on
various monitor screens, this color chart seems to have been very helpful
so far, in determining color. We also recommend attaching a photo of yourself in
your messages and we can usually help you determine the best color for your
pieces.
♥
Q: Once you list the "Custom Reserved Listing" how long is it available for me to purchase?
A: Typically I keep your "Custom Reserved Listing" up for 2-3 days. I dont like to keep my shop cluttered with custom listings as it sometimes confused other customers, and prices go up and down depending on the sales I am having. If I have taken your listing down before you get a chance to buy it, send a convo.
♥
Q: Are your dyes permanent or semi permanent?
A: I use mostly permanent dye for the base colors when needed. For the colorful rainbow colors and pastels I use Permanent and Semi-permanent. I do use professional dyes that have extreme staying power.
♥
Q: Will the color fade?
A: YES! All color fades. The Blue, Turquoises, and Teals last longer than the Red, Pink, and Purples. This is common! ask any salon! If you want to extend your color, use a color extending shampoo and conditioner and only wash and condition when absolutely necessary.
The Itips and Utips will fade much faster because they are attached to your hair and you will be washing them every time you wash your hair. The clip-in's color last A LOT longer because it's not being washed all the time.
Please keep this in mind, I do not give refunds because your color washed out.
♥
Q: What is the difference in Itip and Utip Hair Extensions?
A: The Itip Extensions are inserted into a tiny silicone lined micro-bead and clamped shut
(as shown in pictures 4&5 above). The Utip Extensions ( as shown in picture 3 are installed
with a professional heating tool that heats up the keratin end and it adheres to your hair kind of like a hot glue gun- but for your hair.
♥
Q: Where do I get the silicone lined micro-beads?
A: I sell them separately on here, I sell 10 for $3.95 and you can mix the colors if you'd like.
♥
Q: My hair isnt that long, I dont need 18 inches so can you dye the tips up higher?
A: Yes, just let me know in the notes to seller or in a separate email what length you want
your ombre tips to be.
♥
Q: I want clip in extensions. How wide are they and do they have the clips attached?
A: Typically my clip in extensions are approximately 2 inches wide and they are doubled
over (this is called a double wefted hair clip) and they are 18 to 20 inches long. But I do have listings for other size clip in's and I welcome custom orders.
♥
Q: I have my own extensions, can I send u my extensions and have you dye them?
A No, sorry.
♥
Q: Can I get my extensions in 22 inch hair or longer?
A: I now have access to hair from 6 inches long to 30 inches long! All Remy Hair! Soft and Silky Straight, or if you prefer another texture, let me know, I can get Yacki.
♥
Q: Can I get my extensions for cheaper, do you have any coupons?
A: Check out my Announcements, I advertise coupons daily & check out our Facebook Page for coupons, I sometime have coupons for 20% OFF!!
♥
Q: Can you do Express Delivery? or Priority Mail?
A: Yes, Check out my Rush Delivery section
https://www.etsy.com/listing/99849368/rush-order-overnight-expree-recieve-the
I ONLY SHIP TO PAYPAL CONFIRMED ADDRESSES FOR MY PROTECTION AND YOURS.
♥
Q: Do you accept returns? Or Exchanges?
A: Due to the irreversible nature of the ombre coloring process, I cannot offer any returns or exchanges. However, we can minimize the possibility of a mismatch in a couple ways:
You send me as many pictures of your hair in natural lighting that properly display the true color of your hair, and the use of the Color Charts I have displayed, to describe your hair color and/or ombre colors. This will give me all the info I need to match the ombre within a shade. The nice thing about my ombre product is that even if they're not matched perfectly (say, a half shade or shade off), the extensions will blend with your hair and the difference will be virtually unnoticeable. So, there is NO RETURNS>
♥
Q: How to Install Weft Clip Hair extensions:
A:
1.)Part the section of hair just like you do to create a high ponytail except that in this case, you leave a small section at the base.
2.) Pile the section on the crown of your head and put a clip on it so that it does not get in the way.
3.) Tease and backcomb hair roots with the small tooth comb and apply hairspray.
4.) Open the clip on accessory and start by clipping the right clip on to the fuzzy roots of your natural hair, then move on to the left clip, and finally, the middle clip.
5.) Undo the section of ponytail and create another high ponytail section. Leave another section of hair at the base, making sure that it is just an inch above the section you just worked on. This is to ensure that this layer of natural hair falls just over the clip on hair extension you just installed.
6.) Repeat the steps for as many clip on extensions that you want to add, taking care that you leave the thin section of hair to cover the previous extensions.
7.) When you have to work on the sides, take a small section of hair about three inches above the ear and clip on the extension.
8.) Using hairspray makes the hair a bit firmer, which ensures that the clip on hair extensions do not detach easily.
********************************************************************************************************
♥MAINTENANCE AND CARE♥
Just like your own hair, human hair will accumulate residue through normal wear. However, you do not need to wash the hair everyday to keep consistent results. The hair should be washed as infrequently as possible or when you notice that the hair appears dull or acquires an odor.
If you are wearing the hair all day, every day, you can wash them after 3-4 wearings.
Before shampooing, gently remove any tangles. If hair is excessively tangled, a spray on conditioner should be used.
Always use a mild shampoo or one specifically formulated for chemically/color treated hair.
Run the hair under warm water and after placing a small amount of shampoo on your fingers, gently work the shampoo into the hair, stroking downwards from the weft base to the ends. Do not twist, scrub or rub the hair. Use the shampoo sparingly.
When clean, rinse thoroughly under luke warm or cool running water until the water runs clear. Be sure to rinse until all shampoo is removed, as improper rinsing could result in damage. Just like your own hair, human hair extensions need to be conditioned after shampooing to maintain a healthy shine and promote styling ease.
Place a small amount of conditioner in your hand. Gently work into the hair and let sit for three to five minutes.
*Rinse thoroughly in warm water.
*Gently towel blot to remove excess water.
*While wet, gently comb the hair to remove tangles.
*Using a large toothed comb, move in a downward motion away from the clips and to the ends.
*Do not use a bristle brush on wet hair as it may pull out or break the hair.
*Hang to air dry, set in rollers, or use a blow dryer on a low setting, as desired.
*If the hair is excessively dry, a "professional" conditioner may be necessary. Consult your stylist about this.
♥Styling the Hair♥
*Steam rollers and/or wet setting are the safest way to curl your human hair.
*Blow dryers, curling irons and other thermal tools may be used on low settings. Remember, the hair may scorch if the setting is too high.
*If you choose to use electric rollers, always make sure that the ends are wrapped into the rollers to avoid "fishhooks".
*For cutting, or any chemical processes such as perming or coloring, take the extensions to a professional stylist. Unlike your hair, this hair does not grow back if you cut it. So, remember to always take your new hair to a salon professional if you need it customized. This will give you the best results!
♥Storing the Hair♥
It is best to store the human hair in it's original container. However, you curl up the hair and store it in small zip lock type baggies.
To keep the desired curl pattern, you may want to set the hair on rollers that conform to the curl size you wish to maintain before storing in plastic.
Do not sleep or swim while wearing the human hair.
Meet
the

owner

of

1oakhair Learn more about the shop and process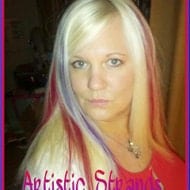 Sascha
Artistic Strands - F.A.Q. - Frequently Asked Questions - Please Read - Common Questions Answered - Hair Color Chart - Hair Extensions
---
Overview
Handmade item
Materials:

Real Hair, Human Hair, Remy Hair, Vegan Hair Dye, semi permanent dye, permanent dye, long hair, blonde, black, brown, aburn

Made to order
Ships worldwide from

United States

Feedback: 166 reviews
Favorited by: 73 people