Labrador Retrievers, aka Labs, are great family dogs – loyal, steadfast, happy, even-tempered and just plain FUN to be around. No wonder they have been the #1 Most Popular Dog year after year after year. They deserve it! Sadly, this perfect buddy often suffers from a dry, crusty or even cracked nose. NOSE BUTTER® to the Lab rescue!

THE BLISSFUL DOG LABRADOR RETRIEVER NOSE BUTTER TIN OPTIONS

YOUR CHOICE OF THREE SIZES OF SCREW TOP TINS

1 OZ TIN LABRADOR RETRIEVER NOSE BUTTER
2 OZ TIN LABRADOR RETRIEVER NOSE BUTTER
4 OZ TIN LABRADOR RETRIEVER NOSE BUTTER

• LIGHTLY SCENTED OR UNSCENTED OPTION
• EACH HAS A LABRADOR RETRIEVER ON THE LABEL
• COMPLETE TIPS, HINTS & DIRECTIONS INCLUDED
• IN A CUTE GIFT BAG


WHAT THE HECK IS THAT STUFF ON MY LAB'S NOSE?

Probably not food, dirt, bad genetics or anything you did or didn't do that you should have (did that make sense?). While your dog may have a bit of regular dryness on their nose (which NOSE BUTTER® will take care of easily), if it is more of a crust or looks like an oyster shell or tree root, your dog may have Nasal Hyperkeratosis aka crusty nose crud.

Nasal Hyperkeratosis is an idiopathic condition (scientific jargon for they don't have a clue where it comes from ¯\(°_o)/¯ ) that results in a protein or keratin overgrowth (keratin-more jargon) on a dog's nose and/or paw pads. This protein overgrowth is often seen in older dogs, dogs with certain illnesses or on some medications. Plus, certain breeds or breed types (mixed breed dogs get this too) seem to have a genetic predisposition to the condition. Bully breeds, flat-faced dogs, toy breeds, the mastiff types and anything with a chunky body type seems to be more likely to have this condition.

A moist dog nose acts as a scent gathering flypaper, perfect for catching scent particles that give our dog's info. If your dog's nose is dried out, they will lick it, in the vain attempt to get the moist barrier that captures the nose news. Just like us licking chapped lips, it creates an even drier nose.

NOSE BUTTER® is individually handcrafted by my team and I here in far northern Minnesota (yes, it is science fiction cold in the winter) using all natural and organic good stuff: shea butter, olive oil, castor oil, avocado oil, almond oil, coconut oil, beeswax, cocoa seed butter, a dash of essential oils and love.

NOSE BUTTER® DIRECTIONS

DAB a bit onto your dog's nose 1-3x a day for 2-3 days (until nose improves) and then as needed for maintenance (usually 1-2x a week).

DISTRACT with a treat (keeps them from licking NOSE BUTTER® off while it moisturizes, though it won't hurt them if they DO lick some off)

DONE!

LIGHTLY SCENTED: Original formula NOSE BUTTER® has a bit of aromatherapy oils (Cedarwood to lessen stress, Cypress for to help ground and balance, and Ylang Ylang for a bit of a lift and joy). Most people do not even smell the oils at all, unless you have a sensitive nose, the subtle scent may be detectable.

UNSCENTED VERSION: We firmly believe in the energetic healing benefits of the essential oils we use in The Blissful Dog products, but we respect some of you may want an unscented version.

Labrador Retriever Tidbits & Info

Labrador Retriever Info: The Labrador's ancestors date back to 17th century Canada and it was in, you might not guess this, NOT Labrador, but Newfoundland! These original Canadian water dogs were the ancestors of the Newfoundland, the Landseer Newfoundland, the Flat-Coated Retriever, the Chesapeake Bay Retriever and of course, the Labrador Retriever. The Earl of Malmesbury was said to have been so enamored of the water dogs there that he imported a number of them back to England where he began the first kennel dedicated to this breed.

Labrador Historical Tidbit: In 1887 - In a letter from the Earl of Malmesbury to the Duke of Buccleuch he says, "We always call mine Labrador dogs and I have kept the breed as pure as I could from the first I had from Poole….known by their having a close coat which turns the water off like oil and, above all, a tail like an otter."

Labrador Color Factoid: In 1892 two liver colored Labrador pups born at Buccleuch's kennel, thus beginning the chocolate coloration. A few years later, in 1899, the first yellow Lab was born.

Put a Stamp On It: In 1959, King Buck, a famous black Lab was the first dog to be immortalized on a stamp in the United States.

REVIEWS & TESTIMONIALS WE ARE HONORED TO HAVE THOUSANDS OF REVIEWS RIGHT HERE ON ETSY - CHECK 'EM OUT!
Learn more about the shop and process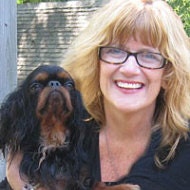 Kathy Dannel Vitcak
Labrador Retriever ORIGINAL NOSE BUTTER® Handcrafted Salve for Dry Dog Noses Choice: 1 oz, 2 oz or 4 oz Tin with Trio of Labs Label
---
Overview
Handmade item
Materials:

shea butter, olive oil, almond oil, castor oil, coconut oil, avocado oil, beeswax, cocoa seed butter, essential oils, or unscented, love

Made to order
Ships worldwide from

United States

Feedback: 3229 reviews
Favorited by: 35 people
Listed on Jan 12, 2017
878 views