This item sold on September 20, 2012.
1 ounce of organic meadowfoam oil (limnanthes alba).
certified organic, packaged in an amber glass bottle to preserve quality & freshness.

This absolutely exquisite oil provides a cornucopia of cosmetic uses.
Containing over 98% long-chain fatty acids, this oil is a prized medium for applications which require a moisturizing and rejuvenating benefit for the skin and face.
A usefull ally in your formulated creations; where you need a highly valuable and effective ingredient to nourish the skin and outer epidermis.


Botanical Name: Limnanthes alba
Extraction: Expeller Pressed/Refined
Notes: A stable refined oil that appreciates refrigeration, however this is not necessary. Its high oxidative stability makes it practical and convenient for several cosmetic creations.

Specifications:
Color- Light golden
Odor- None
Free Fatty Acids- 0.03%
Peroxide Value- 0.0
Non-Saponifiables- 0.4
Saponification Value- 168
Iodine Value- 90.83
Specific Gravity- 0.91
pH- 4.11
Heavy Metals- <1.1ppm

Fatty Acids
Brassic- 17.9%
Erucic- 12.7%
Gadoleic- 61.5%
Oleic- 3.2%

Introduction: Meadowfoam Oil is pressed from the seeds of Meadowfoam (Limnanthes alba), a plant which received its name because of its resemblance while in bloom to the white foam blowing on the ocean. Meadowfoam is native to northern California, southern Oregon, Vancouver Island, and British Columbia. It has proven to be invaluable in the body care and cosmetic industries, and is also being studied for pharmaceutical and industrial use.

Meadowfoam oil contains over 98% long-chain fatty acids, and also has higher quality triglyceride levels when compared to other vegetable oils. In addition, it has three long chain fatty acids that were previously unknown before its discovery. It also has amazing moisturizing and rejuvenating capabilities, is very stable, and may be utilized for many different purposes.

Cosmetic Use
We highly recommend incorporating Meadowfoam oil in your natural body care recipes because of its outstanding qualities. It is widely used in cosmetic and hair care products because it is moisturizing, extremely stable, and capable of adhering and staying on the skin. In addition, Meadowfoam oil is one of the most stable oils, and will actually extend the shelf life of less stable ingredients. When applied to the skin, it forms a moisture barrier and will assist the skin with preventing moisture loss. It is a key ingredient in many different products such as massage oils and lotions, facial creams, sunblock, hair and scalp products, cosmetics, body lotions, and shaving creams. In hair care products, it will add shine and moisture to the hair, and will remedy dry or damaged hair. When added to lotions and lip balms, it will remoisturize dry or cracked lips and skin, and will make balms last longer. In summary, Meadowfoam oil has these beneficial characteristics:

Moisturizes the skin
Rejuvenates and adds shine to hair
Ultra-violet protection (sunscreen applications)
Non-greasy feeling, soaks into the skin easily
Reduces wrinkles and signs of aging
Blends well with other carrier oils
Very stable, even under heat and air exposure
Adheres well to the skin
Binder, helps products retain their scent longer
Stability extends product shelf life when combined with less stable ingredients
Additional Benefits
Aside from these amazing cosmetic uses, Meadowfoam oil is also beneficial for our environment! It was first developed in the 1970's, and was introduced as an alternative to sperm whale oil in order to protect the species. The pressed seeds are fed to cattle and other livestock, and are a source of nutrients for these animals. While grown in the field, birds, insects, mice, and other critters, also eat the nutritious seeds. The Meadowfoam plants themselves are a renewable crop, and are usually grown as a rotation crop for grass seed farmers. This eliminates the need to burn the fields in between grass seed plantings, and also provides farmers with additional income. Meadowfoam also requires less fertilizer and pesticides than most crops, assisting farmers and the environment. Scientists at Oregon State University and the US Department of Agriculture, as well as other scientists, are all currently studying Meadowfoam oil, in order to discover new applications for this versatile oil.

Precautions: None found, however its use is stated as cosmetic use only.
Learn more about the shop and process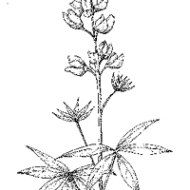 bloominous
organic meadowfoam seed oil (limnanthes alba) 1 ounce oz
Listed on May 28, 2012
116 views