Great Danes are the Apollo of the Dog World. Regal, majestic and elegant. If your Great Dane has a dry ridge of crust across his nose, you are at the right place! NOSE BUTTER® is created from super moisturizing organic butters and oils to soothe and smooth your dog's nose fast. After 1-3 days of multiple daily applications you will see results. Then just use as needed for maintenance. Your Great Dane's cracked, dry nose is a thing of the past with Nose Butter.

THE BLISSFUL DOG GREAT DANE NOSE BUTTER TIN OPTIONS

YOUR CHOICE OF THREE SIZES OF SCREW TOP TINS

1 OZ TIN
2 OZ TIN
4 OZ TIN
EACH HAS YOUR CHOICE OF GREAT DANES ON THE LABEL: ALL 4 DANES, BLACK, FAWN OR HARLEQUIN
COMPLETE TIPS, HINTS & DIRECTIONS INCLUDED
IN A CUTE GIFT BAG

NOSE BUTTER is an uber-moisturizer made of ingredients that soak into your dog's nose using a layered effect. First the smaller molecules are absorbed, then the ingredients with medium molecules melt in and then the larger molecules bring up the rear to act as a protective barrier (while still being light enough to allow the nose leather skin to breathe). Bill Nye has nothing on us!

WHAT THE HECK IS THAT STUFF ON MY DOG'S NOSE?

Probably not food, dirt, bad genetics or anything you did or didn't do that you should have (did that make sense?). While your dog may have a bit of regular dryness on their nose (which NOSE BUTTER® will take care of easily), if it is more of a crust or looks like an oyster shell or tree root, your dog may have Nasal Hyperkeratosis aka crusty nose crud.

Nasal Hyperkeratosis is an idiopathic condition (scientific jargon for they don't have a clue where it comes from ¯\(°_o)/¯ ) that results in a protein or keratin overgrowth (keratin-more jargon) on a dog's nose and/or paw pads. This protein overgrowth is often seen in older dogs, dogs with certain illnesses or on some medications. Plus, certain breeds or breed types (mixed breed dogs get this too) seem to have a genetic predisposition to the condition. Bully breeds, flat-faced dogs, toy breeds, the mastiff types and anything with a chunky body type seems to be more likely to have this condition.

A moist dog nose acts as a scent gathering flypaper, perfect for catching scent particles that give our dog's info. If your dog's nose is dried out, they will lick it, in the vain attempt to get the moist barrier that captures the nose news. Just like us licking chapped lips, it creates an even drier nose.

NOSE BUTTER® is individually handcrafted by my team and I here in far northern Minnesota (yes, it is science fiction cold in the winter) using all natural and organic good stuff: shea butter, olive oil, castor oil, avocado oil, almond oil, coconut oil, beeswax, cocoa seed butter, a dash of essential oils and love.

NOSE BUTTER® DIRECTIONS

DAB a bit onto your dog's nose 1-3x a day for 2-3 days (until nose improves) and then as needed for maintenance (usually 1-2x a week).

DISTRACT with a treat (keeps them from licking NOSE BUTTER® off while it moisturizes, though it won't hurt them if they DO lick some off)

DONE!

Great Dane Facts & Tidbits

Great Dane History: There are several theories as to the origin of the breed often called the Apollo of Dogs. The English version says the bulk of the evolution of the breed was English. The German version says, obviously, that the Germans did all of the work!

The Great Dane and the Mastiff have the same ancestors, thought to be the giant dogs of ancient Egypt. The dogs migrated to England, either by the Romans or sailors. These large dogs were eventually bred with Greyhounds, creating a slimmer, faster dog which many feel is the origin of the Great Dane, often called the "English Dogge."

This effort led to the development of the "English Dogge", which some would say is the ancestor to the Modern Great Dane. What is known is the Germans did import many of the "English Dogges" to use in breeding. They crossed them with German dogs to develop a large, powerful dog to hunt wild hogs/boar. During the 1700 and 1800s the German dog breeders worked to create a friendlier breed with a solid, stable temperament. There was no longer the same need for ferocious war dogs. Here is a link to a fascinating story of the Great Dane and their service in modern war (decidedly un-warlike).
Learn more about the shop and process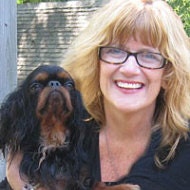 Kathy Dannel Vitcak
Great Dane ORIGINAL NOSE BUTTER® Handcrafted Balm for Dry Dog Noses Your Choice: 1 oz, 2 oz or 4 oz Tin With Great Dane Label
Overview
Handmade item
Materials:

shea butter, olive oil, castor oil, almond oil, coconut oil, avocado oil, beeswax, dash of essential oil, or unscented, love

Made to order
Ships worldwide from

United States

Feedback: 2984 reviews
Favorited by: 24 people
Listed on Sep 7, 2016
446 views