This item sold on September 11, 2012.

This is a miniature Turnip head scarecrow fashioned on a wooden skewer for decoration. You can stake him in a potted plant, preferably indoor, and he might just keep the flies away...(in theory). Or jazz up that pencil cup on your desk! You decide, there's lots of things you could do with him. He's so cute and sure to make you smile, just look at him, he's so happy! Okay, sales pitch, now down to the knitty gritty...ha ha, get it....KNITty....yea well, it's a work in progress...

This little fellow's head is crocheted with acrylic yarn, very small, and stuffed with polyester fiber. Eyes are sewn. Smile is made of white pants patch sewn on with invisible thread. His hat is felt. Suit 100% fake, as in not cotton. It's polyester or something, I'm not sure, He's made out of scrap fabric! how's that? No, RECYCLED fabrics, that sounds more professional....yea. Hands are also felt...what else?....Oh, he's about 13.5 inches tall, about 7.5 from top of hat to bottom of trousers.

All joking aside, if I haven't answered any questions you may have about this piece, Please just ask! Thanks!
Learn more about the shop and process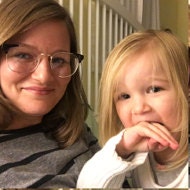 April Rain Reilly