These are my favorite Mexican folk art inspired earrings featuring a detailed hand-tooled 'Sacred Heart' medal made of plated nickel. They are very detailed and hand tooled. They are by far one of our customer's favorite earrings. Please feel free to read our many satisfied customers' reviews.

These treasures hang on hypoallergenic ear hooks and the milagro measure a bit shy of 2.5" (6.5cm) x 1.5" wide. They are very light weight... like a mini tin milagro. Note that they do darken due to coming in contact with air.

Milagros or Miracles, found in many areas of Latin America are used by the people to petition saints for help or protection. In many of the churches one can see wooden statues of various saints, the Virgin Mary, or of Christ. On these figures, the people often pin a small metal images of arms, legs, hearts or other symbols of their prayers. These Milagros serve to remind the saint to the person's prayers or to thank them for answered prayers.


These are a basic earring that I just wear all of the time.....They do not tarnish or turn, just darken just a bit. I have had mine for years with no problem. But please note that they are not bright silver like sterling or gold . You can always shine them up by using a bit of lemon juice and sea salt.

We just heard from a customer that these are like Kat denning's that she wears as "MAX" on the sitcom 2 Broke Girls.
Learn more about their shop and process
Tee and Rad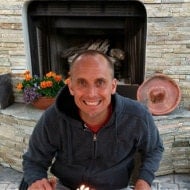 Rad
Lg. SACRED HEART Intricate Milagro Earrings- Perfect gift for the one you love- 2.5"
Listed on Sep 1, 2016
5802 views