Samhain is a magical interval when the mundane laws space and time are suspended and the veil between the worlds is lifted. It is easy to communicate with departed loved ones and ancestors during this time, for they journey through this world on their way to the afterlife.

VETIVER ~ Prosperity, love, and attraction; Overcomes obstacles, breaks hexes, and repels negativity.

BERGAMOT ~ Protection, prosperity, restful sleep, luck, uplifting.

TANGERINE ~ Promotes energy, strength, and vitality. Awakens joy and dissolves negativity.

SANDALWOOD ~ Clears negativity, healing, protection, wishes, meditation

COPAL ~ Purification and love

MYRRH ~ Enhances meditation and contemplation. Used to release and banish negativity, to promote spiritual enlightenment and progression.

NAG CHAMPA ~ Enhances energies into harmonious balance

VIOLET ~ Calms the nerves, draws prophetic dreams and visions, stimulates creativity, and promotes peace & tranquility.


The oils I use are 100% natural, vegan friendly and contain no chemicals, synthetics or dyes of any kind.

I use no "fragrance oils" and my perfumes have no alcohol and are phthalate and paraben free!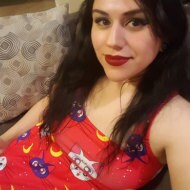 Elyse
Samhain Night Perfume Oil - Sandalwood, Vetiver, Nag Champa Attar, Violet, Citrus, Frankincense, Crushed Herbs, Myrhh and Spices
Listed on Sep 4, 2016
236 views