~ Sand Dollar Tile ~

This delicate Sand Dollar Tile is an original design from Northfire Studios. The dimensions are 4" square and 3/8" thick and it is signed and stamped by the artist. The tile may be hung on a wall, displayed in a tile stand* or used in a permanent installation as an accent piece with other tile.

The tile has been hand pressed using durable stoneware clay. It is then dried and fired to 2010 degrees. At this temperature the clay is fully vitrified (cannot absorb moisture) which makes it suitable for indoor or outdoor locations. The raised design is hand glazed and will not wear or fade.

Colors: white, green




~ The Legend of the Sand Dollar ~

There's a lovely little legend
That I would like to tell,
Of the birth of Jesus
Found in this lowly shell.

If you examine closely
You'll see that you find here,
Four nail holes and a fifth one
Made by a Roman's spear.

On one side the Easter Lily,
It's center is the star,
That appeared unto the shepherds
And led them from afar.

The Christmas Poinsettia
Etched on the other side,
Reminds us of His birthday
Our happy Christmastide.

Now break the center open
And here you will release,
The five white doves awaiting
To spread Good Will and Peace.

This simple little symbol
Christ left for you and me,
To help us spread his Gospel
Through all Eternity.
Learn more about the shop and process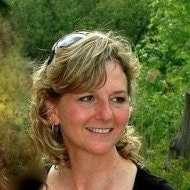 Kristin Gainer De Vries
Sand Dollar Tile ~ 4 x 4 inch Stoneware Ceramic ~ Sea Tile ~ Accent Tile ~ Light Green ~ White
Listed on Sep 7, 2016
374 views