You will receive one (1) sheet (8 inches) Cake Topper that fits a standard 8 inch round cake or 9 inch round cake.

If you are looking for something original and fun, then these edible images will fit the bill. They can be used for all sorts of sweet treats such as cookies, cakes, cupcakes, brownies, or any dessert.

Your image will be printed on an actual frosting sheet, not rice or wafer paper! I only use the highest grade of icing sheets which are thick, not thin and won't bleed like the thin ones do. Send us a message letting us know what design you are looking for and we will send you a proof and set you up a custom listing. Perfect for birthdays, anniversaries, special occasions.

Assembly is easy! Simply peel and stick on your homemade or store bought cake and the topper will meld right into the icing. It gives your cake an air-brushed like finish!

Personalization is always free! Message us with your instructions for personalization.

TIPS:
BUTTERCREAM frosting works best. The image seems to take about 2hrs to meld into the frosting. (The wetter the frosting the better)
Cut top of cupcakes flat so image will lay flat and not wrinkle.
Apply icing.
Roll edge of cupcake in sprinkles to give it a finished look.
In humid months freeze image for 30 seconds or refrigerate for 1 min before trying to peel the image. The idea is to get the image harder but not brittle so it will peel easily.

DIRECTIONS
How to Store Frosting Sheets: Frosting sheets should be stored tightly sealed in the heavy zip-loc bag they are shipped in to prevent them from drying out. Store flat out of direct light. Frosting sheets do not need to be refrigerated. They have a shelf life of one year.

How to Use Frosting Sheets:
General Use/Buttercream

Handle your frosting sheets with care using clean, dry hands. If cutting out an image, do that while the frosting sheet is still on the backing and while it is still flexible. Use a pair of very sharp scissors or an exacto knife. Frost cake, stick image in freezer for 30 seconds or refrigerator for about 1 minute (Freezer works best for me). The idea is to get the image stiff but not brittle. Peel sheet before the image warms back up. Image should peel perfectly off the plastic backing and you shouldn't have to fight with it. If so freeze again and retry to peel at a different corner. Place image on cake and carefully and gently smooth image from the inside out with either your DRY hand or a small roller. Finish decorating your cake. You can pipe over frosting sheets but take care not to puncture the sheet with your decorating tip. Store finished cake covered or in a cake box. Cakes can also be refrigerated or frozen. Frozen cakes should be thawed in the refrigerator, uncovered to prevent them
from sweating.

Non-dairy Whipped Topping
Application is the same as for buttercream. Keep finished cake refrigerated. Because of the high water content in whipped cream, you should apply the edible image as close to serving time as possible. Colors may run and the image may fade. To avoid this, you can frost under the edible image with buttercream or apply the edible image to a fondant plaque to protect it from the moisture of the whipped cream.

Ice Cream
Mist the surface of the ice cream with milk or rub the surface lightly to soften it before applying the edible image.

Royal Icing
Mist the royal icing with water and then apply the edible image. You can also apply the image before the icing sets but it may wrinkle as the royal icing dries.

Rolled Fondant/Marzipan
Using water or piping gel, lightly moisten just the area where you want to apply your edible image. For smaller images, you can moisten the back of the image with piping gel before applying it.

Ganache/Poured Fondant
Pour your icing as usual. Apply the edible image before the icing sets. Be sure your cake is level or the edible image may slide.

Chocolate/Candy Melts
Molding chocolate or candy melts can be poured over edible images. To do this, place the edible image face down in a mold. Pour the candy over the image slowly. Take care to avoid bubbles. Edible images can also be applied to the surface of melted chocolate and candy melts.

FROSTING SHEET TROUBLESHOOTING!
Frosting sheet won't release from the backing.

(In hot weather the humidity is high which makes the sheet too soft) HIGHLY RECOMMENDED TO PUT IN THE REFRIGERATOR FOR ABOUT 1 MINUTE OR FREEZER FOR 30 sec. BEFORE PEELING THE IMAGE OFF BACKING! The key is to get the image harder but not brittle. Peel before the image warms up again. . Rolling the plastic backing across the sharp edge of a table might also help to release the frosting sheet.

Frosting sheet is dry and brittle.
Methods you can use to try to re-humidify the frosting sheet are: Seal the frosting sheet in a zip-loc bag and place it in a humid environment like the refrigerator. Steam the frosting sheet over a pot of boiling water. Moisten a paper towel or small cloth with warm water and place it beneath the plastic backing (not touching the frosting sheet) and then seal it in a zip-loc bag. Spray a fine mist of water over the top of the frosting sheet. If all else fails, you might consider using the frosting sheet to stamp, color or airbrush on with edible inks. Cutting images out of dried frosting sheets can be difficult so try to use the whole sheet.

Frosting sheet won't meld into the frosting on my cake.
The frosting on your cake has formed a skin or crusted over. Apply your frosting sheet before the frosting on your cake has had time to form a skin or crust over. If it crusts before you are able to apply the frosting sheet, either lightly mist the area with water or lay a moistened paper towel over it. BEST RESULTS USE BUTTERCREAM FROSTING!!

Frosting sheet has bubbled.
Moisture has seeped up through the cake. Tapping down the bubbles with your finger can make them less noticeable. To prevent this, be sure your cake is completely cooled before frosting it and applying the frosting sheet. Store your finished cake in a cool, dry place. If your cake is frozen when you apply the frosting sheet, allow it to thaw slowly in the refrigerator. You'll also want to avoid storing the finished cake in an air tight cake dome at room temperature. An air tight cake dome can act like a greenhouse.
Meet
the

owner

of

topAcake Learn more about the shop and process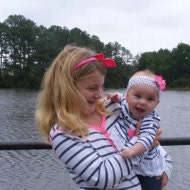 Crystal
Custom Edible Image Cake Topper - 8 inch round Rainbow design
Overview
Handmade item
Material:

frosting sheet

Made to order
Only ships within

United States

.
Feedback: 570 reviews
Favorited by: 4 people
Listed on Jul 9, 2016
243 views