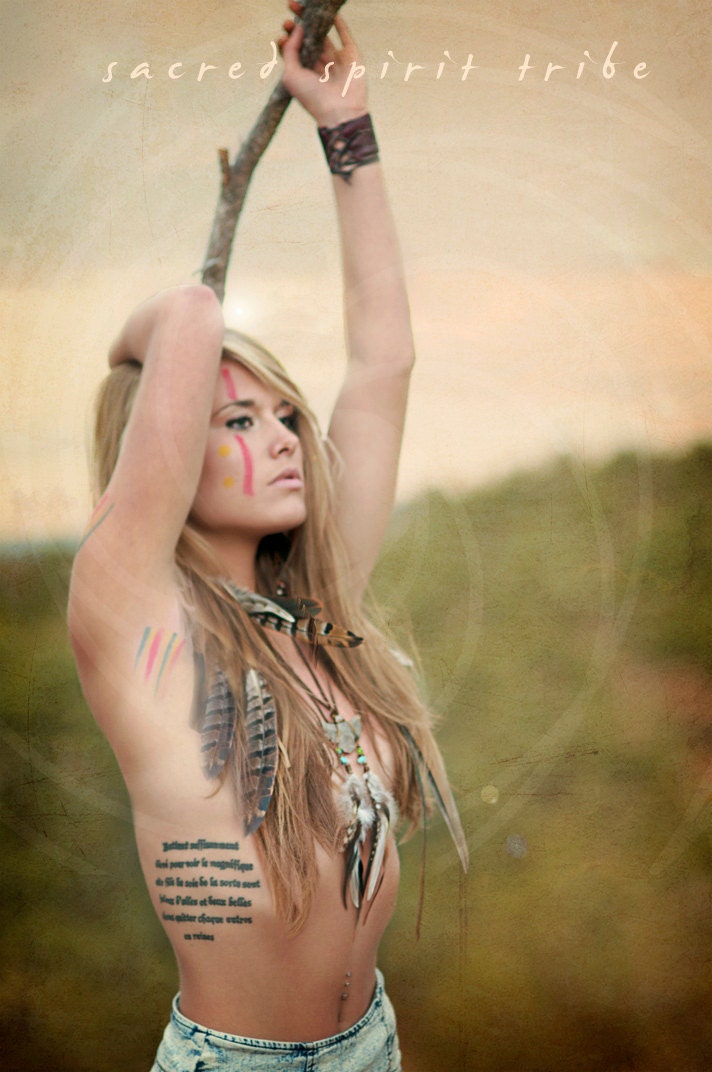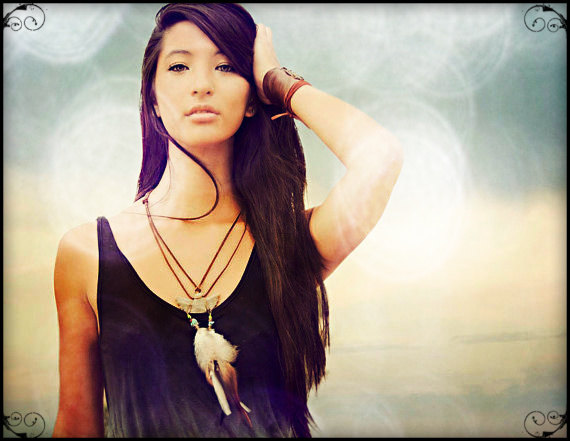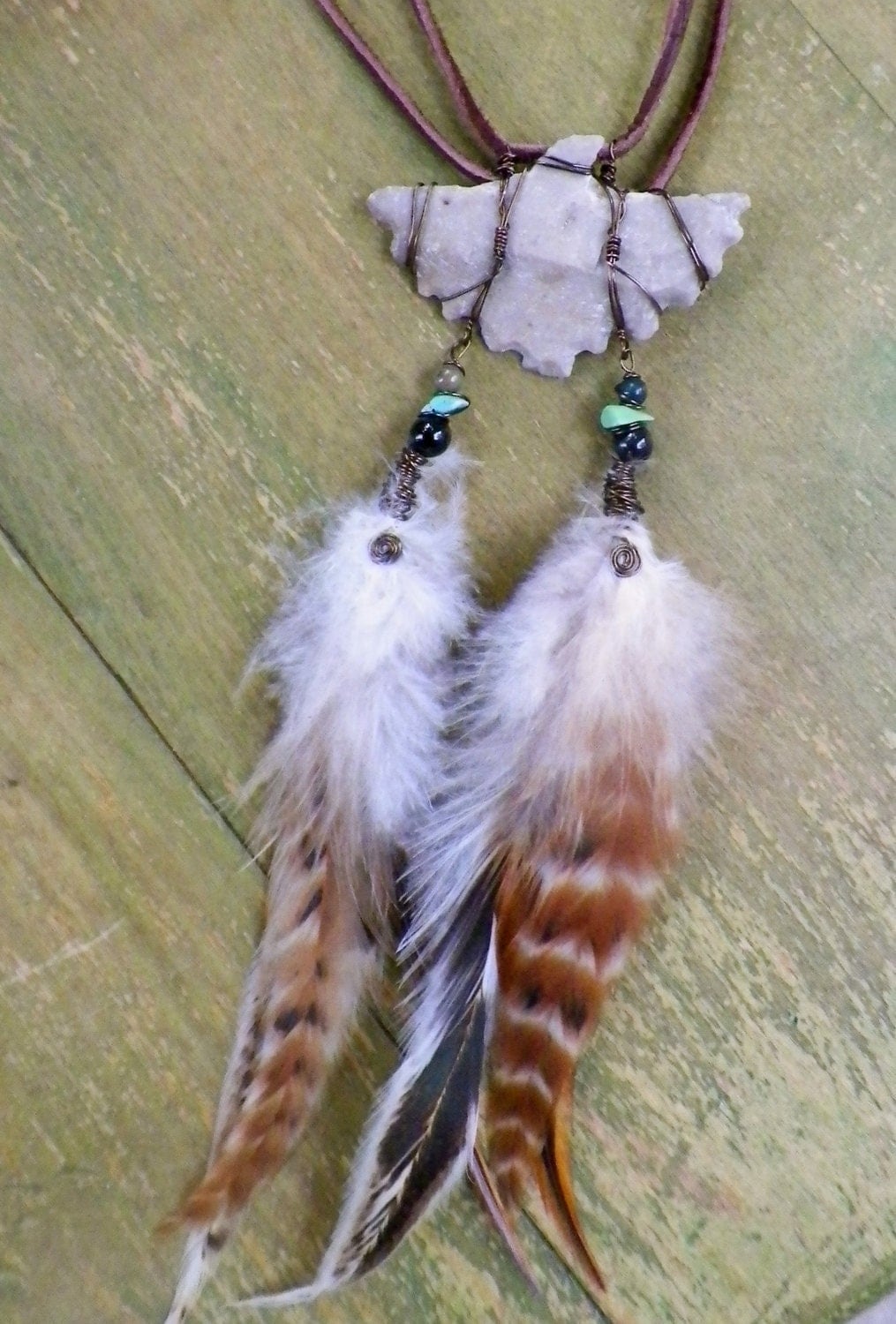 Beautiful stone eagle pendant on leather. Wire wrapped with feathers, turquoise, onyx and agate.

Symbolism~
Eagle~
The Natives believe the eagle was the chosen master of the skies by the Creator. This is also because eagles generally fly at a higher altitude than most other birds. This gives them a unique perspective that is unmatched by any other bird. By virtue of their high flying they are considered to be closer to the Creator than all other creatures on earth.

The eagle, it is believed, works as a messenger for the Creator. It is tasked with the duty of carrying the prayers of human beings from the earth world to the spirit world where they believed the creator resides. Seeing an eagle during a prayer ceremony was taken as a sign of having one's prayers accepted. If the Natives wanted the Creator to take immediate notice of them they would hold up an eagle feather in their hands.

Agate~
Agate is an excellent stone for rebalancing and harmonising body, mind and spirit. It cleanses and stabilises the aura, eliminating and transforming negativity. Agate enhances mental function, improving concentration, perception and analytical abilities. It soothes and calms, healing inner anger or tension and creates a sense of security and safety.

Agate heals the eyes, stomach and uterus; cleanses the lymphatic system and the pancreas; strengthens blood vessels and heals skin disorders.

Onyx~
Onyx gives strength. It promotes vigor, steadfastness and stamina. Imparts self-confidence, helping you to be at ease in your surroundings. Onyx banishes grief, enhances self-control and stimulates the power of wise decision-making. It encourages happiness and good fortune.

Turquoise~
Turquoise is a purification stone. It dispels negative energy and can be worn to protect against outside influences or pollutants in the atmosphere. Turquoise balances and aligns all the chakras, stabilising mood swings and instilling inner calm. It is excellent for depression and exhaustion, it also has the power to prevent panic attacks. Turquoise promotes self-realisation and assists creative problem solving. It is a symbol of friendship, and stimulates romantic love.

Turquoise aids in the absorption of nutrients, enhances the immune system, stimulates the regeneration of tissue, and heals the whole body. It contains anti-inflammatory and detoxifying effects, and alleviates cramps and pain. Turquoise purifies lungs, soothes and clears sore throats, and heals the eyes, including cataracts. It neutralises overacidity, benefits rheumatism, gout, stomach problems, and viral infections.

SHOP POLICIES~~
Welcome to Spirit Tribe. All my pieces are handmade with love, creativity and good vibes...I am inspired by the elements, the earth and spirit. I hope you find something you love. Please like my page to get the latest creations, deals, and coupon codes. I am happy to make custom pieces, please message me with what you want.

I accept credit cards and paypal.

I use as much recycled material in shipping as possible & I choose to support small businesses.

Please allow up to two weeks for your order to be processed and shipped, although I try my best to have orders out within a couple days.

I offer tracking numbers for U.S residents. If you are outside of the U.S and want a tracking number please message me. International orders have an estimated arrival time of 1-3 weeks, depending on customs.


I want you to be 100% satisfied with your order. If you are completely unhappy with your order I am happy to exchange it for you for equal or more value and but you must pay the difference if it is higher value exchange.
I must be notified within 30 days of the item being recieved for exchange.
I do not issue refunds.
Learn more about the shop and process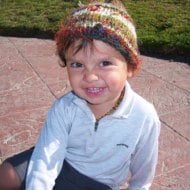 Rio
stone eagle... feather necklace
---