Women of ancient Rome loved to wear jewelry in large quantities: necklaces, rings, earrings, tiaras and jewelry.

The ornatrices carefully studied "the effect of all the jewelry and the best place to place and make them stand out more so to embellish their mistress. Pliny the Elder wrote that Lollia Paulina, wife of Caligula, wore jewelry worth 40 million sesterces (about 42 million today).

I create personally my wooden beads. Each piece is cut and sanded by hand.

I took inspiration from ancient Rome jewelry.

The chocker necklace have a screw clasp.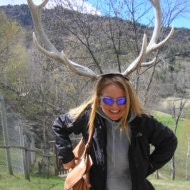 Katia Cap
Listed on May 23, 2015
262 views