This gorgeous, bezel-set statement piece was made by hand in Madison, WI. I used a multi-step process to create the Sascha: first I cut and fit the fine bezel sheet to match the shape of a beautiful piece of handmade glass, and then I soldered it to a piece of pure sterling silver sheet. I filed the sheet in a slightly off-kilter square to highlight the asymmetrical playfulness of the glass stone and give it a modernist feel. Finally, I set the stone and polished the ring by hand with steel wool.

The ring band was also cut, soldered, filed and polished by hand. This piece will best fit a size 7 to 7.5, but because it's meant to be worn as a cocktail ring, it could most likely work for a size 6-9 on at least one finger. The square accent measures about 1 square inch.

The glass accent here is a real showstopper, and it's truly one of a kind: it has a painterly feel, and contains billowing, celestial tones of ocean blue, aqua, bright green, turquoise, honey, yellow, orange, white, pink and lavender - quite a lineup!

Slip on the Sascha as you stroll through an art museum or put on your boyfriend's jeans for an afternoon of painting. Modern, eye-catching and entirely one-of-a-kind, it'll come gift-wrapped in eco-friendly packaging and ready for adventure!
Learn more about the shop and process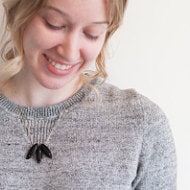 Chloe