This skirt, named Red Arctic Hare, is handmade with a high quality finish. This unique item is made in Estonia!
It is made to last longer!
The skirt is flexible and bind able from waistline and if it is getting short it is cool to wear it with pair of leggings or jeans. It is possible to wear your favorite skirt all your childhood. Perfect for hot summer-days but also suitable for any occasion. You can wear it in your birthday party, in weddings or just in an ordinary day with your friends. It suits perfect with party shoes, gumboots, flats or with your bare foot.
It is made of four layers to make it fluffy, beautiful and comfortable. We used checked woven pattern to imitate the Punk Style and to make it wearable in autumn and winter. Underskirt is also made of cotton to make it feel soft to the skin.
SIZE:
- The skirt is size M, suitable for the ages 5-8years (110cm-128cm/43.3"-50.4").
The first girl in the picture wearing it is 116cm/45.7". The second girl is 120cm/47.2" and her friend wearing the Grey Arctic Hare is 116cm/45.7". Both the girls are 5 years old.
- Length of the skirt is 30cm/11.8" (upper layer 27cm/10.6", tulle 30cm/11.8")
- The waistline is suitable from 54cm-69cm/21.3"-27.2".
MATERIALS:
starting from the top:
- weaved checked fabric 5% polyester, 55% cotton, 2% viscose, 38% acrylic
- tulle 100% polyester (2 layers)
- underskirt 100% cotton
CARE:
   
- Maschine wash in lukewarm water at a gentle setting/spinning reduced
- Do not use chlorine-based bleach
- Iron at a maximum sole-plate temperature at 110C (steam iron may be risky for tulle)
- Do not dry clean
- Do not tumble dry
Skirt is ready to SHIP!
We hope You will have as much fun wearing it, as we had making it!
Look for our other items!
http://www.etsy.com/shop/PuhPah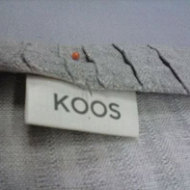 Kerly Kaljuste Anu Rajamäe
Listed on May 19, 2015
482 views