This item sold on November 4, 2012.
HURRICANE SANDY SALE!
Enter code "sandy" for 15% off -- there may be a delay in shipping however.

Celluloid was developed in the latter part of the 19th century, presumably to better our lives and our country's defenses with new products, all purely practical of course. Should it come as a surprise, should we presume it a coincidence, that in the same decades, the flora and fauna of Capri was being catalogued by the Cerio family? Any visitor to the island off the Italian coast knows that perhaps the most stunning fauna of this, the most stunning island, is in the bright orange coral, clearly seen not only through the blue waters, but also in the glassy vitrines of the expensive jewelry shops at the top of the funiculare. No, there was intention behind this coincidence. The pursuit of the imitation of beauty has driven invention for centuries, as all of the great unsung scientists know. As Edwin Cerio studied the flora and fauna of Capri, what occupied his beautiful and brilliant wife, who in the evenings would swim amongst the natural coral in the blue grotto?

With this listing, you will receive this amazing vintage imitation carved coral bangle bracelet as well as a 2 1/2" x 3 1/2" original pencil drawing that explores the history behind the piece. The bangle has no marks, but it appears to be an older example of the type. The interior is not perfectly flat or round, suggesting it was not produced by modern machinery. The material has a very pretty transluscence to it. It is about 2 3/4" across and 1 1/4" wide. Roses and daisies decorate the sides. The small drawing is done in pencil and colored pencil on bristol paper.
Learn more about the shop and process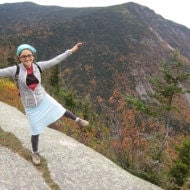 Cindy
Listed on Oct 23, 2012
314 views