The chances of finding a clear, all over 'frosted' antique glass fishing float in MINT condition with a clear strike 'mark' is......well, like winning a lottery (except this beautiful antique isn't going to pay your bills)! But take heart! 'Silver Cloud' will lift your spirits and inspire you to new levels of consciousness and good fortune - and those bills will get paid!

Seriously inspiring, this marvel of old is a Duraglas, made in USA, vintage 2-piece molded float with the Duraglas mark on the base, as seen in photo #1. The markings consist of an 'oval' in the center of the base, with a sideways 'kite' or 'diamond' shape through the middle of the oval. This is one of the bona fide Duraglas marks seen. Another would be the cursive signature 'Duraglas' sometimes found on the side. This one shows the symbol and on the left of it, is the number "20", to the right is the number "2", and below the mark is another "2".

The entire mark is clear strike, an absolutely gorgeous and strong mark! I fell in love with the base plate (seen in photo #1) and took multiple photos of it, unable to believe how lovely, mystical and mesmerizing the base and markings appeared, amidst the quaint and motley 'frosting' covering this amazing float. 'Frosting' occurs from decades of sand-blasting in relatively harsh climate conditions. It is said that only one in 300 floats are all over frosted. The float naturally shows normal surface wear and of course, the 'frosting' process is not machine perfect, nature having been the 'artist'. (Then again, perhaps it IS 'perfect')! Some collectors mention that winds of 100 mph are required. I like to think of the wind, waves and sand as being nature's paint brush, with the glass being the canvas.

The base plate shows a neat, clean look with excellent construction. The indented surround, peripheral to the markings is lightly 'textured' and neatly ensconced with a perfect circle hair line. A clear surround about 1/4" or so extends out to the beveled edge. You can see how the glass then curves into the body of the float and final demarcation of the glass, about another 1/4" to 5/16" up on the side. Two faint vertical 'lines' on the east and west sides of the float indicate the molding process.

On 'top' (technically the 'bottom', but the 'top' as the float would normally sit) is the terrific looking old seal 'button'. This amazing artifact represents great good fortune! How it escaped without damage is no small miracle, yet likely an unnoticed one! This seal button shows no dings, no nicks, no grazing. It's in MINT condition. It slightly resembles the Northwest Glass float seal buttons - only slightly - in that is is somewhat raised up from the body of the float, however does not show the longer 'neck' as do the NWG floats. This seal has an endearing effect. Notice the slight indentation in the top glass on one side, where it dips inward a bit, ever so slightly pulling the edge of the seal toward the little 'valley', giving it the museum 'artifact' look which is so lovely.

It's said that the Duralgas Owens Illinois Glass company produced the molded glass 5" diameter fishing floats briefly, during WW II, when shipping and production from Japan and Europe were cut off. The company also produced all manner of milk bottles, vinegar bottles, collector jars, medicine bottles, etc. Many of these now vintage collector items bear marks from the late 1920's on. Many of the old pieces are sought after. In terms of fishing floats, a small number were made in the USA, mainly during and shortly after WW II, with the majority of the world's fishing floats having been made in Asia or Europe. This beautiful mint condition, frosted float is around 65 to 70 years old.

The thick, lovely quality antique weathered glass takes on a 'silvery' sheen or a slight 'golden' sheen highlight depending on the lighting, time of day and surroundings. The float measures 5-1/4" diameter or 15-7/8" in circumference. Silver Cloud' is loaded with history, secrets and its own 'magic'. It feels delightful, like silk in the hand. You won't want to put it down. And when you do, you'll likely keep moving it to watch it interact with different lighting & settings. Please give this old beauty the best home and pass it on to posterity.

Thank you for helping to care for vintage fishing floats which are rapidly being replaced with plastic or synthetic floats.

Your time and energy are valued. Thank you for your interest in lightinawormhole.
**********************************************************************************
SHIPPING: Happy to offer Priority shipping for this float. It will be double boxed with extra insulation for maximal protection of its antiquity while in transit. The cost is $14.00. This includes your tracking number and insurance. It will be packed with absolute care. *** Please allow 1 to 3 days to ship and 2 to 3 days for the carrier. You should receive it in a week or less. If you need it quicker, tell me and I'll ship it fast! ***

COMBINED SHIPPING: Yes - I will combine! Floats of generally similar size & weight can be combined so you save on shipping. These decisions are made at the actual time of packing, using my best judgment to keep items safe from damage in transit, protecting them maximally. Best option is to pay the shipping on each item up front. A shipping refund will be issued promptly via Paypal when your parcels are complete. My customers will confirm I am happy to do this. If this doesn't work for you, convo for a 'guesstimate' on combined shipping of items.

CANADA: USPS has omitted insurance from the economy (1st Class International) shipping category. Priority International is the next best available method yet not cost effective in my opinion, unless purchasing two or three items & combining shipping. Please convo for a quote if interested. My sincere apologies!

THANKS AGAIN FOR YOUR TIME AND INTEREST. HOPE YOU RE-VISIT lightinawormhole.
Learn more about the shop and process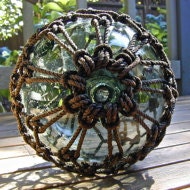 lightinawormhole by Robi
Glass Fishing Float Collectible, Silver Cloud MARKED, Nautical, Home Decor, Ocean, Beach Decor, Cottage, Japanese, Fishing, Garden Decor
---
Overview
Vintage item from the 1940s
Material:

glass

Only ships within

United States

.
Feedback: 836 reviews
Favorited by: 1 person