This item sold on August 16, 2014.

Our Ars Magica brand Necros Oil is crafted from the finest botanical and essential oils. It's creation was executed at the dark of the moon accompanied by prayers offered to the spirits of the dead and to the keepers of the gates of death. After which the stock bottle was blessed and wrapped in a funerary shroud. The hallowed blend was then interred at the crossroads of the cemetery until the following dark moon, at which point it was unearthed and resurrected with songs of praise and rejoice. This limited blend is an appropriate oil for works of necromancy, thanatomancy, honoring the Mighty Dead, the Beloved Dead, and calling upon the Lords of The Dead.

15ml - 1/2 oz. glass bottle


***Ars Magica oils are created with 100% natural essential oils and herbs and include no synthetic or fragrance oils. All of our oils are made fresh to order and are blessed and prayed over before they are sent to you.

As this is a natural product we recommend that you do a spot test on the skin to check for any possible allergies if you intend on wearing our oils on the skin. If you are pregnant or nursing we recommend that you not have direct contact with our oil blends.***



*For legal purposes we must state that this product is sold as a curio only and that we cannot guarantee its magical effectiveness.*

Magic does require effort to work, both on the part of the practitioner and on the part of the client as well. You will rarely find a new love or job unless you are both open to receiving them, and actively looking for them. As with all things in life, sometimes the miraculous and fortuitous occurs, but in most cases you have to invest some effort in order to achieve results. Any practitioner who tells you differently is, quite frankly, lying to you.

Prayer, magic, and spellwork are all intended to create a doorway and a path, it's up to you to open the door and walk the path.
Learn more about the shop and process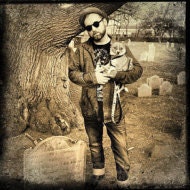 Matthew Venus
Necros Oil - Necromancy - Spirit Summoning - Death - Mighty Dead - Graveyard - Witchcraft - Wicca - Hoodoo - Occult
---
Listed on Jul 10, 2014
1070 views