This small case is designed for the double-pointed knitting needle sets, like the KnitPicks sets and will hold needles 4" to 6" long. The sizes in both metric and US sizes are embroidered on as follows: 2.00/0, 2.25/1, 2.50/1, 2.75/2, 3.00/2, and 3.25/3. The last pocket is unmarked.

The needles rest inside a zippered pocket which features clear vinyl for easy viewing of the needles (they are so pretty why hide them!) The needles will not fall out of this case! A top zipper opens to a pocket the size of the needle case to hold notions. Shown in the case are the 5" KnitPicks set and an additional pair of 6" Signature needles. The case measures 6-1/2" tall by 7" wide.

The case fits nicely inside the regular Serena bag and takes up minimal room.

I am offering 5 different needle cases. Check them all out to see which ones are best for your needs!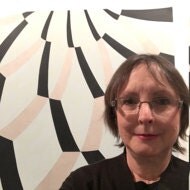 Diana Beard
Knitting Needle Case for 4 to 6 inch double-pointed needle sets
---