Say the blessing for donning tzitzit and then let this handwoven tallit settle lightly on your shoulders. Let its soft drape and elegant, shimmering colors connect you with the beauty of Divine Spirit. Know that this tallit was made for you with the intention of hiddur mitzvah (beautifying a mitzvah). May you feel sheltered beneath the wings of Shekhinah when you wear one of my tallitot.
This tallit was handwoven in linen combined with silk and cotton.
Size: approximately 24" x 90" includes 7" of fringe on each end.
This is one of my 'Color Harmony' tallit. Three shades of blue linen are combined in the warp to create subtle stripes that shift to from dark to light. The main weft is a spun silk that was space dyed in three very similar colors that add depth and interest to the cloth. The accent stripes are space dyed cotton.
The atarah band is tablet woven in tencel.
The inscription says the following:
Takhat kanfai haShekhinah - Under the wings of Shekhinah
The photos were taken before the band was stitched onto the edge of the tallit with the fringes pressed under.
For those interested in the laws regarding tallit, to the best of my knowledge, the only restriction is to not mix linen and wool.
Custom orders are welcome. I can vary the colors, the size, or the fiber choices.
Please see my listing for custom orders for more information.
https://www.etsy.com/listing/94897889
Atarah bands are also available by custom order.
https://www.etsy.com/listing/100141709
Send me a 'convo' to start the design process.
Contact me for international shipping rates.
My Story:
Inspired by weaving the bima cloth for the Women's Torah Project, I am now weaving and dyeing tallitot and atarah. My life's work is to create sacred cloth. I pursue tikkun olam by making beautiful objects for people that support their spiritual practice. I weave or dye each tallit with the intention that it is for somebody. I think about each potential buyer and ask what they would want and let that help guide my decisions. I belong to a Reconstructionist Jewish Community, and I do not work on Jewish ritual objects on Shabbat.
Learn more about the shop and process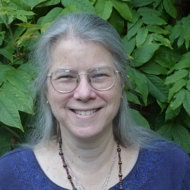 Lois Gaylord
Blue Tallit - Handwoven, Hand dyed, OOAK
Listed on Jul 29, 2016
462 views