Tarot Reading.
It's your birthday and we'll scry if you want to!
It is a brand new year for you--what will it hold? Surely it will be a wonderful year full of magic, and you can begin it with a Tarot Reading to shed some light on the upcoming months. This 10-card reading is best done about a week before or after your birthday. It also makes a great gift, of course.
Provide me with your first name or nickname and date of birth.
If you have a specific question or aspect of your life you would like to explore, write it in the message field when ordering this item, otherwise we will touch a little bit on Love, Family, and Career. Include as much background as you feel comfortable sharing, and remember, this reading is about YOU. I will respond with a finished reading as well as a photograph of your reading, in 24 hours or sooner.
Explore my other Tarot offerings!
http://www.etsy.com/shop/FranklyTarot
**Tarot readings for entertainment purposes only. I do not make medical diagnoses or pretend to know anything about finance. By purchasing a Frankly Tarot Reading, you certify that you are over 18 years of age.**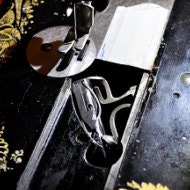 Francesca Werenko
Listed on Dec 29, 2016
22 views