The half carat center Diamond in this engagement ring is surrounded by a halo of perfectly matched white Diamonds. A heart shaped basket holds all of these precious stones. The setting is made from 14K Rose Gold, and has a graceful tapered band and milgrain detail. If you'd like to know more about this diamond, or are interested in finding out more about certain customizations I offer, please ask! Leave your ring size in the comment box during checkout.
*FREE SHIPPING IN USA*
**INTERNATIONAL SHIPPING AVAILABLE JUST ASK AND I CAN GET YOU A QUOTE**
-----Ring Measurements------
Coming Soon!
-----Metal and Sizing------
We can make this ring in any gold color; including yellow, white, or rose/pink gold. If you have a particular color in mind, please feel free to convo us. The piece is also available in Platinum--this general costs $1000 more then the listing price and if you are interested please let us know and we can get you an exact quote.
Due to the nature of silver, I can not make rings in this metal. It is just too soft of a metal to hold pave set stones or stones in general. It wears a lot faster and I just can not guarantee the same quality/life of the piece as I can in other metals. If you have a budget, please let me know what it is--I may be able to work something out. I could also do a payment plan with a max of 3 installments -- if you have the time to do so.
All sizes are available, but anything over 9 we would need that you convo us so that we can give you an adjusted listing. There would be an increase in price because of the increase in metal--this would start around $300 and go up with the corresponding size.
------Diamonds------
I am a professional jeweler that has been working for 11 years now and I have made lots of custom pieces ranging from engagement rings to small charms for birthdays. Every piece is hand made and I fully stand behind. All of my stones are real. I do not use any synthetics. All of my stones, including diamonds, are ethnically sourced and are the real deal. With the ring, you will also get appraisal paper work. This is so the ring can be covered on your insurance. That way if anything were to happen to it the insurance company would cut you a check for the full amount and I could make you another one at no cost to you.
As for where I source my diamonds: I work with only a few select diamond dealers locally, and I use only conflict free diamonds. Actually, here in America, that is all we are allowed to use--its federal law. I know that the dealers I work with are obtaining their product in Israel, where it is most likely mined in Russia.
As for the actual stone: I generally use a G/H color, SI2 clarity stone or better. I say better, because depending on time of purchase--depends on what type of stone you will get. I only keep a handful of stones at any given time, they are constantly revolving out into finished jobs, but I can at least guarantee that G/H, SI2.Every ring is hand made and the diamonds are hand picked so the actual carat for the ring when you order will vary just slightly.
All stones, unless requested otherwise, will be uncertified. There is no difference in quality, just a money conscious default. These stones are still hand-picked and held against the same standards that I keep when hunting for the perfect diamond to set into a ring. If you would like a Certified stone, please Convo us and we'll give you an adjusted listing. EGL/GIA certified stone would cost and additional $200. This price increase is due to purchasing the corresponding paperwork for the stone. Stones that are micro-pave set are handset with the aid of a microscope; this is a very exact and time-consuming process depending on the complicity of the ring.
-----Custom-----
If you would like to make a custom version of this ring, please note that this will only increase the price. If you have a budget that you would like to stay within please select a ring that fits inside that. Custom engraving is also available; please follow this link for more details:
https://www.etsy.com/listing/157112791/custom-engraving
-----Appraisal and Shipping-----
All ring with a value of $2000 or more with a .5ct or larger, will come with an appraisal. Rings with Certs will have both the cert and the appraisal shipped separately for security reasons. Most Insurance companies allow you 30 day to insure a purchase of this type. The Appraisal will come with a detailed description of the ring, how many stones, .cts, cut, a replacement value, and etc.
A piece generally takes between four and six weeks to complete, excluding shipping.As we get closer to the holiday season, it gets a bit busier around here, and 4-6 weeks may get a little longer.Please take that into account if you have a certain date in mind.
Please contact us immediately if you have an exact date by which you need the piece and we will do our best to accommodate your timeframe. A new piece will be hand-crafted from scratch: a one-of-a-kind wax mold is created for casting; the cast piece will then be filed and polished to the proper finish before the stones, if required for the design, are hand set.
You will receive a shipping notification once the piece is completed and ready for shipping. We overnight all items within the continental United States in nondescript packaging, fully insured, and requiring a signature. <Note: international shipping time varies; please contact us for additional information>.Please do not hesitate to contact us with any questions that you may have.
Thank you,
Adam
Learn more about the shop and process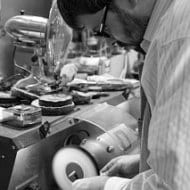 Adam Foster
Diamond Halo Heart Basket Engagement Ring 14K Rose Gold
---