This cross stitch pattern of Totoro and the Catbus up on a tree top is an original design, by me, based on the lovable, huggable characters from the Studio Ghibli film 'My Neighbour Totoro'.

This picture was hand drawn before being carefully translated onto graph paper and then drawn, a line and a stitch at a time, into the pattern creator software. Because it was done this way it is simple and fun to stitch, without too many unnecessary changes of colour. I did my best to capture the manic and slightly sinister grin of the Catbus!

I design regularly for Cross Stitcher, a popular UK cross stitch magazine, but I am using Etsy as an outlet for some of my quirkier designs. The chart you recieve is professionally produced and contains a couple of versions of the chart, both in colour. One will have symbols and be missing the backstitch to help with the shading, where similar colours may be confusing on an ordinary chart. It will also list the suggested threads to use for the design and some other useful info.

The design is 82 by 65 stitches. The size will depend on the count of the fabric you are using, but on 14 count Aida, which is the most commonly used fabric for cross stitch, it comes out at just under 6 inches wide and around 4 and 3/4 inches tall.

I will of course be throwing in a couple of cute little freebie charts to go with it!

Etsy has just introduced this new system allowing you to download the file directly, as soon as the payment is processed, rather than waiting for me to email it to you. I have uploaded the charts to Etsy, including the freebies, as four seperate pages, each being a high quality jpeg, as these have a smaller file size. I do have all my charts available as pdfs, however, and can email them to you in that format upon request.

The coloured stitching is simple and should be suitable for new stitchers. The back stitch is a little more complicated as that is where a lot of the detail is, but it should still not present any real problems. There are two french knots and I will include a link showing you how to do these, just in case. I am happy to give advice via email if you have any questions at any time after you have bought the pattern (or before, if you have any).

Last of all, if you would like to use this pattern to make a product you are going to sell, that is fine too, as long as you don't claim to have designed it yourself and have purchased the pattern (and if you feel like telling people I designed it that would be great, but not required). And I would love to see a picture of the finished picture when you have done it too!
Learn more about the shop and process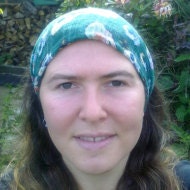 Fiona crouch
Totoro with Catbus cross stitch pattern pdf.
---
Listed on Jan 8, 2017
2211 views