Okay, so if you haven't seen the all-too-prophetic, masterpiece of cinema "Network", from 1976, you really, really need to see it. In short, a television broadcaster starts channeling real truth, as a sort of conduit for a greater power, and the news station continues to air him, as he rants and raves about the human condition and the power of the individual. It's hard to explain, but I honestly suggest that everyone should see this - the writing is incredible, and the speeches in the movie are some of the most moving and powerful you'll ever hear. Here is one of them, after I typed the whole thing out on a typewriter, and screenprinted it alongside a screenshot of Howard Beale, shouting the truth.

The text is perhaps more legible in the second of the two photos, but I will include it all here after the technical description.

Again, it's a backpatch, on black fabric, the print measuring around 13 inches tall by about 10.5 wide. White, waterbased ink, properly heatset, on black fabric.

Questions? Please ask! And here's the typed out quote for simplicity of reading:

"I don't have to tell you things are bad. Everybody knows things are bad. It's a depression. Everybody's out of work or scared of losing their job. The dollar buys a nickel's worth; banks are going bust; shopkeepers keep a gun under the counter; punks are running wild in the street, and there's nobody anywhere who seems to know what to do, and there's no end to it.

We know the air is unfit to breathe and our food is unfit to eat. And we sit watching our TVs while some local newscaster tells us that today we had fifteen homicides and sixty-three violent crimes, as if that's the way it's supposed to be!

We all know things are bad -- worse than bad -- they're crazy.

It's like everything everywhere is going crazy, so we don't go out any more. We sit in the house, and slowly the world we're living in is getting smaller, and all we say is,

"Please, at least leave us alone in our living rooms. Let me have my toaster and my TV and my steel-belted radials, and I won't say anything. Just leave us alone."

Well, I'm not going to leave you alone.

I want you to get mad! I don't want you to protest. I don't want you to riot. I don't want you to write to your Congressman, because I wouldn't know what to tell you to write. I don't know what to do about the depression and the inflation and the Russians and the crime in the street. All I know is that first, you've got to get mad. You've gotta say,
"I'm a human being, goddammit!
My life has value!"
Learn more about the shop and process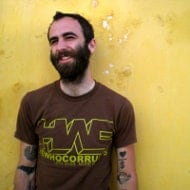 Matt Gauck
Network Movie My Life Has Value back patch
Overview
Handmade item
Materials:

ink, canvas, humanity

Ships worldwide from

United States

Feedback: 8775 reviews
Favorited by: 168 people
Listed on Nov 23, 2016
3950 views