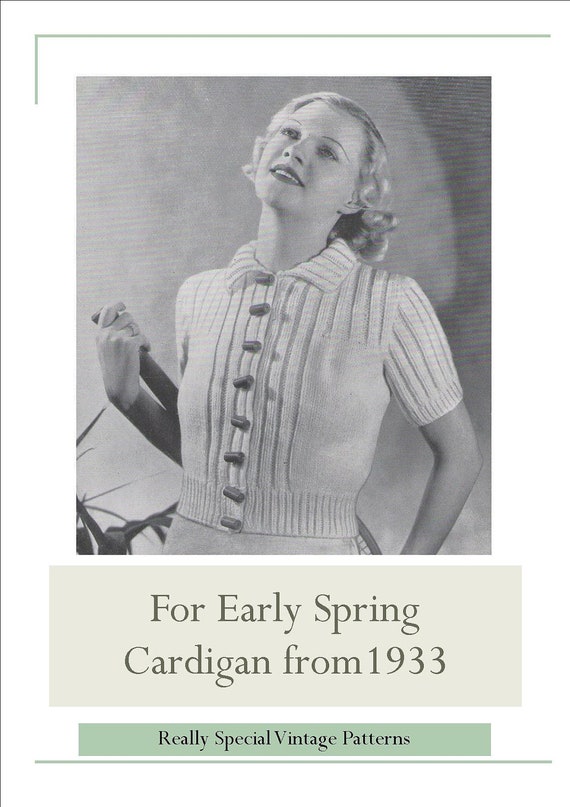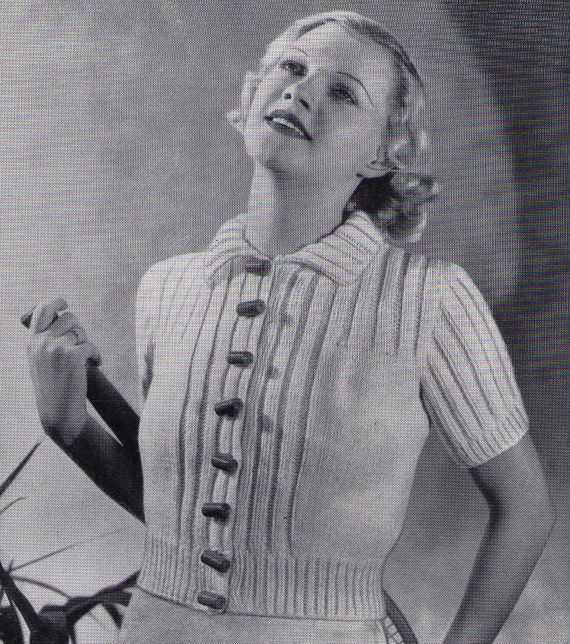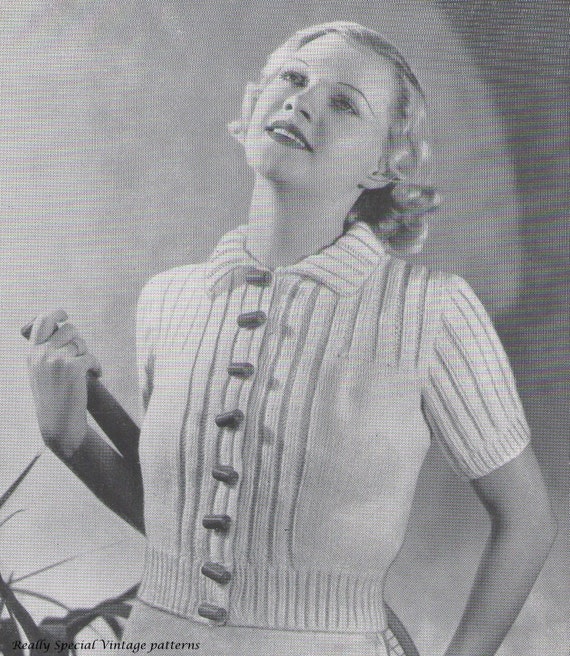 A vintage knitting pattern from the 1930s to make this attractive model knitted in heavy ribbing and stocking stitch, fastened down the front with scarlet bugle buttons.
There is no side seam under the arm as the body of the coat is knitted in one width to give the new slick line.

"The garment can be worn closed or as a Coatee to be slipped on over a Tennis Frock, and the work is done in very bold, thick wool, which is now the fashion for all smart, knitted garments. The instructions include directions for either long or short sleeves, and knitted with long sleeves in a tweedy coloured wool, this model would be ideal for golf or early Spring wear in the country."

Materials required:
Short-sleeved model: 11-ozs. Copley's "Frenchlaine" Wool
Long-sleeved model: 15-ozs. Copley's "Frenchlaine" Wool
1 pair No. 3 Needles.
1 pair No. 6 Needles.
8 Buttons.

MEASUREMENTS: Length from top of shoulder to base, 18-in. Width all 'round at underarm, to fit a 34-36-in. bust. Length of sleeve seam: Short, 4½-in. Long, 19½-in.

This is a re-worked pattern from an old magazine from 1933 ... now in a new improved version ready to be emailed to you as a PDF.

All my patterns are now in a new version and are copyright to me .. I ask that you do not buy to re-sell my work but you are free to make and sell any item ...
Early Spring Cardigan Vintage Knitting Pattern 1933 PDF by Pamoolah Vintage
---