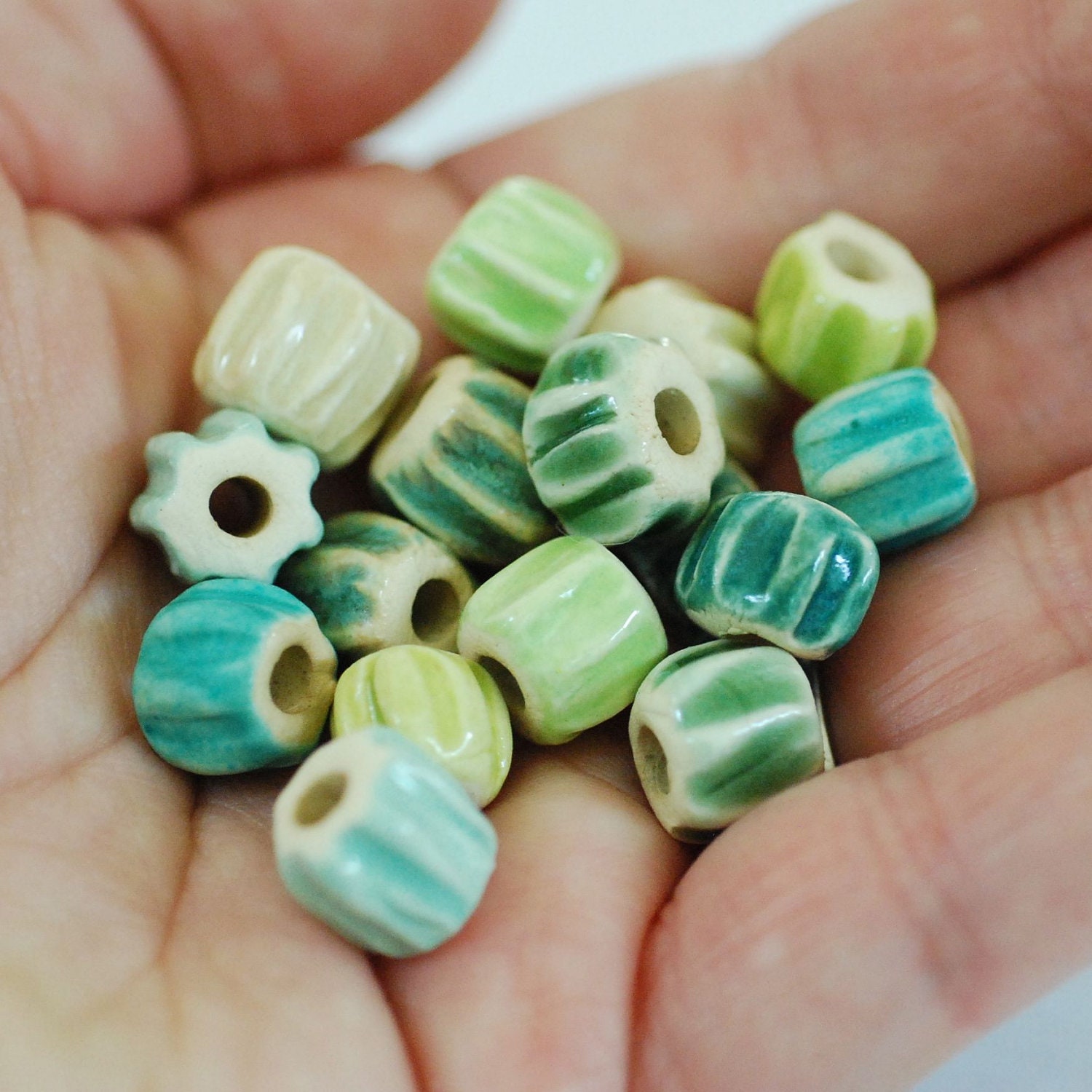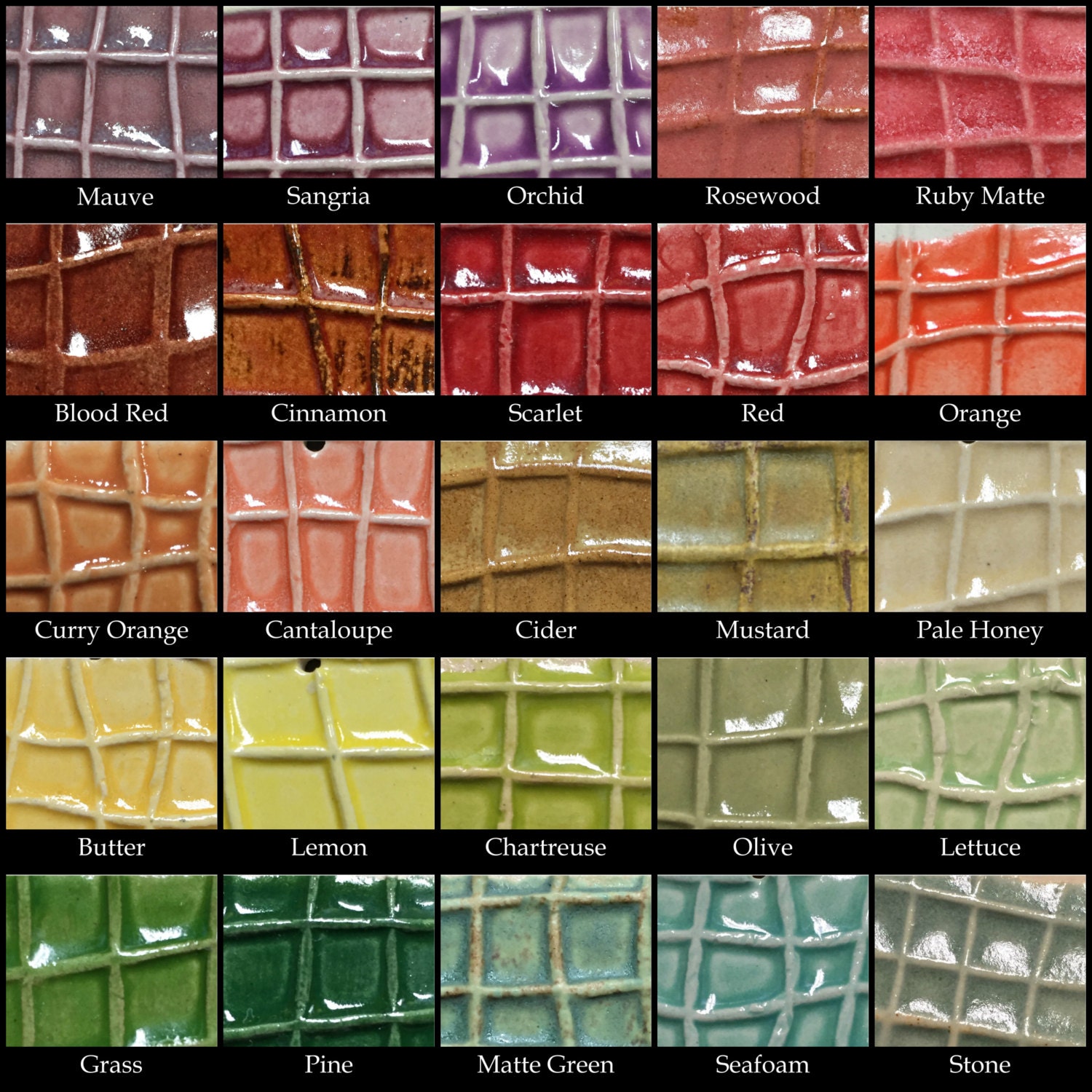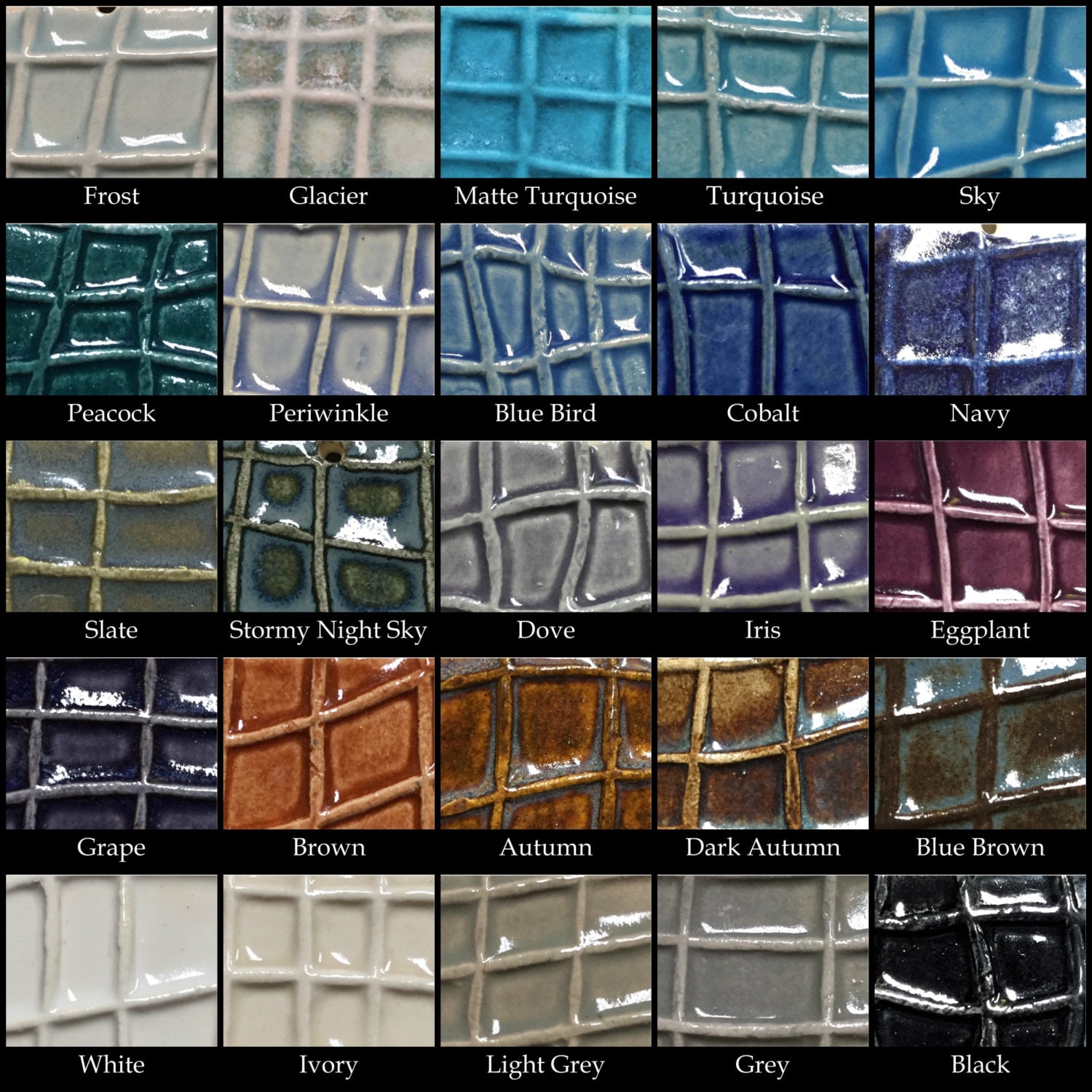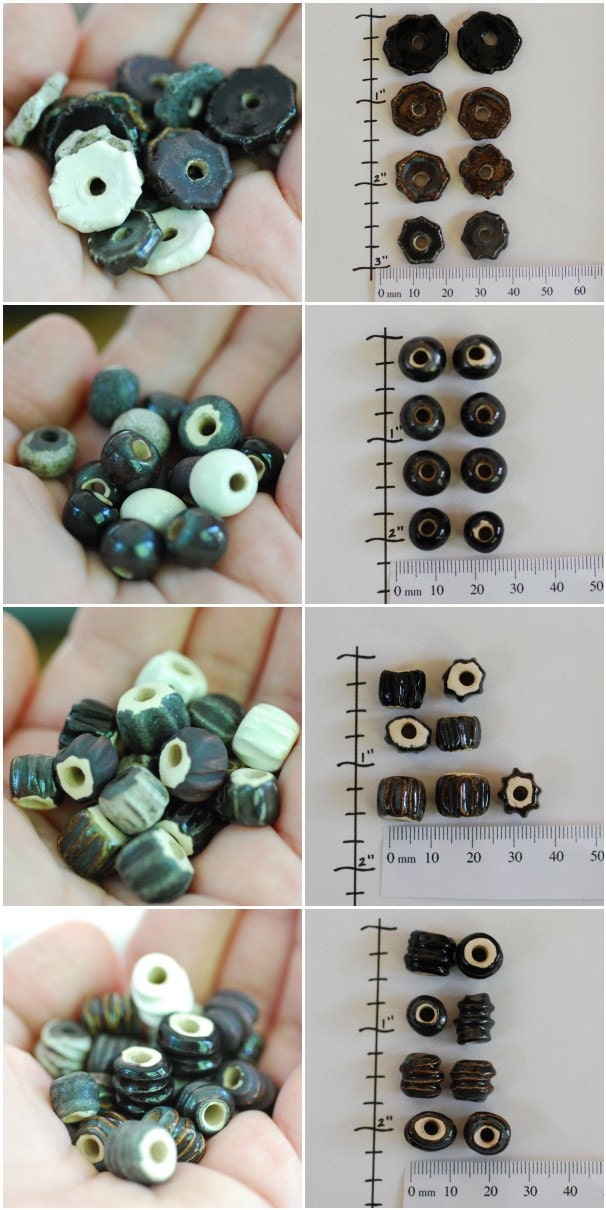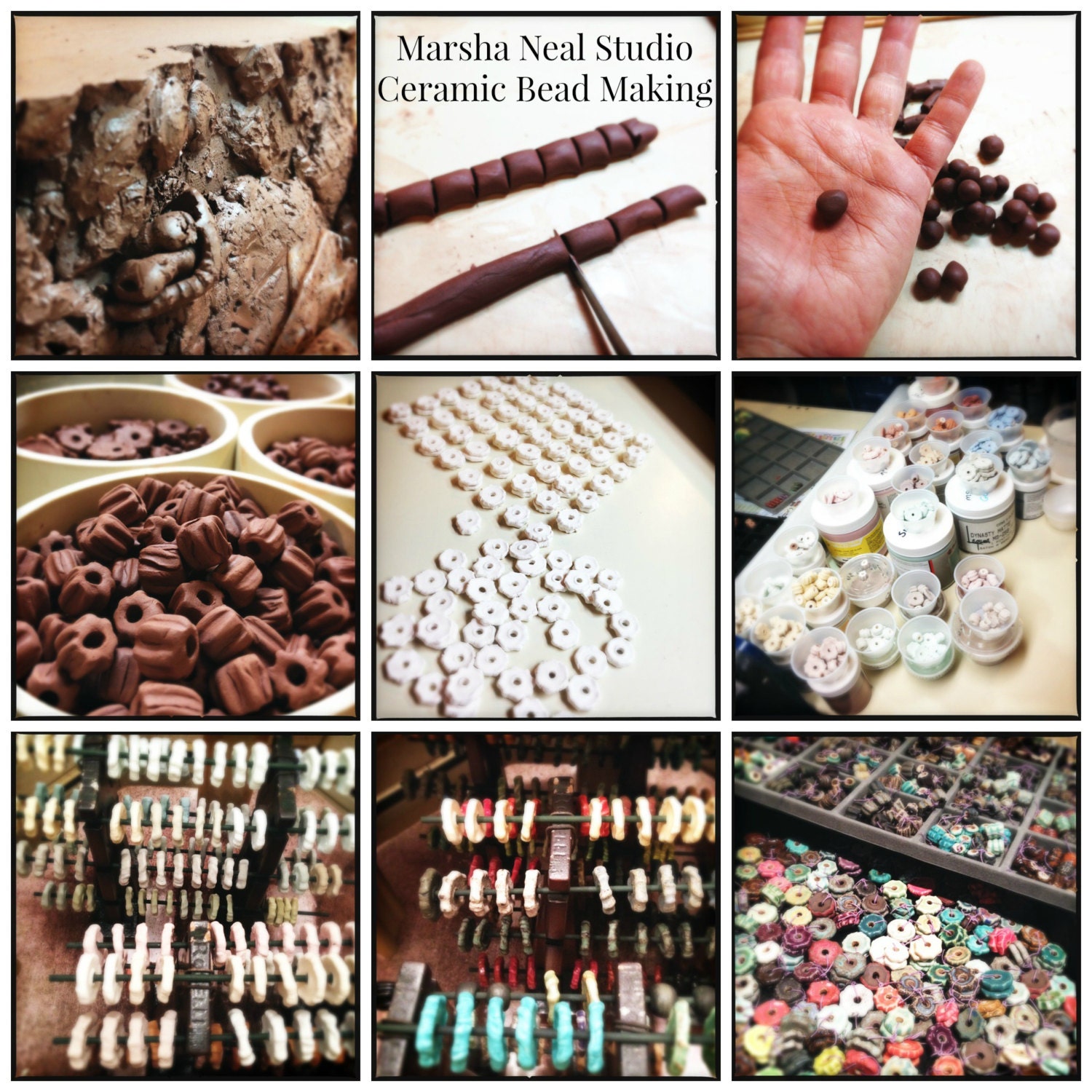 This listing has been update as of February 2016 to allow you to pick out individual beads or bead pairs in as many as you would like to purchase.
HOW TO ORDER:
STEP 1
Please leave the first quantity box at "1", and pick your "TOTAL QUANTITY" from the second pull down menu box.
STEP 2
Check out and in the Message To Seller please give me your quantity and color break down (see the second and third photos):
EXAMPLES:
16 Total Beads breaks down into:
8 Cobalt, 2 Periwinkle, 6 Grass.
8 Bead Pairs (16 beads total):
4 Cobalt, 1 Periwinkle, 3 Grass.
The fourth photo is a sampling of the general sizes and shapes of the handmade beads I offer. These are intended for jewelry making and are in general about 10mm in size. If you order pairs, I match the size up before glazing so they look more like an intended pair. You can always add comments into your order to give me a better direction on what you are looking for in this size range.
Take a look at the last photo for a bit of insight into my making process (I use porcelain and chocolate stoneware clay). I try to work in batches to make the same style of bead so I can easily make pairs or sets that are in a similar size range. But every bead shape and size will always vary a bit as they are made individually by hand. Each bead is handled through about 18 steps before it gets to the "ready for the customer" stage, and I enjoy every step along the way.
About the bead hole size:
I use a larger diameter bamboo skewer (which is on average is a bit above 2mm in diameter) to make the hole in the bead.
If you are planning on using up to a 2.2mm thickness of soft stringing material (leather, suede, silk, ribbon, cotton cord, etc) you should be able to get your material through this bead hole without much fuss.
When using a hard stringing material such as very, very thick gauge wire, or a round firm bracelet (like the metal bracelets used for some popular larger hole glass beads), there may be some difficulty getting these handmade beads onto those due to the exact roundness of the wire, and the potential oblong shaped handmade hole (it happens - holes can get a bit wonky).
~~~~~~~~~~~~~~~~~~~~~~~~~~~~~~~~~~~~~~~~~~~~~~~~~~~~~~~~~~~~~~~~~~~~~~~~~
If you need to see the color zoomed in, please pick the 2nd or 3rd photo then hit the little ZOOM button (magnifier glass symbol).
Photo 2 Colors (Left to Right):
Row 1: Mauve ~ Sangria ~ Orchid ~ Rosewood ~ Ruby Matte*
Row 2: Blood Red ~ Cinnamon* ~ Scarlet ~ Red ~ Orange
Row 3: Curry Orange ~ Cantaloupe ~ Cider ~ Mustard* ~ Pale Honey
Row 4: Butter ~ Lemon ~ Chartreuse ~ Olive ~ Lettuce
Row 5: Grass ~ Pine ~ Matte Green* ~ Seafoam ~ Stone
Photo 3 Colors (Left to Right):
Row 1: Frost ~ Glacier* ~ Matte Turquoise* ~ Teal ~ Sky
Row 2: Peacock ~ Periwinkle ~ Blue Bird ~ Cobalt ~ Navy
Row 3: Slate ~ Stormy Night Sky ~ Dove ~ Iris ~ Eggplant
Row 4: Grape ~ Brown ~ Autumn ~ Dark Autumn ~ Blue Brown
Row 5: White ~ Ivory ~ Light Grey ~ Grey ~ Black
*Indicates glazes that are matte or not suitable for surfaces that would come into prolonged exposure to food related objects.
~~~~~~~~~~~~~~~~~~~~~~~~~~~~~~~~~~~~~~~~~~~~~~~~~~~~~~~~~~~~~~~~~~~~~~~~~~~
Once I receive your order:
1. I will make the beads or if on hand, pull the beads you request from my unglazed stock.
2. Each bead will be hand painted in the glazes from your palette.
3. After drying, the bead holes are cleaned and the beads are loaded onto bead rods so they do not touch and then they are fired in my kiln to 2232 degrees F.
4. Once the kiln is cool and beads unloads (a 24 hour process), I quality check them for defects.
5. If they are good to go, I wrap them, pack them, then I then mail them off to you via USPS First Class Parcel mail (see my policy section for shipping options and upgrades).
This process should take no more than an estimated 2 to 3 weeks in my studio plus shipping time to get to you.
If I get a little backed up with orders and need to make the beads to fill your order, then please add an extra week into the estimated lead time.
Thank you for your understanding and acceptance of my handmade process and the variations in your unique handmade beads that you will receive from me. I hope you enjoy working with these as much as I have enjoyed making them for you.
If you want to see more about what I do, check out my blog:
http://www.Blog.MarshaNealStudio.com
Social Media:
@MarshaNeal
@MarshaNealStudio
Links to other Ceramic Bead Listings:
Round Beads:
https://www.etsy.com/listing/268785021/handmade-ceramic-beads-round-beads-made?ref=shop_home_active_4
Chevron Inspired:
https://www.etsy.com/listing/104150985/handmade-ceramic-beads-chevron-barrel?ref=shop_home_active
Spiral Shaped:
https://www.etsy.com/listing/104157198/handmade-ceramic-beads-spiral-twist?ref=shop_home_active_5
Flat Disc Beads (coin beads):
https://www.etsy.com/listing/103315244/craft-supplies-coin-beads-handmade?ref=shop_home_active_3
Chocolate Clay Beads:
https://www.etsy.com/listing/104152199/handmade-ceramic-bead-sets-in-chocolate?ref=shop_home_active_8
Learn more about the shop and process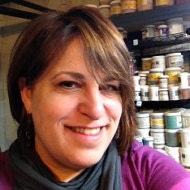 Marsha
Handmade Ceramic Beads - Chevron Barrel Bead Style - Made To Order - You Pick The Color - Marsha Neal Studio - Porcelain Beads
---
Overview
Handmade Supply
Craft type: Beading
Materials:

porcelain clay, glaze, glass, chevron shaped bead, handmade by Marsha Neal Studio

Made to order
Ships worldwide from

United States

Feedback: 3077 reviews
Favorited by: 315 people