Is there any face on the planet cuter than a Pug's I don't think so! Plus, they live to snuggle with us, make us laugh and keep us on our toes. Pugs are the perfect blend of sass and utter love. A companion like this deserves to look and feel their best and The Blissful Dog is honored to share our NOSE BUTTER® with you for your beloved Pug.

PUG ALERT! If your Pug does not like being controlled or held tightly give them a cookie to distract them. I always say it is like putting pantyhose on a drunk man to do something to a Pug that it does not want done. Not that I ever put pantyhose on a drunk man.

PUG NOSE BUTTER® LISTING INCLUDES:

• .50 OZ TUBE OF NOSE BUTTER
• YOUR CHOICE OF FAWN, BLACK OR PUG DUO ON LABEL
• YOUR CHOICE OF UNSCENTED OR SCENTED NOSE BUTTER®
• COMPLETE TIPS, HINTS & USAGE DIRECTIONS BROCHURE
• GIFT BAG

NOSE BUTTER® INFO

NOSE BUTTER® is individually handcrafted by my team and me right here in far northern Minnesota (yes, it is science fiction cold in the winter) using all natural good stuff: shea butter, olive oil, castor oil, castor oil, avocado oil, almond oil, coconut oil, beeswax, cocoa seed butter, unscented or lightly scented with just a dash of essential oils (Cedarwood, Cypress and Ylang Ylang) and love.

NOSE BUTTER USAGE

• DAB a bit onto your dog's nose 1-3x a day for 2-3 days (until nose improves) and then as needed for maintenance.
• DISTRACT with a treat (keeps them from licking NOSE BUTTER off while it moisturizes)
• DONE!

FOR EXTREMELY DRY, CRUSTY, CRACKED NOSES

• Apply 2-3x a day for 2-3 days
• Test crusty area with tissue
• If crust crumbles off drop back to maintenance application
• If crust does not easily crumble off continue application 2-3x a day for 2-3 more days
• Repeat test
• Then use as needed for maintenance (usually 1-2x weekly, may be daily for senior or compromised dogs)


ODDS & ENDS

• NOSE BUTTER in the tin and the tube is same product, just different containers
• NOSE BUTTER will do no harm if your dog licks some and swallows it (or eats the whole tin)
• NOSE BUTTER for Rottweiler is the same product as NOSE BUTTER for Chihuahuas, just different labels
• NOSE BUTTER is a different formulation from PAW BUTTER, ELBOW BUTTER & BOO BOO BUTTER. Each is formulated for the needs of the specific type of skin tissue.

WHAT THE HECK IS THAT STUFF ON MY PUG'S NOSE?

Probably not food, dirt, bad genetics or anything you did or didn't do that you should have (did that make sense?). While your Pug may have a bit of regular dryness on their nose (which NOSE BUTTER® will take care of easily), if it is more of a crust or looks like an oyster shell or tree root, your dog may have Nasal Hyperkeratosis aka crusty nose crud.

Nasal Hyperkeratosis is an idiopathic condition (scientific jargon for they don't have a clue where it comes from ¯\(°_o)/¯ ) that results in a protein or keratin overgrowth (keratin-more jargon) on a dog's nose and/or paw pads. This protein overgrowth is often seen in older dogs, dogs with certain illnesses or on some medications. Plus, certain breeds or breed types (mixed breed dogs get this too) seem to have a genetic predisposition to the condition. Bully breeds, flat-faced dogs, toy breeds, the mastiff types and anything with a chunky body type seems to be more likely to have this condition.

A moist dog nose acts as a scent gathering flypaper, perfect for catching scent particles that give our dog's info. If your dog's nose is dried out, they will lick it, in the vain attempt to get the moist barrier that captures the nose news. Just like us licking chapped lips, it creates an even drier nose.


Pug Bits: The phrase "multum in parvo" means "a lot of dog in a small space" which is often used to describe the Pug. Even-tempered, playful, fun-loving, and an all-around great dog is the perfect synopsis of this delightful dog.

Pugs Names: Pugs are called a variety of names..here are a few!

France: Carlin
Italy: Carlino
Germany: Mops Hund
Holland: Mopshond
Spain: Doguillo
China: Lo-sze & Ha Ba Gou (ancient era)
England (years past): Dutch Pug

Pug History: Pugs are an ancient breed, with evidence of them before 400 BC. Like so many other breeds, they were bred by Buddhist monks in Tibet. When Prince William II became the King of England they became even more popular, as his love for them was boundless. In 1572, a pug named Pompey saved William, then Prince of Orange by barking when the Spaniards appeared at Hermigny.

Napoleon's wife, Josephine, also had an adored Pug as a pet. His name was Fortune and he bit Napoleon on their wedding night. Fortune redeemed himself by carrying secret messages to Napoleon while Josephine was imprisoned at Les Carmes.

Queen Victoria owned and loved many Pugs throughout her long reign. She actively bred them and even had them exhibited. The Duke and Duchess of Windsor were also famed for their love of Pugs.
Learn more about the shop and process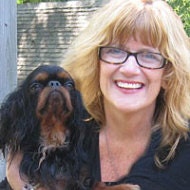 Kathy Dannel Vitcak
PUG Original NOSE BUTTER® Handcrafted All Natural Balm for Dry Crusty Dog Noses .50 oz Tube Choice of Pug Duo, Fawn or Black Pug Label
---