In Christ
by Ned Bustard
Edition of 20
Oil-based ink printed on archival paper

Image Size: 8"x12"
Paper Size: 11"x15"

Inspired by the art of Sadao Watanabe and second in a series (see "And Such Were You").

As the animals were saved by being in the Ark, so we are saved by being in Christ. According to their traditional symbolic meanings in Christian art, these animals are all in some way representative of Christ--Dog: watchfulness/fidelity; Unicorn: purity; Peacock: immortality; bull: sacrificial offering; Lamb: Christ (John 1:29, Rev. 14:1), Pelican: self-sacrifice; rabbit: vitality, rebirth and resurrection, Lion: resurrection/"Lion of Judah," Stag: piety, purity, and holy solitude.

"By faith Noah, being warned by God concerning events as yet unseen, in reverent fear constructed an ark for the saving of his household. By this he condemned the world and became an heir of the righteousness that comes by faith." Hebrews 11:7

"Therefore, if anyone is in Christ, he is a new creation. The old has passed away; behold, the new has come." 2 Corinthians 5:17

"We were buried therefore with him by baptism into death, in order that, just as Christ was raised from the dead by the glory of the Father, we too might walk in newness of life." Romans 6:4

The linoleum block is carved by hand, inked, then each print is pressed individually. There will be slight variations between prints within the edition. All materials are archival. Wide margins give you room to mat and frame to your liking.



---------------------------------------------

This original artwork is © Ned Bustard 2012. Copyright is not transferable with the sale of this print. The buyer is not entitled to reproduction rights. Check out my websites http://www.WorldsEndImages.com and http://www.NedBustard.com.
Learn more about the shop and process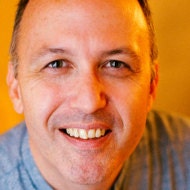 Ned Bustard