This item sold on November 2, 2012.
TWITTER
https://twitter.com/CrystalCatVntg
FACEBOOK
http://www.facebook.com/crystalcatvintage
◣◣◣◥◤◢◢◢ W H I T I N G & D A V I S C O L L E C T I O N ◣◣◣◥◤ ◢◢◢
Founded in 1876, Whiting and Davis is world-renowned for its fashionable and high-quality metal mesh goods. These timeless, shimmery pieces are as practical as they are beautiful.
This authentic Whiting and Davis piece is part of Crystal Cat Vintage's exclusive collection of 1960s vintage dead-stock Whiting and Davis evening bags, small purses, neckties, and belts.
Each of these pieces is in flawless, mint condition inside its original factory packaging.
View Crystal Cat Vintage's entire Whiting and Davis collection at:
http://www.etsy.com/shop/crystalcatvintage?section_id=11841231
◣◣◣◥◤◢◢◢ D E S C R I P T I O N ◣◣◣◥◤ ◢◢◢
Silver mesh pouch features a silver double frame with intricate carved design.
Light gathers along the top edges.
Sturdy kisslock top closure.
Signature Whiting and Davis lining.
Both sides of the metal frame's interior are stamped with the Whiting and Davis logo (see photos 2 and 3) bag's serial number "2982" (see photos 2 and 4).
Can be used as a change purse, small cosmetics case, key holder, or tiny parcel for whatever else can fit inside.
◣◣◣◥◤◢◢◢ D E T A I L S ◣◣◣◥◤ ◢◢◢
Circa: 60s
Label: Whiting and Davis
Fabric: metallic mesh, logoed lining
Color: silver
Condition: MINT. Never been worn. Comes with its original factory packaging (plastic bag printed with Whiting and Davis logo).
◣◣◣◥◤ ◢◢◢ M E A S U R E M E N T S ◣◣◣◥◤ ◢◢◢
I take measurements straight across the bag. (I do not measure the circumference.)
Width: 3.25" (at bottom)
Height: 2.25"
Depth: 1"
◣◣◣◥◤ ◢◢◢ C R Y S T A L C A T V I N T A G E ◣◣◣◥◤ ◢◢◢
Have you checked out this listing and would like additional measurements or information? NO PROBLEM. ASK ME STUFF. I want you to rock this thing.
Also, I thoroughly check all items to accurately and precisely present their condition. I am careful to identify any flaws (which could serendipitously end up looking quite alright…) so WYSIWYG (an acronym for "what you see is what you get." It is also fun to say out loud). No surprises (just as Radiohead will tell you on OK Computer).
I OFFER INTERNATIONAL SHIPPING. See "Policies" section for details.
By the way, I ship FAST. I ship most items within one business day following purchase.
Questions are free here at Crystal Cat Vintage (i.e., zero $). So, go ahead, ask me them.
HAVE FUN & STOP MAKING SENSE.
BE A PARADOX.
=^..^=
x CHLOE
Learn more about the shop and process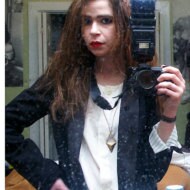 Chloe Swirsky
Whiting and Davis // 60s Brand New Dead-stock Small Silver Metal Mesh Double Frame Pouch
---
Listed on Jul 16, 2012
60 views