No, I don't think this one was found in Jurassic Park, but if you like old stuff, find mystery in relics, you love artifacts and the feel of something completely different - this unique glass fishing float will appeal to the intellect and probably steal the heart! This 'extreme antique' glass fishing float, that likely dates back 7, 8 decades, pre-WW II, shows plenty of surface wear. Each scrape, ding and buff is an actual record of the float's encounters, challenges and journeys at sea. Yet the 'battleship' thick, high quality antique glass still glows with a glossy sheen.
Dino Egg measures 2-1/2" diameter or 8" in circumference. It appears larger, being close to 3" tall. Normally we'd not measure the 'height' of a glass fishing float, yet this particular variety tends to be slightly out-of-round and egg shaped. Being out-of-round, they may have been 'free blown' without the aid of a mold bowl. This float is slightly out-of-round and many of its brothers and sisters are moreso, some even quite misshapen or even lob-sided, lending a hint of comedy. This unique variety always shows the same characteristics in terms of the extreme weight, battleship thick glass, swirling, large thick seal, being out-of-round or misshapen, and most have hemp or replacement poly nets from the '60's - and the the glass is always the same unique 'clover' green brilliant color.
Having a limited quantity of these marvelous old glass fishing floats as part of an inherited collection, they are thought to have been made in Korea. However it's been suggested they may have come out of Russia. I tend to think Korean. So with this 'limited edition' I've been unable to locate more of them. I've not come across these anywhere nor through any float collector buddies. That said, I won't be letting many of these go. They've carved their imprint in my heart and each one is precious. There is something slightly comical about seeing a grouping of them, guaranteed to lift the spirits and arouse curiosity. For now, they remain a bit of a mystery.
The float is wearing a hemp or poly net which shows wear and is a little stiff with age and dock paint (?), making it difficult to be certain about the fiber. The net is intact with exception of one strand or tine on one side. The net hangs together as it is partially coated with a red clay or iron paint of some sort that appears on many of these 'eggs'. In keeping with the code for collectors, I pass it on 'as found'.
The hauntingly pretty glass fishing float is thick 'clover' or almost a neon green glass, as mentioned, heavily bearing its history, etched right into the glass like a sea scroll! There are some large bubbles and an elongated bubble in the basal area of this one. The seal - funny, I never noticed until now because I love them so much - is about 20% missing, though fully intact and functional. An impact blow likely grazed off a portion of the seal, like an ice berg with its side shaved off. There's no moisture inside, indicating Dino Egg managed to perform its duties without difficulty! The seal is a glorious thing, immensely thick and glowing. The center of it is brilliant, rich, neon green like a dinosaur 'eye' staring out at you!
Note photo #2 does not emphasize the 'grazed' portion of the seal. Photo #4 demonstrates the grazed portion to the top and mostly to the right of the seal. Not such a big deal as bona fide artifacts go. Photo #3 shows Dino Egg from a side view. It looks lovely, a bit too flattering as the surface wear has been outdone by the gloss of the miraculous old glass! Just be aware it's both beautiful and gnarly - all in the eye and heart of the beholder (now there's a ridiculous old word - 'beholder' - what's that)? Finally, the last photo shows Dino Egg posing peacefully (as in not biting it's float buddy) with 'Star Portal' - lovely brilliant netted float in grapefruit size - shown for size and color comparison. Star Portal is not part of this sale. If you'd like to see more, enjoy the link below:
https://www.etsy.com/listing/104674902/glass-fishing-float-japanese-collectible
Dino Egg emanates a luminous quality. A bit like a 'centenarian' - one who is over 100 years in age yet glows with an inner 'knowingness'. If Dino Egg appeals to you - guaranteed it will take your heart! Please provide the best home and pass on to one who will care for and appreciate this mystery species, representing the old sea arts so well with their unique personalities.
Please see SHIPPING & COMBINED SHIPPING below. Thanks for caring for vintage fishing floats, rapidly replaced with plastic and synthetics. Thanks for visiting lightinawormhole☺
> View picks that go well with Dino Egg:
https://www.etsy.com/listing/107968965/glass-fishing-floats-japanese
https://www.etsy.com/listing/104591085/glass-fishing-float-sage-dream-1920s
https://www.etsy.com/listing/108910727/glass-fishing-float-mediterranean-sun-3
https://www.etsy.com/listing/113635864/glass-fishing-float-collectible-lime
> Return to lightinawormhole shop:
http://www.etsy.com/shop/lightinawormhole?ref=si_shop
******************************************************************************************************
SHIPPING: Priority shipping offered. Boxed with extra insulation, or double boxed for protection. Cost is $10.00. Includes tracking & insurance. Packed with absolute care. Cheap shipping not offered. I ship retail USPS plus a small handling/materials fee. I pack so it makes the journey safely. You'd probably rather receive the antique, than collect insurance! Please allow 1 - 2 days to ship and 2 - 3 days for the carrier. Expect in a week or less. Thanks☺
COMBINED SHIPPING: YES, I will combine! At bottom of some listings is "WITH ANOTHER ITEM". This lesser cost applies to shipping a 2nd item the SAME size or SMALLER. If you don't see a cost entered for a 2nd item, floats of similar size/weight can be combined to save shipping. Some decisions are made at time of packing, using best judgment, providing maximal protection. Best option – pay shipping up front. Combined shipping refund issued promptly via Paypal at time of shipping. My customers will confirm I am happy to do this. If this doesn't work for you, convo for a 'guesstimate' on combined shipping and invoices can be adjusted PRIOR to purchase. Will do my best to work with you:) Shipping antique glass requires extra care. Thanks☺
Learn more about the shop and process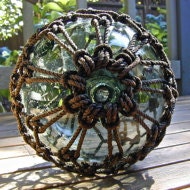 lightinawormhole by Robi
Vintage Glass Fishing Float, DINO EGG Korean, Nautical Decor, Beach Decor, Antique, Blown Glass, Ocean, Recycled Glass, Sea, Home and Garden
---
Overview
Vintage item from the 1940s
Materials:

glass, hemp

Only ships within

United States

.
Feedback: 836 reviews
Favorited by: 8 people