This item sold on July 24, 2013.

**********Special Order design Request hold For Suzanna************

Brigid s Fire 2.3 wello Opal Spiral Triskele trinity Pendant in sterling silver with 14k gold accents

The Pendant was constructed from sterling silver with 3 spirals For earth and a Honey Bee at the Top For wisdom & Skill and Three 14k gold balls For heavens The Pendant is 34 mm across 54 mm from top of bail .
The bail has a smiling sun . For the Goddess of the Forge Briged . a Celtic Goddess of Summer
The center stone is a Very Light active gold,green red Fire Wello crystal Opal 3.2 ct . The stone is 8 mm across and 6 mm tall and as always my attempt to Photo an opal is like trying to capture springtime in a jar . However the Video link below has a bit better view of the light opalescent qualities of the stone . Copy and past it .

http://www.flickr.com/photos/25259607@N06/9360940782/

The Necklace 21 inch Was braided suede brown, black and Silver leather with sterling silver Clasp I really liked the 3 colors I chose to braid together to set the Trinity Symbolism The Clasp connection was to be a primitive Cord wrap. .

Total weight of pendant 15.5 grams pendant only
Or 1/2 Troy ounce


Bees in Celtic mythology, the bee is a messenger between our world and the spirit realm. Bees are also associated with wisdom.

Brigid, the Celtic goddess of fire (the forge and the hearth), poetry, healing, childbirth, and unity, is celebrated in many European countries. She is known by many names, including that of Saint Brigid who is, perhaps, the most powerful religious figure in Irish history.

Born at the exact moment of daybreak, Brigid rose into the sky with the sun, rays of fire beaming from her head. She was the daughter of Dagda, the great 'father-god' of Ireland.

In Druid mythology, the infant goddess was fed with milk from a sacred cow from the Otherworld. Brigid owned an apple orchard in the Otherworld and her bees would bring their magical nectar back to earth.

It is said that wherever she walked, small flowers and shamrocks would appear. As a sun goddess her gifts are light (knowledge), inspiration, and the vital and healing energy of the sun.



The victory circle
by lee

I am one with all in the circle, my heart filled with laughter it sings.
There is joy in the here and hereafter as we stand in our magical rings.

Once I had been one of the many in a pit quarried deep of ignorance and death.
Holding tightly my stained spear, while catching my breath.

Resting only moment in my footstep of old, lost as any who cross their own track.
I looked up ahead to the distance, and saw only me looking back.

Entwined with empty words of the holy, I stood with my head hanging down.
All fight for sacred mumbling of martyrs and in this shared blood did we drowned.

Seeing tomorrow will be much as today .
We would study each other, instead of a new way.

I stood with an ally, while still trusting to none.
Knowing this stabbing and killing would never be done.

I did not make this game, I did not change the rules.
I just grabbed for a weapon, like so many young fools.

Not all that I wounded have fallen, not all that I've beaten are dead.
Few that I fought were my enemies; just striking was I, at shadows placed in my head.

Killing does not fill me with happy, braking men does not prove I was strong.
No one has ever been successful, using might to right men of their wrong.

But luck fell on my like sunshine. In jest I climbed an oak root hanging down.
Up from this foul pit there was pure sunlight, as I stood on green earth's sacred ground.

I did not know the earth was my mother, I was not one to go off planting trees.
But rest do I now in the moonlight, enjoying the warm summer breeze.

My future is of my own making, around are friends that are true.
I do not go looking for glory in battles, for in truth none have glory for you.

I plant trees for those that are drowning, their roots reach deep from inside the pit's wall.
Should you climb one to the edge do remember, the most significant truth of them all.

Killing will not fill you with happy, braking men will not prove that you're strong.
And no one has yet been successful, using might to right men of their wrong.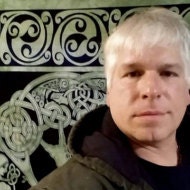 Lee Billings
Hold For Suzanna Brigid s Fire wello Opal Spiral Triskele trinity Pendant in sterling silver with 14k gold accents
---
Overview
Handmade item
Materials:

sterling silver, 14k gold, Wello Opal, leather, Fire and hammer magic, the sun and light of summer

Ships worldwide from

United States

Feedback: 472 reviews
Favorited by: 10 people
Listed on Jul 24, 2013
176 views