This item sold on October 2, 2012.

Handmade bracelet with solid Sterling Silver centerpiece and genuine Leather in Natural dyes of gold and teal.

The featured design is titled "Angel Wing" from my Anatomy of a Shell Collection.
It has a hammered and high polish finish and handmade in Argentium Sterling Silver, which means the silver is more resistant to tarnish. (read more about this amazing metal below in the care section.)

Measurements:
Centerpiece: 1.5 x .5 inches
Bracelet expands to 9 inches in circumference and can be tightened with the slip knot to fit as snuggly as desired.

Included with the bracelet is the following affirmation and care instructions:

~~~~~~~~~~~~~~~~~~~~
Angel Wings
Anatomy of a Shell

Gliding through life
I pulse with meaning

Every move i make
I make with intention

The freedom to fly.
The ability to soar.

xo, The Heart Department
~~~~~~~~~~~~~~~~~~~~~

How to Wear, Care, and Clean

To use the sliding knot, gently pull the loose end(s) until it fits to your discretion on your wrist. You may want to bite one side and pull the other. To remove the bracelet, gently pull the sides of the bracelet so the loose ends feed back in making the bracelet larger until you can slide it over your hand.

The more you wear the bracelet, the more flexible the braid will become and will shape to your wrist. Please feel free to cup your hand over the silver centerpiece while on your wrist and press it gently to the shape of your wrist for a better fit.

Clean the silver with Windex. Yes, Windex. The .925 Sterling Silver is alloyed with Germanium to be more resistant to oxidation (tarnishing) than traditional .925 Sterling Silver. It is called Argentium Sterling Silver. However, resistant does not mean it won't tarnish, so if you want to bring back its bright white luster, just spray some Windex on a soft cloth and rub her down (silver only, not on the leather, please). Additional methods are a traditional silver cleaning cloth to rub away any tarnish, or Bed, Bath & Beyond sells a small gray tub of silver cleaner that is the best I've ever found. It is called Connoisseurs Silver Cleaner. To use on this bracelet, dip the tip of a paper towel or q-tip into the liquid, then lightly brush over the silver only and rub around to cover any tarnished areas. Immediately rinse away with water and dry with a dry paper towel. Do not leave the silver cleaner on the silver for more than 5-15 seconds and never apply it to anything other than silver.

Due to the nature of the materials, this bracelet may not last forever depending on how often it is worn and the care taken with it. If at any time you would like new cord or adjustments made, please return it to me and I will make it like new for a reasonable fee. When you put on the bracelet for the first time, you can read the enclosed affirmation and make a wish for yourself. Every time you put the bracelet on, notice it and feel it on you and take it off, you will naturally remember these words and your wish. This allows the bracelet to work as a tool for you on a higher self-improvement level. Make it count.

If you lose the bracelet, then you can take it as a sign that your wish is fulfilled or whatever you were working on is healed and you don't need the bracelet as a reminder anymore. Or, this bracelet may be with you for a lifetime and a future family heirloom as a reminder that you are your own key and that all lessons are cherished. However you want to view the bracelet is how it will be received.

Happy trails with much love and many thanks!
Learn more about the shop and process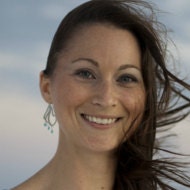 Mariel Heart
Sterling Silver and Leather Wave Bracelet Hammered Angel Wing with Macrame
Overview
Listed on Jul 22, 2012
22 views