A lovely, bright and summery bracelet that represents clarity and new beginnings, success, confidence, courage and prosperity. It consists of yellow Citrine and iridescent Rainbow Moonstone, faceted orange-red Carnelian, along with sterling silver components. Wear your bracelet with positive intentions and the electromagnetic energies of the stones will assist you in developing strength and manifestation of their properties. A gemstone description card and gift box are included.

All bracelets are shipped 7-1/2" long (average size), unless the buyer requests a different size.

METAPHYSICAL PROPERTIES:
CITRINE
Stone of mental clarity, will and creative imagination. Powerful cleanser and regenerator. Stone of physical & material power but ONLY for the highest good. An abundance stone, happy and generous, and encourages sharing what you have while holding onto your wealth. Raises self-esteem and self-confidence. Brings Light Force around and within the physical body so that the creative power can be directed and consciously used. Helps bring the energy of our dreams and wishes into physical form. Enhances mental clarity, confidence, courage, happiness, optimism, creative imagination, concentration and will power. Purported to bring good fortune, sometimes in very unexpected ways. Helps powers of will and manifestation. Promote success and abundance, especially in business and commerce. Said to alleviate depression and self-doubt, and diminish irrational mood swings due to the effect of mental clarity it has. Reduces anxiety, fear and phobias. Brings in the joy of life. Helps keep one sharp and focused. Never needs cleansing. Most effective on the Sacral/Sexual/Navel Chakra, the Solar plexus Chakra and Crown Chakra.
Citrine is composed of quartz, and much citrine on the market today is actually heat-treated amethyst. Citrine components are easily scratched, and should be kept away from prolonged exposure to strong light or heat.
Aids the digestion, metabolism, weight loss and increase energy during exercise (common, heat-treated only). Supports endocrine system, kidneys, bladder. Helps diabetes in its early stages. Helpful for fibromyalgia.

RAINBOW MOONSTONE
Moonstone is a feldspar and is closely related to labradorite. Stone of new beginnings, mystery, self-discovery, and feminine energies. Evokes patience and appropriate action. Allows understanding of the proper action at the proper time. Can take one deep into one's self, revealing missing pieces of the puzzle of one's life. Excellent for past life regression. Powerful stone for psychic awareness, intuition and the cycle of spiritual growth and learning our lessons. Opens one to communication with higher beings, guides; enhances patience, eases frustration. Can help calm responses and avoid overreaction. Best for soothing stress and anxiety. Allows flexibility and flow with life. Encourages lucid dreaming, especially during the full moon. Stone of protection, especially during childbirth, pregnancy. Protects during travel. Associated with love of all kinds, lust for life, youthful attitude and comfort with aging and its transitions. Calms overreactions to situations. Balances male-female energie and emotions; aids those who are overly aggressive. Can draw love into your life and awaken passion. Refreshes memory. Useful for gardens or fruit trees to encourage fertility.
Best at the 2nd (sacral/spleen) chakra. Good for intuition ("gut") feelings found at the solar plexus chakra. Associated with the heart, third eye and crown chakras.
Aids the pituitary gland and digestive system, obesity, water retention, fertility in women, hormonal problems, menstrual problems, conception, PMS, childbirth, menopause, breast-feeding, liver, pancreas. Enhances the body's rejuventation and helps with conditions of the skin, hair, eyes and fleshy organs. Stimulates the pineal gland (sensitive to light) and brings about an internal balance of hormone cycles with nature's rhythm's in both men and women. Aids the body in assimilating nutrients and elimination of toxins, especially in the digestive tract.

CARNELIAN
Cut from an A-grade agate supposedly named after the Latin word carnis ("flesh"). Builds confidence, courage, passion and power within self. Stone of creativity, individuality and lifts emotions. Helps one look on the bright side. Assists in solving problems, as it's optimism helps with decision-making. Helps to bring projects to proper conclusion. Motivates for success in business and other matters. Overcomes negative conditioning. It can assist one in finding the right mate. It is also a stone of protection in general and from anger, jealousy and fear. It can help with manifestation of one's desires and the courage to "take the leap" to a new path. Encourages one to stop waiting for dreams to appear and take action toward achieving them. Helps overcome fears of doing the wrong thing. Strengthens and fortifies the physical body. Encourages a spirit of community. Associated with the root and sacral chakras.
Used to detoxifying from alcohol or drugs, breaking negative habits, improving overall health, balancing and healing ovaries/testes, fertility, lower back problems. Helps absorb nutrients for blood improvement. Helps arthritis and rheumatism. Stimulates metabolism.


NOTE: Crystal Healing is not meant to replace conventional medicine, but rather to compliment and enhance it. It is not to be used as a prescription, diagnosis or treatment. The information given is purely metaphysical in nature and is by no means medical. Crystal Healing is not an independent therapy, but one that is part of a holistic healing approach. By using this site and associated materials, you acknowledge and agree that you personally assume responsibility for your use or misuse of this information.
Learn more about the shop and process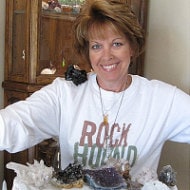 Lynn Leaderbrand
Frequently asked questions about WalelabyLynn
New Beginnings, Success & Confidence Bracelet with Citrine, Carnelian and Moonstone
---
Overview
Handmade item
Materials:

sterling silver, rainbow moonstone, citrine, carnelian

Made to order
Ships worldwide from

United States

Feedback: 775 reviews
Favorited by: 55 people
Listed on Nov 8, 2016
739 views