An elegant necklace made from tubes and orbs of cat hair.

This design is based on Mr Tubular, a necklace I created previously.
Gaia's hair is formed into tubes, that was the easy part, then wire
wrapped with brass, which was a pain and I almost gave up!

Gaia is such a gracious model. Not only did he pose for me with
the necklace around his neck, holding still for many shots until
I got the right one, but allowed me use of his wide back
for an overall view of this piece.

Necklace has 16.5 circumference—fits choker like around the neck.
Learn more about the shop and process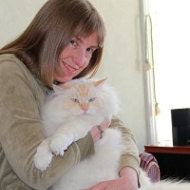 furandsteel