Welcome to Clockwork Firebird Designs, I specialise in costume, monsters and more!
Each item listed is hand crafted by yours truly, and I can easily make items to order if you require a different size/colour. I regularly take commissions for large costumes and armour.
Photos can be found on my Flickr:
http://www.flickr.com/photos/clockworkfirebirddesigns/
Or on my website:
http://clockworkfirebird.com/

-------------------

This listing is for a HUGE NERF Havoc/Vulcan style gun that has been custom painted. 'Alea' as she was named, was one of the first guns I ever painted up. All the NERF symbols have been sanded off and she has been completely re-sprayed apart from the moving parts area where the belt feed goes through.

The paint style for this gun was loosely based on Warhammer 40k, though shhe would be suited to cyber/steampunk settings as well.

'Alea' was named for what was written on the scrollwork on her ammo box: 'Alea Iacta Est' (roughly: 'The die is cast'). She has been used for one event and has a few rubs. She also does NOT have batteries currently. The NERF Havoc can be fired entirely without batteries, unlike the NERF Stampede, by using the cocking handle on the side. To fire automatically would require loading 4 D batteries into the base of the gun.

This NERF gun comes with one full NERF belt and whistler darts, and the tripod stand. The tripod can be removed for storage, as can the ammo box on the side. The price for this gun reflects the fact that the base NERF alone was £60. Feel free to message me with offers on this item.

This gun also comes with a scope-piece originally taken from a NERF Longshot.
Learn more about the shop and process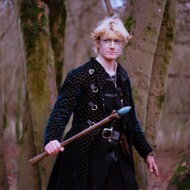 Clockwork Firebird
SALE Alea Iacta Est custom painted NERF Vulcan/Havoc 40k style gun with belt & darts by Clockwork Firebird Designs
Listed on Sep 20, 2013
4537 views