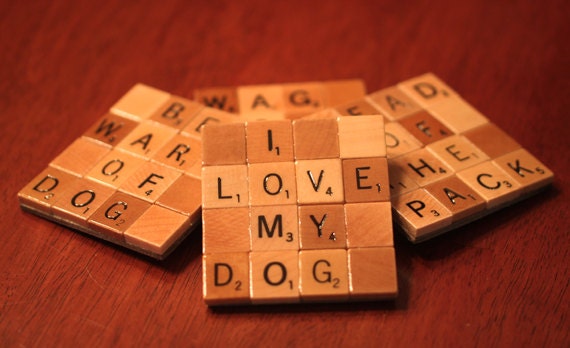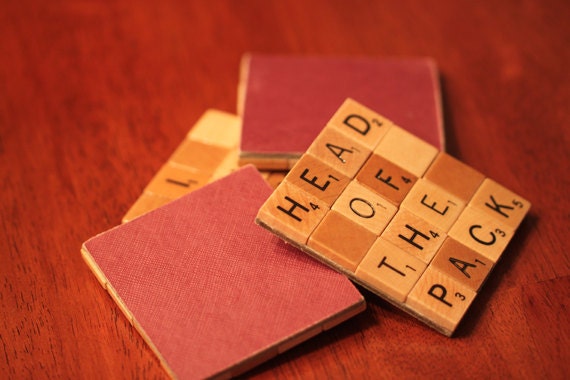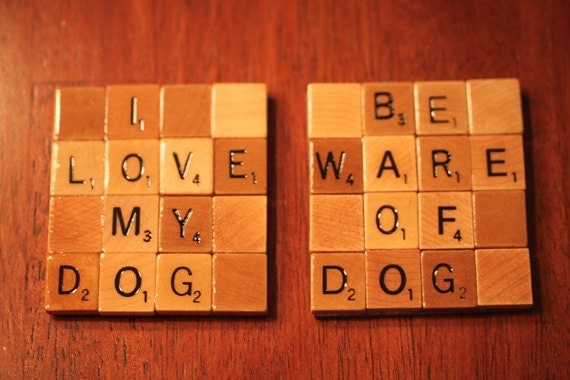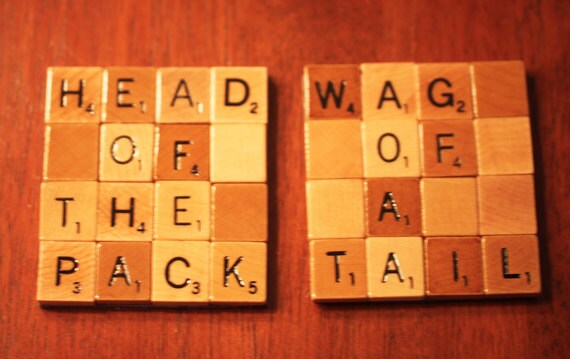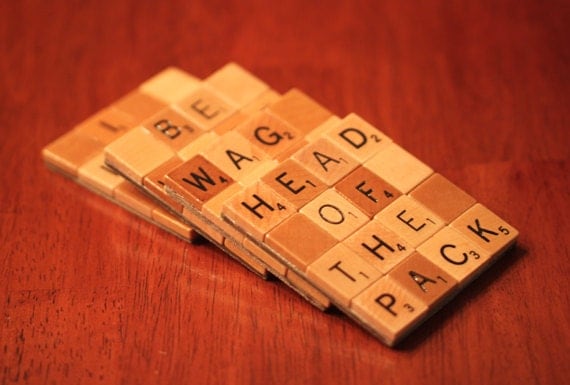 One of the originals on Etsy!!! This shop was the first on Etsy to create themed coasters with scrabble tile words on game boards. Such a great idea that others soon followed! Mine, however, are of superior quality. By using a sturdy backing made from the game boards, these are less likely to break than using a thin cork back.
Four fun and quirky scrabble tile coasters ready for your favorite drink! Each coaster spells out fun words! The coasters are made using 16 scrabble tiles. Each of the tiles are unique, with some being vintage and some being newer. Each tile is conditioned with wood conditioner, coated with an enamel finish, glued to a sturdy backing, and then finished off with some more protectant coating. I was using cork backing in the beginning and found that the coasters were very fragile. Using the game board backing makes these coasters very stable. I love the look of the scrabble game board underside! These are totally recycled coasters! The irregularity of the tiles colors, sizes and textures are great! Really makes each coaster unique and different.
So go ahead and pour yourself a drink.... you deserve it!!
Makes a thoughtful hostess gift!
Each coaster measures about 3 inches by 3 1/2 inches.
Due to the different tiles used, each coaster will vary. But all the words are as appears. Also, it may take up to two days before I send them to allow for proper curing of the wood conditioner, sealant, and adhesives.
If you have special words you would like to use to customize your coasters, contact me and we will see what we can work out! Please allow up to 5 days before delivery for custom orders.
Check out some of my other theme coasters in my shop!
www.etsy.com/listing/88871974/recycled-wood-scrabble-tile-drink
www.etsy.com/listing/90204601/recycled-wood-scrabble-tile-drink
www.etsy.com/listing/90204999/recycled-wood-scrabble-tile-drink
www.etsy.com/listing/90447452/scrabble-coasters-with-recycled-wood
www.etsy.com/listing/94028072/scrabble-coasters-with-recycled-wood
www.etsy.com/listing/94027664/scrabble-coasters-with-recycled-wood
www.etsy.com/listing/91250329/coasters-with-wood-scrabble-tiles-and
www.etsy.com/listing/97836572/scrabble-coasters-with-recycled-wood
www.etsy.com/listing/89035109/scrabble-coasters-with-recycled-wood
www.etsy.com/listing/105430457/scrabble-coasters-with-recycled-wood
www.etsy.com/listing/95710113/scrabble-coasters-with-recycled-wood
www.etsy.com/listing/102389423/scrabble-coasters-with-recycled-wood
www.etsy.com/listing/88514749/scrabble-coasters-with-recycled-wood
www.etsy.com/listing/109455953/scrabble-coasters-with-recycled-wood
Scrabble Coasters with Recycled Wood Scrabble Tiles And Sturdy Game Board Backing Set Of Four MANS BEST FRIEND
---