This item sold on August 5, 2012.

This pendant features a lovely green blue piece of Chrysoprase set in an earthy dark brown clay with a light metallic hue. It reminds me of a salty tropical ocean against a bed of rocks. Measuring roughly 2 inches by 1.5. it comes to you on a brown leather strap at whatever length you desire. All my pieces are one of a kind and handmade here by me in Byron Bay, Australia.

Chrysoprase imparts a sense of being part of the divine whole. It induces deep meditative states, said by the ancients to promote love of truth. Chrysoprase also promotes hope and gives personal insights. It draws out talents and stimulates creativity. It encourages fidelity in business and personal relationships. This crystal energises the heart and sacral chakras and brings universal energy into the physical body. Psychologically, Chrysoprase is calming and non-egotistical, creating openness to new situations. It assists in looking at egotistical motives in the past and the effect they have had on your development, and it aligns your ideals with your behaviour. Overcoming compulsive or impulsive thoughts and actions, it turns your attention to positive events. This stone opposes judgementalism, stimulating acceptance of oneself and others. It is useful for forgiveness and compassion. Mentally, Chrysoprase stimulates fluent speech and mental dexterity. It prevents you from speaking out unthinkingly in anger. It lifts oppressive and recurrent images, preventing nightmares, especially in children. Emotionally, Chrysoprase brings a sense of security and trust. It is useful in healing codependence, supporting independence and yet encouraging commitment.

Physically, Chrysoprase has a strong detoxifying action. It can mobilise heavy metals out of the body, and stimulates liver function. It is excellent for relaxation and peaceful sleep. Resonating with the sacral chakra it enhances fertility, reverses infertility caused by infection and helps guard against sexually transmitted diseases. Chrysoprase heals the inner child, releasing emotions locked in since childhood. It reduces claustrophobia and nightmares.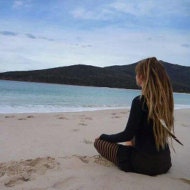 Lauralai
Ocean dreaming OOAK Chrysoprase pendant
---
Listed on Jul 31, 2012
50 views