This item sold on October 1, 2012.

This pendant features a large, dark brown smokey Quartz point and a beautiful piece of Jardin de Primavera. One of my favourite pieces thus far, it has a very elven and magical feeling. To me the piece has an earthy - fungi and moss growing on a leafy forest floor kind of energy. Also, it's the only pendant i've ever made using Jardin de Primavera. It will come to you on brown leather at the length that you desire. A one of a kind original, handmade by me in Byron Bay, Australia.

Jardin de Primavera is a mineral found only in one privately owned mine in Arizona. Arizona Primavera is a mixture of 15 different minerals: chrysocolla, shattuckite, fornacite, vaquelinite, limonite, argentiferous galena, wulfenite, mimitite, phoenicochroite, caledonite, wherryite, Luddenite, Quartz, anglesite, and Murdochit.

Smokey Quartz is one of the most efficient grounding and anchoring stones and at the same time raises vibrations during meditation. This protective stone has a strong link with the earth and the base chakras, promoting a concern for the environment and ecological solutions. This stone is a superb antidote to stress. It assists in tolerating difficult times with equanimity, fortifying resolve. Smokey Quartz teaches you how to leave behind anything that no longer serves you. It can be used to protect the earth chakra below the feet and its grounding cord when in an area of disturbed earth energy. Psychologically, Smokey Quartz relieves fear, lifts depression and brings emotional calmness. It alleviates suicidal tendencies and ambivalence about being in incarnation. Smokey Quartz aids acceptance of the physical body and the sexual nature, enhancing virility and cleansing the base chakra so that passion can flow naturally. This crystal alleviates nightmares and manifests your dreams. When it comes into contact with negative emotions, it gently dissolves them.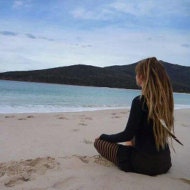 Lauralai
Woodland Nymph OOAK Smokey Quartz with Jardin de Primavera pendant
Listed on Jul 31, 2012
136 views