Love it or hate it, we all need money to survive. Whether you need a little just to get by or want enough to have some luxury in your life, you deserve to have the money you need.

Novena candles are a great way to work with your magical intention over a period of several days (or longer, depending on whether you burn your candle constantly or only light it for an hour or two each day).

Blade & Broom's spell candles are white novenas that have been embellished with our own themed designs. The rich graphic was designed by Natalie for sale exclusively through our shop.

Our CASH & COIN novena uses the colors green and gold, the colors or money and wealth in the US. The Goddess FORTUNA (bestower of wealth and luck) sits atop a shining pile of gold COINS. Behind her, Blade & Broom's unique SPIRIT MONEY (from the Bank of Hel) provides a lush, green backdrop. The symbols of $, 7, and the rune FEOH (FEHU) are repeated, bringing you abundance, luck, and wealth. Finally, the words CASH AND COIN (written in the witches' script, Theban) reinforce the overall meaning of the candle.

All of our novena candles are dressed and fixed (a new feature in our shop, beginning Sept 2014). "Dressed" refers to the addition of related herbs, resins, oils, and stones. "Fixed" means that they have been spiritually sealed and blessed.

Each candle comes with basic instructions for personalizing the candle and adding your own energy. The process of magic requires YOU.

After you've burned the novena, you can either remove the label and upcycle the jar to a new purpose, or you can use it as a holder for tealights and continue your working.

*******************************************************************************************************************************

Blade & Broom's novena candle designs are unique and are not to be copied for other use, private or commercial. Don't steal from Witches. It's just a bad idea.

We are happy to create items for you with these designs, if you like. We may also be able to create a custom design for you, based on a personal magical intention and symbol set.

Please CONVO us if you want something specific.
Learn more about the shop and process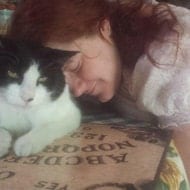 Laurelei Black
Cash & Coin Novena Spell Candle for wealth, prosperity, money
Listed on Jul 3, 2016
408 views