This item sold on October 15, 2012.

When I was pregnant with my first baby, I decided to record everything that was going on with the pregnancy. I put pictures of my growing belly, what I was craving, how my body was changing, ultrasound pictures, and notes to my baby when he arrived. Now that I look back, it is so much fun to reminisce and experience again the ups and downs of my pregnancy.

This scrapbook is 8 inches by 8 inches square. Everything can be tailored to your experience and your baby. I can do gender neutral, girl or boy and even twins, triplets, etc! I will make the pages and you just insert your pictures and journaling!

Included with the scrapbook album are 22 pre-made pages. Colors are based on the gender of your child or the color scheme you select (maybe based on your baby room?).

Pages included:
Positive! - A page highlighting the pregnancy test or how you shared the big news!
First Ultrasound - 2 pages devoted to your little ones first pictures.
12 Weeks - 2 pages showing your non-existent belly and the small changes you have experienced since you found out.
Love - 1 page for a special note, letter, or prayer for your baby.
17 Weeks - 1 page highlighting your tiny belly and more changes as you go.
Kicks - 1 page for you to journal the first time you felt him/ her/ them kick
21 Weeks - 1 page showing your growing belly and how you are feeling
It's A... - 2 pages devoted to your 20-22 week ultrasound where you find out the gender or decide to wait until birth
25 Weeks - 2 pages explaining how you feel with your belly starting to get in the way!
Mommy To Be - 1 page with room to journal how it will feel to be a mommy soon
Names Under Consideration - 1 page devoted to the names or name you have chosen for your sweet bundle of joy!
30 Weeks - 1 page showing your "huge" belly and the changes you are feeling
Insomnia - 1 page highlighting your ever increasing ability to stay up all night!
Shower - 2 pages for all your shower pics and memories
34 Weeks - 1 page showing your wonderful baby bump and how uncomfortable you might be feeling!
Mommy & Daddy - 1 page highlighting mommy and daddy with the baby bump
Here You Come! - 1 page showing you expecting the baby any time. This could be the last picture you take before the baby comes!

You can add 2 extra pages for $10. Add as many times as you would like. You can choose from my list of extras or get creative and come up with your own ideas!!
Extra Page Ideas:
Add more pages for baby bump pics along the way (15 wks, 37 wks, 40 wks, etc)
Waiting 4 You - A page to highlight the due date and how much you anticipate the coming of your sweet one
Beach Baby - If you go to the beach, take a picture of your bump against the ocean. It's baby's first trip to the beach and it is a cute 2 page spread!
Double Bump - Have a friend who is also pregnant? Get your picture together and highlight those baby bumps together!
Guess! - Not finding out what the gender is? On this 2 page spread, journal what people are guessing your baby will be. Share funny thoughts or dreams.
Shower - Having lots of showers? Get more pages for them!
Gestational Diabetes - Are you one of the unlucky who have to withhold sweets just when you crave them the most? I did! Scrapbook your emotions, the supplies and how it has affected you!
This Is Me - Take a pic with your biggest craving!
Other pages can be custom made to suit you and your style. Also if you get professional pregnancy photos, get pages for those too!!

Of course, if you have a special photo that you would like to include in your Belly Book but have no idea what kind of page it would fit on, you can email me the pic and I will create a few mock ups of ideas. Then you can pick what best suits your style!

*INCLUDE ALL COMMENTS, INSTRUCTIONS, EXTRA PAGE ORDERS and PHOTOS WITH ORDER* Any changes to the original 22 pages will incur a $10 customization fee.

Everything is made from acid free materials and comes from a smoke-free home.

Item will ship 4-6 weeks after payment. Once payment has been received, I will not accept any changes or additions. All additions, changes, or specific instructions must be made AT TIME OF PURCHASE!!! Item will come wrapped, carefully packaged with packing material and well sealed for a quality product on arrival!

For more detailed pictures of page possibilities, check me out on Facebook - Simply Elegant. (https://www.facebook.com/pages/Simply-Elegant/350618084968952)

Buy this as a memory keeper for yourself or get one for a friend, sister, or daughter!
Meet
the

owner

of

Trimster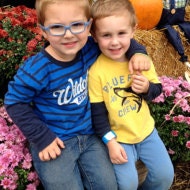 Lauren Rasor
Listed on Aug 3, 2012
550 views