NEW... Brad/nail holes are pre drilled to reduce the advent of wood splitting.
This economy six pack bottle carrier kit was developed as a result of folks contacting me and asking for a less expensive alternative to the elegant Wooda Cooda beer boat. If you are interested in more than one kit look at the links below for volume options.
Because this beer box is narrower than my beer boat style carrier, I have made it taller to give more hand room between the handle and the bottle tops making it very comfortable to carry.
Made of light, water resistant red western cedar the components of the beer carrier are cut from lightweight cedar that has the appeal that only cedar can bring to the table. Delivered to you rough sanded in its natural state you have the choice to paint, varnish, customize to your taste or simply leave it natural to acquire the look only time and use can create.
One beer carrier kit $20.75
https://www.etsy.com/listing/106102003/diy-wood-6-pack-bottle-carrier-kit?
Two beer carrier kits $39.50 or $19.75 ea.
https://www.etsy.com/listing/126272816/two-diy-wood-6-pack-bottle-carrier-kits?
Three beer carrier kit $57.00 or $19.00 ea.
https://www.etsy.com/listing/126272874/three-diy-wood-6-pack-bottle-carrier?
Four beer carriers $76.00 or $19.00 ea.
https://www.etsy.com/listing/106119588/4-diy-wood-6-pack-bottle-carriers-beer
Five beer carrier kits $92.50 or $18.50 ea.
https://www.etsy.com/listing/126273018/five-diy-wood-6-pack-bottle-carrier-kits?
Six beer carrier kits $111.00 or $18.50 ea.
https://www.etsy.com/listing/126272924/six-diy-wood-6-pack-bottle-carrier-kits?
Seven beer carrier kits $126.00 or $18.00 ea.
https://www.etsy.com/listing/126273241/seven-diy-wood-6-pack-bottle-carrier?
Eight beer carrier kits $144.00 or $18.00 ea.
https://www.etsy.com/listing/126273441/eight-diy-wood-6-pack-bottle-carrier?
Nine beer carrier kits $153.00 or $17.00 ea.
https://www.etsy.com/listing/126273500/nine-diy-wood-6-pack-bottle-carrier-kits?
Ten beer carriers. $160.00 or $17.00 ea.
https://www.etsy.com/listing/106119956/10-diy-wood-6-pack-bottle-carriers-beer
The DIY beer carrier kit comes with all wood components shown plus
2 rare earth magnets (pre-attached)
bottle opener
finishing nails
Tools needed
hammer
2- 12 inch clamps (optional)
nail set (optional)
sandpaper (optional)
nail hole filler(optional)
ruler tape measure
You supply the glue, sand paper, your finishing choice and labor to put it together. This is an easy project as far as woodworking goes but do understand that it takes some skills to assemble the beer box. If you possess little or no skill in this area or do not have someone available with the skills to help you, then I strongly urge you to purchase one of the finished or assembled beer carriers on this site. Read the assembly instuctions below; if you feel they sound complicated then get someone to help you.
Basic assembly instruction.
1. Look at the pictures on this listing and from them you should be able to see how the beer box components fit together.
2.This would be the best time to sand the wood to your desired level of smoothness and to shape the handle. If you want the rustic look then skip this step and move on to step three.
3.Box divider assembly. The three box divider pieces are slotted so as to fit together snuggly when glued. Put a piece of newspaper on a flat surface such as a table top. This will protect your table surface from the glue. Apply glue to the inside surface of each slot and slide them together as per pictures above. Firmly push them together using the flat table surface to align the pieces. After the pieces are aligned top and bottom you can use a playing card or business as a mini square to make sure the dividers are a true right angle to each other. If they are slightly out of square, gently true them with a your hand and then let the glue dry.
4. Now take the assembled divider section and place it on the base (bottom) Flush the ends and sides of the box divider assembly to the outside edges of the base. Now take a pencil and make light reference marks as to where the box divider section will be glued. Apply a thin layer of glue to the bottom of the box divider section and place it according to your reference marks. Now weight the box divider assembly using a brick, or paint can or a meat loaf, being careful not to inadvertantly slide the box divider around on the wet glue. SHOP TIP: Let the glue tack up for 5-10 minutes before applying weight. Let glue dry. Inspect the base and with the box divider glued on, make sure the edges are flush. If they are inset a tad thats OK but if they are over the edges, carefully sand the edges flush.
5.Attaching the end pieces is next. Glue up one end of the bottom, running the glue up the end of the divider. Use just enough glue to get a good adhesion but use glue sparingly to avoid glue runover. If you do get excessive glue you can use damp cloth to clean it up. Now line up the edges and bottom of the end piece with the bottom and hammer in a finishing nails in the pre-drilled holes. Clamping these pieces together first before nailing can be helpful if you have clamps. Be sure to drive the nails in straight so they don't break through the side of the wood. Repeat this step on the other end.
6.Attaching the handle. Apply a thin layer of glue to each end of the handle. With the box on its end slip the handle into position centering it (it should only be about 1/8 - 1/16" below the the top of the end piece as per picture). This is not critical but you may as well do the best you can. Using the provided finishing nails, hammer two nails through the pre-drilled holes end piece into the end of the handle. Do not drive the nails with too much force. Take your time and tap them in. Do a dry run (without glue) first to see how the handle will fit so you can do the handle assembly in a relaxed way. Now flip the box onto its other end and repeat the process.
7. You're almost done. Now take the wide bottom side slat and line it up with the box's bottom and ends. Make light pencil marks to establish the area to be glued. Apply glue and nail the slat in place using pre-drilled holes as a guild. Repeat the process on the other side. Now take the narrow side slat, apply glue and use one finishing nail to attach the one end and then align the opposite end. Now apply the last two brads into the remaining two pre-drilled holes. Tap in slowly to avoid splitting the slat.
You're done! Unless you want to apply a finish or paint. But what the heck, you've earned it, have a beer.
Please allow four days from time of order for your order to be shipped.
Thanks
Roger
Learn more about the shop and process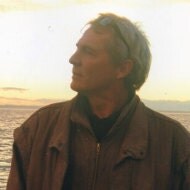 Roger
DIY Wood 6 Pack Bottle Carrier kit
Listed on Jul 21, 2016
22709 views