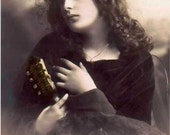 Sorry, this item sold.
The Blue Gypsy Crystal Ball A Rare Treat
Item details

Reviews:

Shipping & Policies
Crystal ball gazing has been used for centuries to aid in clairvoyance. It is traced back to the Druid tradition 2000 B.C. The tradition spread throughout Eastern Europe.

Despite what you hear, most Gypsy or Sinti travelers didn't use real quartz as it was too expensive for them. So, they use a very rare crystal ball from the Far East, this is a special crystal that it believed to hold the power of the Orion star trail.

I was able to receive 4 of these as they are traveling across Europe. They will be brought to me in the next week and they will be blessed in a special ceremony on the Rare Blue Moon on August 31st. This is indeed rare, and I can't bless any more like this until the night of the next blue moon in 2016.

I only have four available.

This is a rare treat, for the blue moon & start of the Fall Festival. The Fall festival is a special season beginning at the end of August where I list rare and beautiful items from all over the world and my far travels.

This is rare to receive a blessed crystal ball.

Along with the ball you will receive, a special pouch which I will hand sew with special herbs, prayers & resins, for your ball to rest upon.

You will receive ~*Romany Soul*~ incense to call the spirits into the ball.

A special candle to bless the night.

A parchment hand written by me, on how to see spirits, the future & meet your spirit guide through this ball as well as Astral travel and manifest your dreams.

This is the start of the Fall Festival.

I only have 4 , the other may be sold out of my home parlor.

It will ship the morning of September 1st.

I cannot guarantee the magic of the ball. This is up to the user.

The crystal ball is palm sized 40mm. It is the traditional size we use, not the large guady one from the movies.