Welcome to Authentic Vintage Posters!
Shipping: Shipped Flat & Wrapped in Acid Paper. Domestic USA 2 Day Air USPS w. Insurance & Tracking $15.00. International USPS Air w. Insurance & Tracking $25.00.

MAITRES DE L'AFFICHE:
All the images sold in this shop are authentic Maitres de L'Affiche lithographs with an original embossed printer's blindstamp.

Les Maitres de L' Affiche are a Limited Edition of 240 hand engraved lithographs, (small format), of the world's most meritorious street posters at the end of the 19th century.
Les Maitres de l'Affiche was published in Paris, by Mourlot, in Paris, between 1896 and 1900.
These lithographs were sold by subscription to poster collectors .
All the Maitres de L' Affiche were done with the permission of the artists.

TITLE & PLATE NUMBER*: Aux Buttes Chaumont; #185.

ARTIST: Jules Cheret

MAITRES SIZE: 11.25" by 15.5". Original Street Poster Size: 38.5" x 100"; circulated in 1888.

CONDITION: Excellent; A.
This Cheret has full margins, no tears, excellent colors, with slight age foxing on the margin edges.

SUBJECT: A fashionable mom with two children and a lot of lovely toys to buy!

ABOUT THE ARTIST:
Jules Chéret (May 31, 1836 – September 23, 1932) was a French painter and lithographer who became a master of Belle Époque poster art. He has been called the father of the modern poster.
From 1859 to 1866, he was trained in lithography in London, England, where he was strongly influenced by the British approach to poster design and printing. On returning to France, Chéret created vivid poster ads for the cabarets, music halls, and theaters such as the Eldorado, the Olympia, the Folies Bergères, Théâtre de l'Opéra, the Alcazar d'Été and the Moulin Rouge.

As his work became more popular and his large posters displaying modestly free-spirited females found a larger audience, pundits began calling him the "father of the women's liberation." Females had previously been depicted in art as prostitutes or puritans. The women of Chéret's posters, joyous, elegant and lively—'Cherettes', as they were popularly called—were neither. It was freeing for the women of Paris, and heralded a noticeably more open atmosphere in Paris where women were able to engage in formerly taboo activities, such as wearing low-cut bodices and smoking in public. These 'Cherettes' were widely seen and recognised, and a writer of the time said "It is difficult to conceive of Paris without its 'Cheréts'.

In 1895, Chéret created the Maîtres de l'Affiche collection, a significant art publication of smaller sized reproductions featuring the best works of ninety-seven Parisian artists. His success inspired an industry that saw the emergence of a new generation of poster designers and painters such as Charles Gesmar and Henri de Toulouse-Lautrec. One of his students was Georges de Feure.
.
He was awarded the Légion d'honneur by the French Government in 1890 for his outstanding contributions to the graphic arts.
Thank you Wikipedia!

*Reference Plate Numbers are from the book: Masters of the Poster 1896-1900 with a preface by Roger Marx and Notes by Jack Rennert. Published by Images Graphiques, Inc New York,
Library of Congress Number: 77-94468.

Thank you for your interest,
wally.
Free Layaway plan available!
Learn more about the shop and process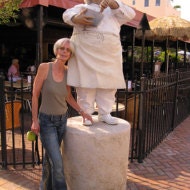 Wally McSorley
Jules Cheret, Original Maitres de L'Affiche Poster, France 1899, Plate No.185. Ad for Toys at Aux Buttes Chaumont Shop in Paris.
---
Overview